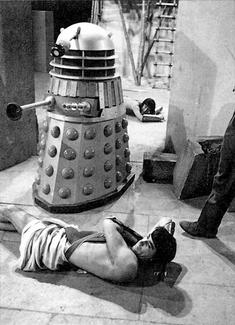 In an event most Doctor Who fans figured probably wouldn't be happening any time soon, today the news comes that a lost Doctor Who episode has been recovered and returned to the BBC. This is Episode 2 of The Daleks' Master Plan, the 1965 William Hartnell serial. Any episode of Doctor Who that is recovered is good, but this particular one is a good one to find, as it holds some visual records of things from that era of the show that otherwise would never be seen. There's still photos of things, but nothing "moving". Plus it's part of the second largest serial in history. The Dalek Masterplan was a 12 part story, of which now only three episodes exist. This new find was #2, and episodes 5 & 10 were already in the archives.
Anyone who knows me knows that I'm a big Doctor Who fan, and I particularly love the old Black & White Doctor Who stuff from William Hartnell & Patrick Troughton, and unfortunately, a lot of it is lost. This is also strange in that I also tend to generally dislike my "entertainment" when it's black and white. For some reason it just doesn't hold me – yet this 1960's era Doctor Who mezmermizes me.
For those that don't know in the 1970's the BBC routinely destroyed old copies of their shows for space considerations. That's because rights, royalty, and repeat issues generally prevented repeat showings, and back then sales of old Black & White shows weren't an issue to contend with. So they were "put to the fire", unfortunately. Of the 253 episodes made during the black and white era of Doctor Who, only 145 of them exist at the moment (including this discovery), leaving 108 of them missing. Some keep hoping against hope that someone out there has a major cache of them waiting to be returned, but the truth is we'll probably never get much below where we are now. The last time one was returned was 1999, and it's been 4 years since that, and we've had one.
Of the 8 actors to have played the Doctor on TV, my favourite is the first, which is rather an unpopular stance amongst fans – especially American Doctor Who fans. Patrick Troughton (the second Doctor) has fared worse, as a far higher percentage of his episodes are gone, but I'll take anything I can get, as I'm sure can most Doctor Who fans.
There's two news stories about it that are worth reading. The second one has a clip from this lost episode. It's not long, but it is technically "new Doctor Who" to most people. :)
Official BBC Dr Who Site Story
BBC News Site Story
Thank you Francis Watson (the person who returned the episode to the BBC). :)
UPDATE: – The BBC has pictures from the recovered episode online in a photonovel format. Check it out here – it's a cool piece of recovered Dr. Who's past.