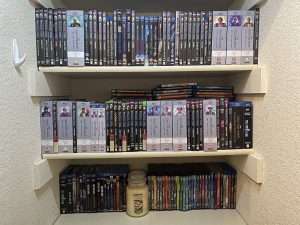 I've been a Doctor Who fan since 1983.  I've seen every episode at least once in all that time, but the one thing – the holy grail – the biggest geek level once can achieve as a Whovian is the "Full Marathon" (my term).
It's when you watch every episode in a row.  That's what I'm doing.  Watching a single episode a day.  Started with the first episode from 23 Nov 1963 – and doing one episode per day going forward.  I posted in some more detail about my doing all of this in a post elsewhere on my blog, and some of the "why".  However, I wanted to put an intro here for the index below.
I am going to be tweeting about each episode as I watch it daily.  I will be updating this index page with links to pages created for each story. Each of those pages will collate the respective tweets for that story, so you can see all my comments about a story on one page.  If you want to follow me live with these as I do them, I'll be posting from my @joesiegler twitter account using the hashtag #DoctorWhoMarathon.

That's what this page is. It will be an index of all the posts for my Doctor Who Marathon.  I started this on 21 Aug 2021.  If I keep going, and God willing I'm still around, the target date for completion is 24 Dec 2023.  That's based on the 871 total episodes currently available (as of Oct 2022).  There will, however be more by Dec 2023.  I just don't know how many, so the exact end date is unknown at this point.  Even then, I'll probably carry on with the newer episodes from that point too. :)
Admin note: The order of stories on this page are backwards.  The oldest stuff is at the bottom, and the newer stuff is at the top.
"Doctor Who Marathon" Collated Posts:

Doctor 6: Colin Baker
Colin Baker (no relation to Tom) was the sixth actor to play the Doctor on TV.   When he started, he was well known for a TV series called Brothers, and quite publicly made the claim that he wanted to keep the role longer than Tom Baker did.  Which I was quite excited about.  Problem is he had it for one of the shortest runs due to instability behind the scenes.
Colin's first episode was 22 Mar 1984, and his last was 6 Dec 1986.  During his first full series, the episode lengths were doubled (to 45 mins), mirroring what the modern show does generally.  But from this point forward, no series of Doctor Who will have more than 14 episodes (which is what Colin's second/last has).
Series 22:
NOTE: The episodes in Series 22 were created to be 45 minutes each, the only time in the classic series this was done. The show also returned to one episode a week vs the two per week it had been for Series 19-21.
Series 21: (continued)

Doctor 5: Peter Davison

Peter Davison was the fifth actor to play the title role in Doctor Who.  He played it for three series, comprising 69 total episodes and 20 stories overall.
When I completed his era, I did a summary post of his era like I've done all the Doctors before him.
Series 21:
Series 20:
NOTE: Technically "The Five Doctors" isn't part of Season 20, it is a standalone special. I am including it in the Season 20 list anyway, as it was done as part of that production block, AFAIK.
Series 19:

Bonus:
NOTE: K9 & Company was an attempt to spin off K9 & Sarah Jane Smith into their own series.  A pilot was produced, but it did not go to series. This wasn't part of proper Doctor Who, although later episodes did acknowledge the canon of events in this pilot.

Doctor 4: Tom Baker

When I completed Tom Baker's run I wrote a summary post of some thoughts having watched all his episodes.
There were a lot of them as he's the longest serving Doctor of all of them (7 seasons 178 episodes).
Series 18:
Series 17:
NOTE: Shada began filming, then stopped due to a strike – it was never finished.  Was unaired in its original form.  There's details about that on the Shada page.
Series 16:
NOTE: Collectively, Series 16 is known as "The Key to Time", but that title is not shown on screen. As transmitted, the six stories retained their own individual names.
Series 15:
Series 14:
Series 13:
Series 12:

Doctor 3: Jon Pertwee
Series 11:
Series 10:
Series 9:
Series 8:
Series 7:

Doctor 2: Patrick Troughton
Series 6:
Series 5:
Series 4: (continued)

Doctor 1: William Hartnell
Series 4:
Series 3:
Series 2:
Series 1: