The Doctor Falls
This Story: Series 10, Story 11b. Production code 10.12
Overall: Story 275b, Episode 845
Airdate: 1 Jul 2017
Written by Steven Moffat
Directed by Rachel Talalay
Notes
As of the writing of this blog post in October 2023, the final appearance in the series for both John Simm & Michelle Gomez.
There is a quick name check back to the planet Marinus from The Keys of Marinus here.
Black Sabbath Connection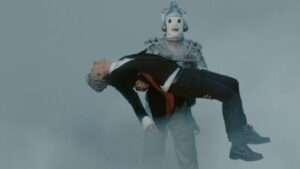 It's well known I run a Black Sabbath fan site.  The day this episode aired originally, I had a massive geek out.  Now I don't think it's intentional, just a massive coincidence, but.  This story in my mind is tied to a song that Geezer Butler of Black Sabbath wrote for this 1997 solo album, "Black Science".  The song specifically is called "Among the Cybermen".
I had sent an email to Geezer Butler about the source of the song "Among the Cybermen" which I thought was based on the BBC show "Doctor Who".  This is what Geezer replied with..  "yes, the lyrics were originally about the death of Dr. Who. The original chorus was "Dr. Who lies dead among the Cybermen", about the final battle of Dr. Who, but was supposed to be symbolic of the end of childhood. I changed it because I thought it sounded a bit silly. Most of the album is about growing up in the era of Sixties television, and its influence on me."
This episode in my mind had a visual representation of the lyrics of this song.  The image at the top of the page was at the end of the Doctor's battle where he appeared to be dead, lying in a ground amongst a slew of Cybermen.
Fun fact: The Doctor Falls aired 20 years to the day (1 Jul 2017 vs 1 Jul 1997) from the release of Geezer's Black Science album.
Links
[
Wikipedia
 |
Tardis Data Core
|
SPS Historium
|
US DVD
|
UK DVD
|
US Blu-Ray
|
UK Blu-Ray
]