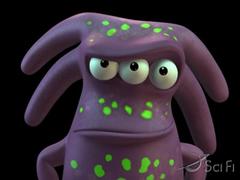 Awhile back, I was shown a short film off the Internet called Tripping the Rift. It was quite funny, and it was fairly adult in nature in that it had no problems with either language, or nudity. Except for the nudity, it kind of reminded me of the online short film that launched Beavis & Butthead as well as South Park. The two (for me, anyway) lead characters were Chode & Six (Six of One – an android sexbot). This is filled with swipes at all kinds of Sci-Fi stuff, from Star Trek to Star Wars, and several others. Was damn funny.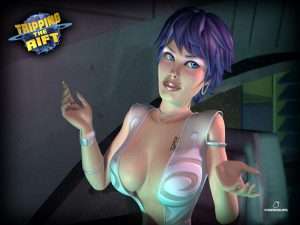 I didn't think much of TTR until a few weeks ago I happened to be scanning through my TiVo guide, and I ran across an entry for "Tripping the Rift". It happened to be made into a TV series. I wasn't sure how the humour would translate to TV, as for me, what made it funny isn't allowable on TV (outright swearing and naked boobs, and a lot more than Janet Jackson showed). To my surprise, it worked pretty well. They fleshed out the crew cast with more characters, as there really weren't enough in the original short. But for me, there's
The humour of the show is rather adult in that there is swearing (though bleeped), and the sexual content is pretty high. But it's good stuff. It kind of reminds me of a "Blue Futurama". I think if you like Futurama, you'll like this. Provided you don't get offended easily. I mean, when the female lead looks like she does and is an android whose purpose is for others to have sex with her, you know it's not a Cosby type humour. To their credit, the folks who make TTR made Six rather intelligent, so it's an interesting dichotomy between intense sexual visuals and intelligence.
There's some good resources online for the show. You can check out the official site here, or check out this fan site which has tons of info about the show, and has a bit more detail than the official site does.
I very highly recommend this show.