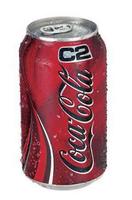 Evertyhing nowadays is low carb this and low carb that. Hell, even at the Ballpark, they have a low carb "menu". This country is nuts. It's just the latest fad – it will go away in 6 months, no one will care anymore. We've had bread in our diet forever, and the last what 10 years or something it's become evil, and something to eliminate? I don't think so. Low Carb and Atkins type diets are just excuses to overeat one portion of one's food intake. Moderation is the key. I know I'm not the greatest example of diet preaching, but I do know what needs to be done, I just have a hard time doing it. Carbs are fine – you need to work out the portions.
I mean we've all gone to hell when the #1 soft drink maker in the world introduces a "Low Carb Cola". Coca-Cola is introducing a new drink this summer called "C2". It's just insane. Drink a friggin Diet Coke. It's the same thing. Sigh.
Next thing you'll know there will be low-carb edible underwear. It's just insane. In honor of this announcement, I'm going to eat something with high carbs. In a year or so, we're going to find out that this "low carb" fiasco is the wrong way of doing things. Remember – at one point, smoking cigarettes was considered to be healthy. I hate this low carb fad stuff. GO AWAY!
Here's a news story about this:

ATLANTA – Coke is launching a mid-calorie cola that promises half the sugar, carbohydrates and calories of its regular version.
The Atlanta-based company said Monday that Coca-Cola C2 will debut first in Japan and then the United States this summer.
The company has been researching the idea for a year.
There will be subtle packaging differences to distinguish between the new drink and the company's flagship brand.
In January, PepsiCo Inc. said it, too, was looking at the idea of selling a mid-calorie cola. At the time, spokesman Dave DeCecco said the Purchase, N.Y.-based company had applied for a patent for Pepsi LS, which some have speculated stands for low sugar. The company later named its mid-calorie cola Pepsi Edge and said it would debut in the United States this summer, roughly the same time as Coke's version, DeCecco said Monday.