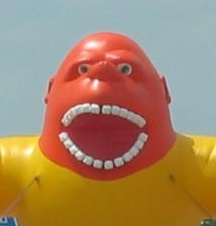 Something I've always wondered is why car companies feel compelled to use inflatable something or other to get attention. I mean, does anyone ever actually see one of these things and go "Oh. I wasn't thinking about buying a car, but with this stupid inflatable here, I think I'll pull in and take a look". I mean REALLY.
WHY????
Do car dealerships really think people are THAT stupid? I know car dealerships generally screw people over, but is it that bad? And it's not like it's just one of them. It's most of them! All of the car dealerships in my area that I can recall have used one at some time or another. I'm sure there's one or two that haven't, but it seems like all of them.
And why gorillas? Most of them are gorillas? Is there some company who makes inflatable gorillas that has a hold on the executives at car dealerships?
If anything, an inflatable gorilla means I will NEVER buy a car there. It's stupid looking, and to me it says that the dealership doesn't respect their customers by doing something so stupid.
If there's anyone who reads this that works at a car dealership, please tell me why giant inflatable gorillas are used at the front doors of car dealerships, please. Educate me.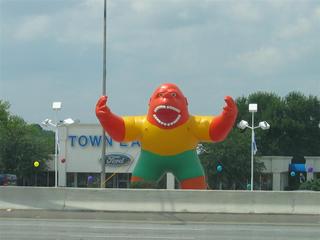 Additionally, I want to know why an inflatable caveman is an enticement to buy furniture. I took this picture as I passed it on LBJ Freeway in Mesquite, TX. Since this was FACING THE HIGHWAY, what did they think? Oh, I saw a plastic inflatable caveman, and I was going somewhere already, but I'll stop and buy some furniture.
I mean, WHAT THE HELL?