Steve Martin joke aside, two days ago, we got a bunch of new phone books delivered to the house. That's no big deal, I've been seeing phone books at the house for as long as I can remember (and even one disasterous time Lynn and I delivered them, too!). Anyway, I left them there because I knew tonight was a recycling night, so I'd sort them out tonight and put the old ones out for the City of Garland to take away with all the other recycling we put out there.
So after dinner tonight I went into the coat closet, and started to drag out the phone books that were in there. Much to my horror I discovered we had THIRTEEN phone books in there! Now some of them are my fault, as they're old, but even still there's way too many. To make matters worse, the bags I brought in from the front porch had duplicates! It was the AT&T Yellow Pages (used to be SBC Pages), and it's companion "mini" book. But I got two copies of each. Exact same thing – so I got four new phone books! Here's what I got new tonight, you can see the new January 2006 AT&T Yellow Pages with it's mini version sitting on top of the main one: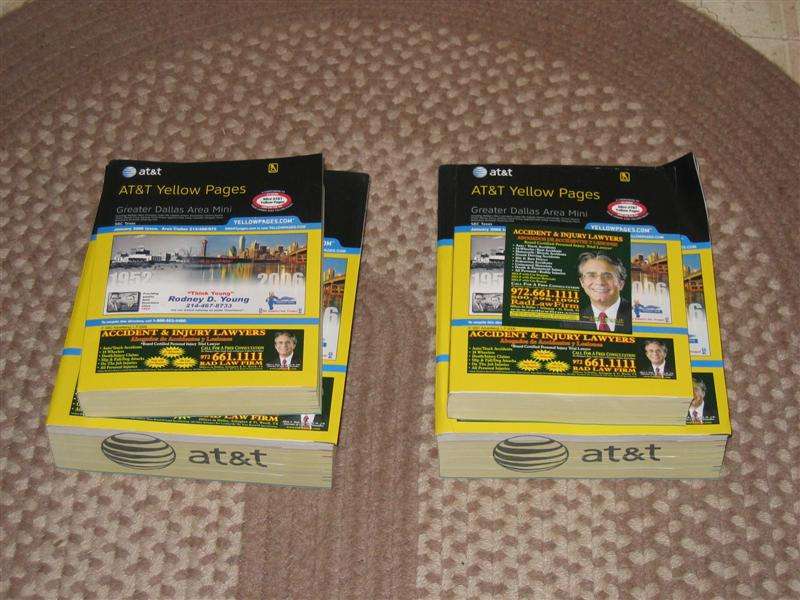 OK, I can let that go, someone dropped off an extra copy, but given how many I already have it just made the discard pile larger. Speaking of the discard pile, here's an inventory of what phone books I had after putting them all together.
Area Wide Directory:
2002-2003 Edition
2005-2006 Edition
Verizon:
Greater Dallas: April 2005
Garland – Mesquite: 2002-2003
Garland – Mesquite: Sep 2005
SBC:
Mesquite – Seagoville: May 2005
Greater Dallas: Jan 2005
Greater Dallas Mini: Jan 2005
Greater Dallas Residence White: Jun 2004
Greater Dallas Business White: Jun 2004
Richardson – Garland – Plano – Jun 2004
Mesquite – Rockwall – Terrell – May 2004
East Regional – May 2002
AT&T:
Greater Dallas – Jan 2006 x2
Greater Dallas Mini – Jan 2006 x2
Why do we need so many local editions? The regular "Greater Dallas" one is pretty darn huge to begin with. They might as well have one mega edition with all the silly little local ones incorporated in there, and split it from like A-L and M-Z. They could also make more money on cover ads, which I'm sure are a big deal to them. Granted, a few of these are my own fault for letting sit around (2002?), but even without those old ones, there's too many "current" editions. Here's my discard pile (L-R: Verizon, Area Wide, SBC):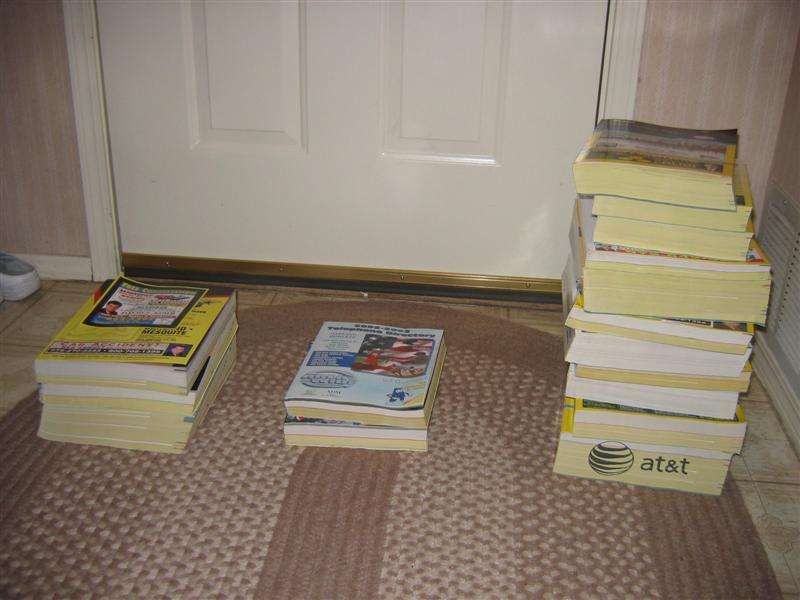 That's a huge pile of phone books. All of the ones in the picture above are now sitting in the recycle bin out in our back yard, so the City of Garland truck will pick it up tomorrow morning when it comes down my alley. Out of all that stuff, this is all I am keeping (the one down front):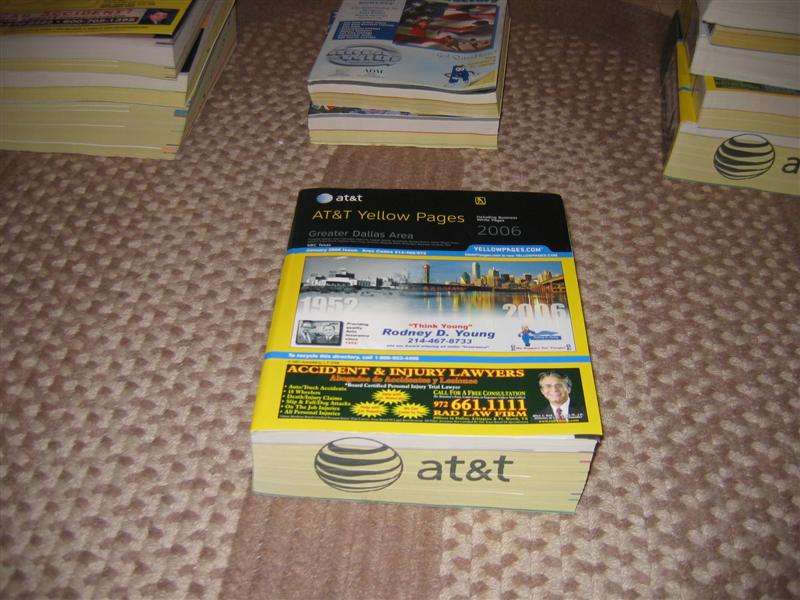 After talking to my wife, we never use the white pages books, we never use any of the non SBC (now AT&T again, but that's a rant for another blog entry) books, so I decided to keep just the main Greater Dallas one from AT&T, but not the mini, which appears to be the same thing except in smaller print. So three of the four books dropped off on our doorstep two days ago are already out in the bin.
I also contacted Verizon's Superpages and Area Wide and asked how you can stop them from sending books. Anyone know of a good way to stop phone companies from sending you books? There doesn't seem to be a way to do that that I can find.
What a waste.
BTW, a special thanks goes out to my wife for getting me to do this. I was sitting there in the foyer sorting the books and complaining about all of them. So I hear from the other room "I smell a blog entry", to which I replied "Good idea, there hasn't been any rants on my blog lately – it's been too happy". However, I think the real reason she said that was to get me to stop complaining and move the rant to the blog instead of in her ear. :)