I just got done watching the movie "Life Itself", which is the movie based on the life (and the book) of Roger Ebert. This is a movie that is participating in what I think a new thing is where you can rent movies from PPV while they're still in theatres. It is a hard movie in some ways, so it was nice to be able to see it with my family out of town, so I could watch it straight through without interruptions. Many people have written about Roger, myself included. I wanted to take a moment and say a few words online about it, because that was the thing that Roger was known for – seems fitting.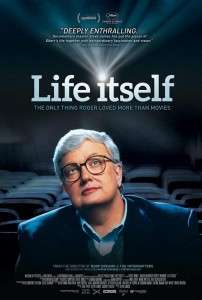 Those who have known me a long time know I've always been a fan of Roger Ebert. I started watching him in the old show he did with Gene Siskel back in the late 70's somewhere. I followed him through the various permeations of his show, the death of Gene Siskel, his own health problems, and all of that. As a fan of his career, I knew all the major story points about his professional life, but the majority of this movie was new to me, and that was a joy.
I learned several things about him and his past that I didn't know. Learned about the family relationships with his inlaws – if you didn't know, Roger married a black woman, and the movie talks a little about the realities of a situation like that. But the biggest thing I took away from all the relationship stuff with his wife in this movie is that they genuinely loved each other. A lot of couples do, but this seemed deeper than that. It was genuine, pure, unbending love for another person. Now I know movies like this generally don't talk about fights people have, so I'm not ignorant of that, but as any married couple can tell you, it's never a bed of roses 100% of the time. That they still had the unbending love and desire to keep going through all their problems, and ESPECIALLY his cancer, removal of his throat, the inability to eat and drink, and probably most importantly, speak… While Roger physically changed rather a lot (in some visually disturbing ways at times), the love that you saw in the film before all of that was definitely still there after Ebert's problems.
One thing I didn't find out till today was that Roger Ebert didn't know about the cancer that Gene Siskel had, and that upset Roger after Gene's death. Roger's response to that was to say that if something like that ever happened to him that he wouldn't hide it. And boy did he not. He said when he was alive that he wanted the film to be true to his medical condition, and they were. While it is not the main focus of the film, a couple of practical examples of what he has to go through (like the draining of the tube that is in his throat) is a little hard to watch. But still, their love shone through all that. Watching Chaz Ebert on screen have to talk about the death of her husband is hard.
Watching those parts of the movie, I thought a lot about my wife. Those who know me well, know I can be difficult at times. Stubborn, proud, and "right" – basically a pain in the ass. That can be a deadly combination, but still she's still with me. We just recently passed our 27th anniversary of meeting, and this October we'll have been married for 18 years. As they said in the film, my wife saved me from a life of being alone, and that would have sucked. So thanks for saving me, Lynn!  I'm still proud to have you as my wife. I'd like to think I'd be as strong as Roger is facing those kinds of problems, but I probably won't, and I'll need Lynn to save me yet again.
One more about Ebert. I never knew him personally, but he and I did have one singular connection in the past. Those who know me well, know I tend to obsess about things I like (Doctor Who being one). Well, I also wrote a history of the Siskel & Ebert show through all of its permeations. Roger Ebert himself saw it, and gave my article his blessing, calling it "This is the best history of the full 35-year sweep of the show.", and sending all of his online followers to my blog. As a fan of his from the past, that was high praise. I'm quite proud of that moment.
If you were ever a fan of his, you should check this film out. It's like a real movie. Sad in places, funny in others, really difficult at times. In the harsh light of reality, it's more a documentary on his life, but the emotion behind the life portrayed in the film touched me. Was it because I was a fan of his? Probably, but I don't think that invalidates the emotion I felt, it just gives the emotion a reason for being.
Two Thumbs Up.