Tonight was the next in my #watchemall series of movies.  Last weekend I binged on Star Wars movies (so I can fit them all in before the new one in a few weeks), tonight is the next one in the series.  Tonight was "A New Hope", or what it was called when I saw in theatres back in 1977, just "Star Wars".  And no Maclunky, either!
Here's a few words about this one.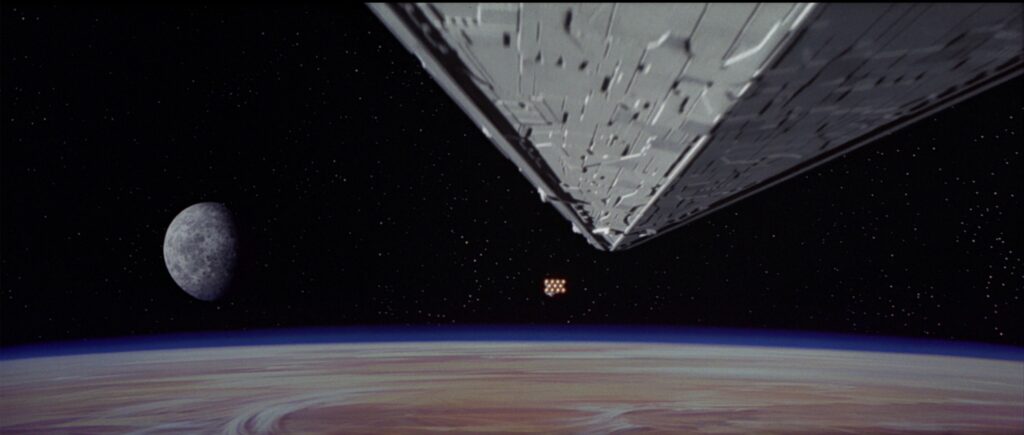 This one I will probably write the least about, because it's the movie that we all know the best.  I'd lay safe money that if you're reading my blog, you know Star Wars, and have seen this movie already.  By most fans' options, it's not the best overall movie (that's the next one), but the original still holds up despite all of George Lucas' tweaking with the thing.
As I watched it tonight, it all still works.  Despite seeing it a million times, knowing everything that's going to happen, and having a handful of bits you always comment on for their goofiness (or mistakes), it all just works.
There's a lot of laughs here – I love the bit with Han Solo on the intercom with someone (on the bridge) in the Death Star.  He ends up shooting the panel, that made me laugh.  The stormtrooper that hit his head on the door.  The little "mouse droid" that Chewie roars at and it turns around and runs. Han running down the corridor screaming at stormtroopers chasing them. Leia saying "You came in that thing?  You're braver than I thought!".  The game of chess with Chewbacca ending with "Let the Wookie win!".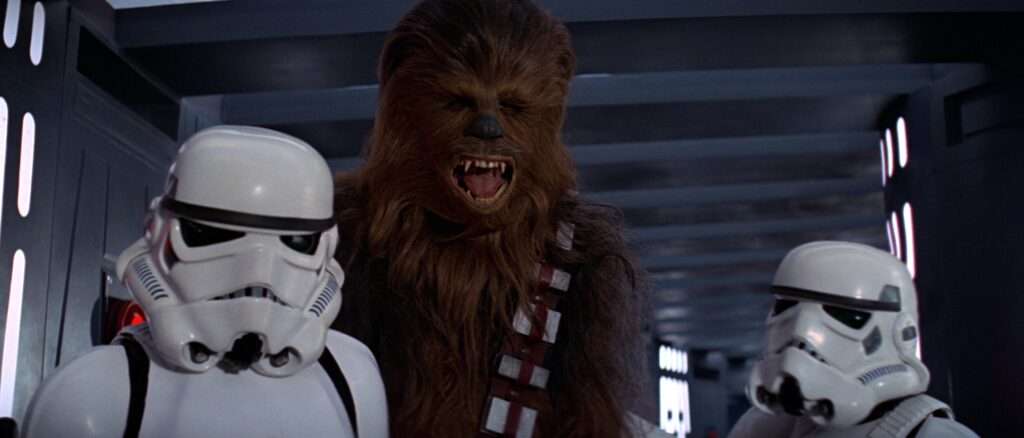 A couple of observations I noticed watching it this time after having now seen the prequels a few times (yes, they exist, and yes they count).   Luke is pretty darned whiny in this film.  However, so was his father before he turned to the Dark Side.  Anakin Skywalker was fairly whiny too, so I suppose it's not a huge shock that his son Luke was whiny, too.  Also, as shown at the end of Episode III, Obi-Wan delivered newborn Luke to Owen & Baru, and then retreated.  But he still looked pretty firmly like Ewan MacGregor.  At the time of Episode IV, he looks like he's aged 35-40 years, when it really is only about 18 years or so.   His being a hermit aged him – A LOT.  There's going to be a Disney+ series with Ewan MacGregor about Obi-Wan during this time.  I wonder if they'll get into that.
Anyway, it's hard to talk about this without talking about the changes.  George Lucas has changed this movie – a lot.  It still works despite all that, but for those of us that remember the original, it's still stuff that sticks out.  Most I don't care about – like SFX changes, but the big things, like "Han Shot First", lesser things like new rocks in front of R2D2 when they meet Obi-Wan, and the newest one – "Maclunky", are like.. WHY?  The changes really take you out of that scene where Han kills Greedo, because you can't get into the drama of the scene, it's just "here comes the changes".  I really wish he would have left that scene alone above all others.  Anyway, there's a couple of good compilation videos here and here showing all the changes between the various iterations of the original Star Wars movie.  Check 'em out if you'd like.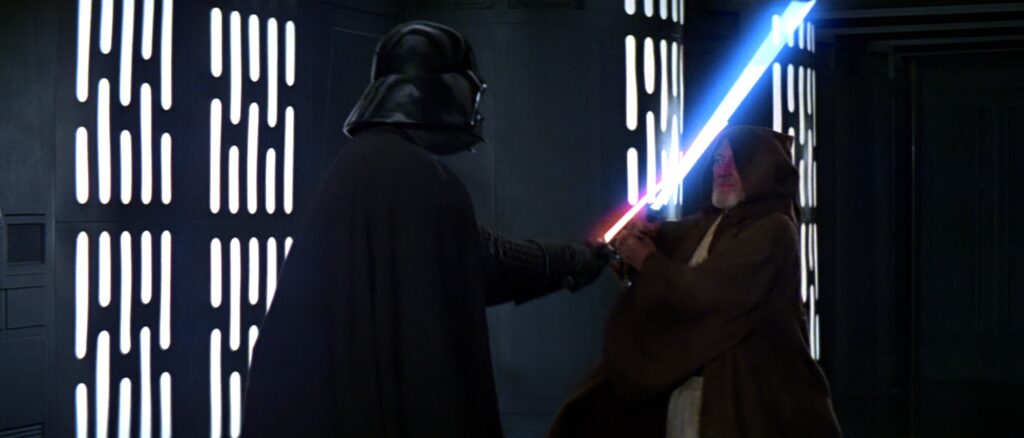 But enough of that.  I didn't start this blog to talk about how negative this movie is – it's bloody amazing still.  Some other stuff I loved was "These aren't the droids you're looking for", how attractive that Leia looked in this movie.  Harrison Ford was perfectly cast, loved him as Solo in this film.  Luke & Leia's swing across the chasm – that scene had the Wilhelm scream!
One of the biggest strengths of this movie is John Williams' score.  The music he created for this… words like epic and legendary don't do it justice. For me, this might be the best movie score of all time.  Can you imagine what Star Wars would have been like without the music here?  The music is just as important as anything else in this movie.
An interesting take – not that it matters much – is that Princess Leia and Obi-Wan Kenobi never meet in the movie.  The closest we get to that was when she was on the other side of the Death Star hangar bay when Kenobi does.
Of course, the stormtroopers can't shoot worth a crap.  I mean, people are standing still, they din't know the stormtrooper is there, yet they still miss.  I mean, Vader should have just whacked them all for total incompetence.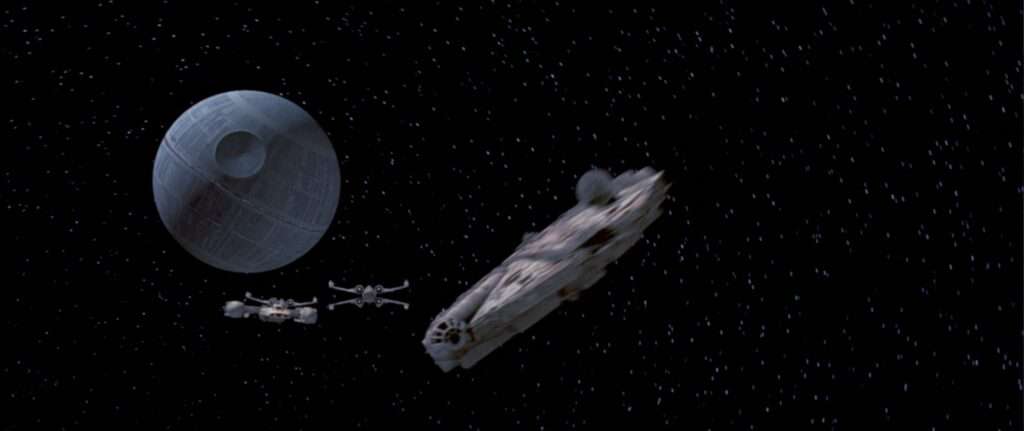 My Summary
Biggest Problem: George Lucas' constant changes. Maclunky anyone?
Biggest Strength: There's so much I can put here. Williams' music is the MVP, I think.
Overall Rating: A (would have been an A+ without the changes)
This one turned out to be a string of comments vs a full on "review" as such.  That's because as I said at the top, there's not much I can say about this movie.  It's great.  Pretty much everyone knows that, and there's not much I can write about in a profound manner that hasn't been said somewhere along the line already.  Even with all the changes, even with all the tweaks, the Maclunky stuff..  It's still a damn awesome movie.
One last thing.  My daughter is 14 now, but when she was younger – about 6 or 7 or so, we introduced her to Star Wars.  At the time, we asked her what her favorite part of the movie was, and she told is it was the "scene at the end where they get medals".  When we asked why, she said "that's because she looks most like a princess there".  At the time she was BIG time into the Disney princesses. Belle, Ariel, Cinderella, etc..  So this reaction isn't a huge surprise.  My wife and daughter are watching these Star Wars movies with me, and I brought this up as we approached the scene.  They both said out loud "Well, she does!"  So I had to end with that as a screen grab.  :)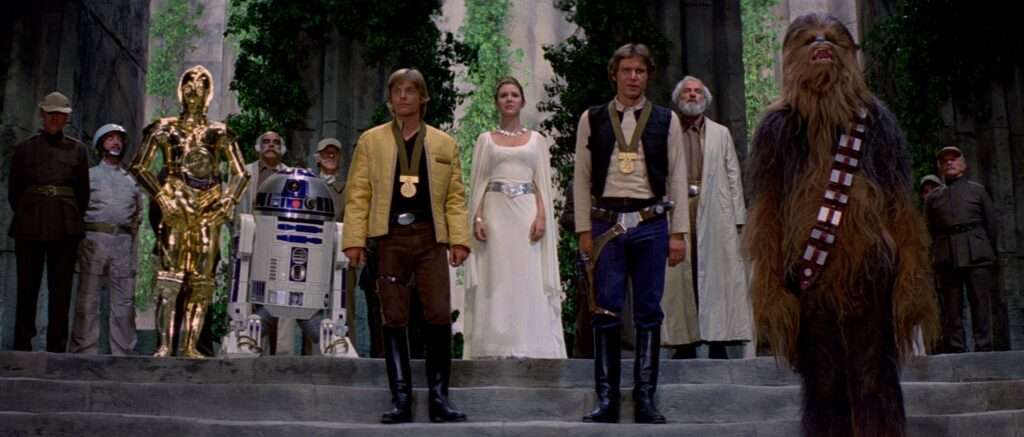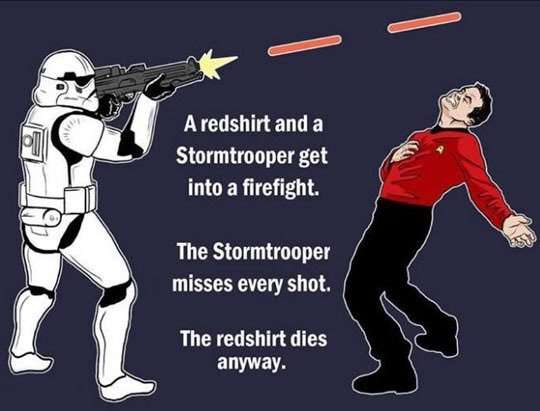 Original Trailer
UPDATE: After I posted this, I saw this tweet online, and had to include it, so I suppose, I have my own Lucas style edits to my work on Episode IV.  ;)