"If you don't eat your meat, you can't have any pudding. How can you have any pudding if you don't eat your meat?"
It's Nov 30, 2019.  An album that dominated my musical landscape like no other was released 40 years today.  It's The Wall by Pink Floyd.  I'm here to write a few words about it today.  When this album came out, it was right at the time I was in my sophomore year of High School, and also about to hit a troubled time in my life (with my parents divorcing), so the call of "We don't need no education" hit me strongly.
This post is my recollections of "The Wall", what I thought of the album, and a few other appearances of the material over the years.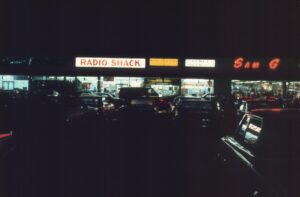 My Thoughts
The Wall was the first Pink Floyd album I ever bought.  I got it from an old Sam Goody's store in Philadelphia – which I oddly enough have a picture of 40 years later.  ;)
Whether I bought vinyl first or the cassette tape first I can't recall, but I definitely bought both of them at some point.  That was the era of the Walkman, and I would buy albums I really liked twice – one for the record player at home, and once for the Walkman (and the boombox I had too).
Looking back on the album, the music is not the most accessible as a whole.  There are several catchy tunes of course, the most notable being "Another Brick in the Wall Pt 2".  The "We don't need no education" being the most noticeable.  It's also got a fairly disco strong beat to it, so it's an odd choice for a rock band's probably biggest single/hit.  There's also "Young Lust" & "Comfortably Numb".  The album is a story, the traditional "rock opera", if you will.  Many of the songs are quite different in their musical construction.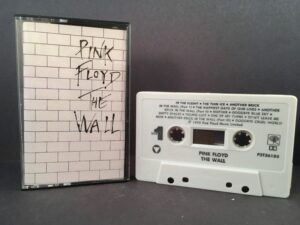 But it all works as cohesive whole.  If you take some songs out of context, like "Don't Leave Me Now", you'd go "this isn't really good", but with the songs on either side of it, it's perfect.   It's not without reason it's Floyd's second most popular album (sales wise) over the years – behind Dark Side.  But to this day, I can listen to it from front to back in one go.  I'm doing so as I write this.  I mean you gotta play it on the anniversary!
When I got this, I was 14, and some of the themes escaped me.  I didn't fully grasp the story at that age, took me a bit longer to get all of it, but yeah, the thing is a masterpiece.  It's Waters at his best, themes of sadness, depression, and the negative things in life.  Constucted properly (like this was), it's not a depressing mess.  I won't go so far as to say it is uplifting, but it's not a the pile of negative emotions it could have been.  The album was based off of Waters' own life, and grew from a specific incident on the prior Pink Floyd tour where Waters was so angry at a fan that he spit on him.  He took his realization of "What has happened here" and turned it into The Wall.  Always wondered what that fan thought of all that.  :)
I played the hell out of this album.  Despite not fully grasping all of the lyrical themes at age 14, I loved the album.  And in 1979, I didn't have a whole lot of albums – I mostly listened to the radio then, and the handful of albums I did own weren't albums like this.  I had some disco compilations, and a couple of Star Trek albums (yeah, they had them).  This, and Back in Black the following year were the foundations to my rock and roll choices.   It's why I've said over the years that "The Wall" dominated my musical landscape when I was young unlike anything else I owned before or after.  There's been albums I like more as pieces of music (Operation Mindcrime being one).  But "The Wall" so changed me when I heard it that nothing else has had an impact in my life like this one.
Live Shows
Now, my first ever concert I went to wasn't until the summer of 1982, but had Pink Floyd played The Wall live in Philadelphia in 1980, I would have definitely gone.  But they didn't.  The band was internally falling apart at this point, and the production of the live show meant that they only did a handful of dates.  I had read at the time the band was offered a million dollars to play a few shows in Philly and turned it down.  Damn.    The entire tour consisted of 31 shows in just four cities (Los Angeles, Uniondale NY, Dortmund, Germany, & London).  Most of them were in 1980, but a handful were staged in 1981 with the original intent of using them for the Wall movie (more on that later).
Much later on, in 2010, Roger Waters announced he was re-staging the Wall in a touring show.  Technology improved greatly in the 30 years since the original shows, so it was able to be a traveling tour, vs more of a "circus stop" (my term) of the original 1980 shows.  So I was VERY excited to find out he was playing Dallas, so I immediately jumped on tickets for that show.  Turns out I was sick with bronchitis (but didn't know it then) but I didn't care.  I waited 31 years to see this show, I wasn't stopping unless I was actively vomiting.  It was everything I could have hoped for.  I've seen a LOT of concerts in my lifetime, and I can say without fear of hyperbole that it is THE BEST live concert experience I've ever had.  From the music, to the visual spectacle, Roger Waters' Wall shows were completely amazing.  He toured it again a couple years later in 2012, and I went a second time – that time to Austin, as he didn't play Dallas the second time around.  I rarely travel for concerts, but for this one I made an exception.  Through the 2010 shows, there was a story that David Gilmour was going to turn up and play Comfortably Numb with Roger, but they said they wouldn't announce what show it was to be.  In the end, it was London, and that shouldn't have been a shock, but everyone kept hoping it was going to be their show.  Given the caustic nature of the relationship between Waters & Gilmour, that they did this was quite amazing.  I never thought he'd play Dallas, but I can't lie, I had hoped.  :)   There's video of this appearance online, you can view it here if you want.
One thing I liked about this show is that Roger didn't want to reinvent the music, some new "imaging" of the source material.  According to interviews with his band members at the time, Roger was insistent in creating the same sound as the original album, so that was quite nice.  One of his touring band was GE Smith, a guy I remember from years on the Saturday Night Live house band.
There was a point in the concert that made me super emotional.  It was the song "Vera".  Now that is a song that I never cared for.  There's nothing explicitly bad about it, it just does nothing for me.  However, in the Wall shows, Roger projected videos of kids reunited with their fathers who were off at war that surprised them with the appearances.  There's one in particular that just rips your heart out – if it doesn't affect you, you're broken inside.  Watch this.  It also has "Bring the Boys Back Home" which I like the message of as well, but I'm including this for that "one little girl" in the Vera segment.
Here's a few pictures I took myself, and a video that isn't mine showing the first song of the concert, watch it all the way to the end, it's a cool microcosm of the complete concert in a single song.  The pictures were taken from the 2012 show I saw, I had a better vantage point for that show.  For a live spectacle like this being further back is actually an advantage, since you could see everything, but 10 year old digital cameras in phones weren't as good as they are now.  :)
One last video – this one is mine – I shot it myself in 2012.  It's a clip of the hammers marching across the Wall at the end of "Waiting For the Worms".  I always loved this visual, and to see it projected on a wall that large was an amazing thing to behold, IMO.
tnoflahC ,mraF ynnuF eht fo erac ,kniP dlO ot rewsna ruoy dnes esaelP .egassem terces eht derevocsid tsuj evah uoY .snoitalutargnoC
Other Stuff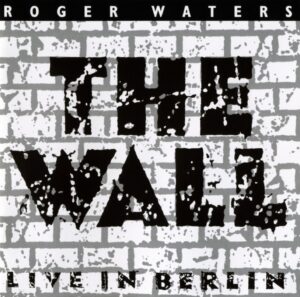 The Wall Live in Berlin
There's other versions of "The Wall" besides the studio album and the 2010 & 2012 concerts I mentioned above.  I'm aware of and have listened to all of them, but I don't feel as strong a draw to them, but me being me – I had to mention them.
First up is "The Wall: Live in Berlin".  This was a show from July 21, 1990 held at the area between between Potsdamer Platz and the Brandenburg Gate – basically "No man's land" for the Berlin Wall.  This was a celebrity show – I've read conflicting reports over the years as to why the non participation of the other Floyd members.  But in the end, it was just Roger, and it was quite a bevy of celebrities.  I won't go into the full list but a few that I liked were:
"In the Flesh" by The Scorpions
"Another Brick in the Wall Pt 2" by Cyndi Lauper
"Empty Spaces / Young Lust" by Bryan Adams
"Comfortably Numb" by Van Morrison
"One of My Turns" – Intro by Jerry Hall
"The Trial" – "The Trial" – Characters by Tim Curry, Thomas Dolby, Albert Finney, Ute Lemper, & Marianne Faithful
There were stories that once word got out that the rest of Floyd wasn't performing, that people wanted in.  One of my favorites was Rush drummer Neal Peart wanting to be involved, but was apparently turned down by Roger Waters.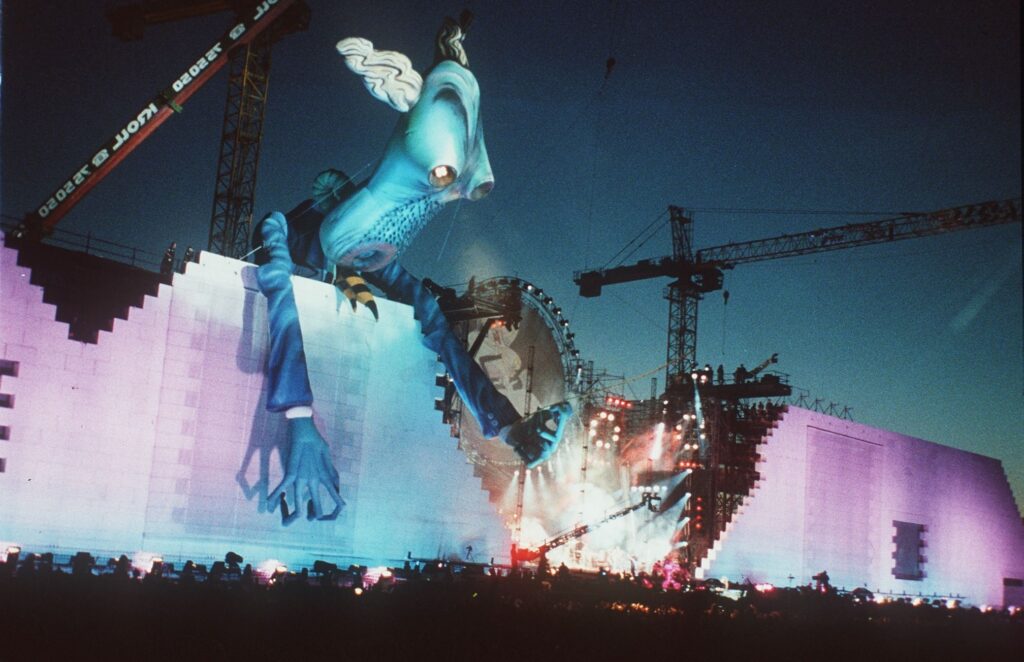 The Immersion Box Set
In 2011 & 2012, there was a complete remastering of the entire Pink Floyd catalogue.  There was a box called the "Discovery set" which contained all the proper Pink Floyd studio albums, including The Wall.  However, there were three albums singled out for "Immersion" experiences.  They were Dark Side, Wish You Were Here, & The Wall.  I got Dark Side & The Wall.   This was a seven disc (6 CD, 1 DVD) set with the proper album remastered, as well as several discs of demos and unfinished versions of songs.
Disc 1: The Wall 2011 Remaster Disc 1
Disc 2: The Wall 2011 Remaster Disc 2
Disc 3: Is there Anybody Out There – The Wall Live 1980-1981 Disc 1
Disc 4: Is there Anybody Out There – The Wall Live 1980-1981 Disc 2
Disc 5: The Wall Work in Progress Part 1, 1979
Disc 6: The Wall Work in Progress Part 2, 1979
Disc 7: DVD Audiovisual Materials
The complete list of tracks on all these is quite comprehensive, and I won't go into it for brevity's sake.  But if you're interested, there is a complete list over here on Wikipedia.   There's other stuff in there, too.  Some coasters, some artwork printed on cards, a booklet with all kinds of visuals, and oddly enough a set of marbles.  All the Immersion sets had marbles – nobody could really figure out why.   If you want to see a complete unboxing of the set, there's a video below (not mine).  There is also a video on the official Pink Floyd channel with samples from some of the songs on this, including a couple of the "Work in progress" tracks.   You can view that here.
Also here are a few pictures from the Immersion set, which I still have to this day.
This set is really only for the hardcores, and now being seven years old and on a different label that Pink Floyd is on now, is also unavailable now.
The Wall Movie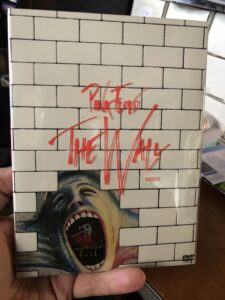 In 1982, there was a Wall movie, which contains some new music besides the album that we know.  I was never particularly fond of this, I felt it didn't translate well.  But that's a personal opinion.  There's segments that work very well, and some that are extremely effective, but as a whole, I didn't so much care for it.   Having said that, it does exist, and I should say a few things about it.
It introduced two new songs to the overall mix of the album.  One was "new" new ("When the Tigers Broke Free"), and the other is semi-new ("What Shall We Do Now").  If you look at the original versions of The Wall, there are lyrics for "What Shall We Do Now".  This song was fully intended to be on the Wall album, but technical limitations led to the song being removed due to it physically not fitting on the album, so a shorter replacement was put on there – "Empty Spaces".  On the movie, the song was restored – also with newly seen animation by Wall artist Gerald Scarfe.  You can hear that song here and watch the video (which is somewhat "adult" in places)…
When the Tigers Broke Free is a song written solely about Roger's father, and I've written about that song elsewhere on this blog, calling it "Masterfully depressing".  More on that in the next section anyway.
However, some of the stuff on there is spot on.  I did like Bob Geldof's performance in the movie, and while his voice on the recreated parts wasn't the same as Roger's, it worked.  One scene in particular is the second song from "Side 4" of the album.  This is "In the Flesh" – the second one (the first song on Side One is also called "In the Flesh?", but that one has a question mark this one doesn't.  They're mostly different despite the similar name.   Given the political climate in this day and age, I watched this today in prep for this article, and holy cow, I can see this stuff today, sadly.   Showed this to my wife and she was freaked out by it.
The Final Cut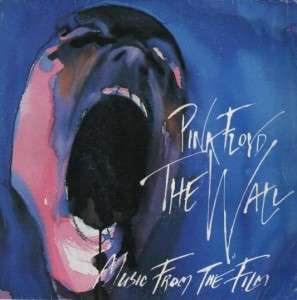 This is technically the next album by Pink Floyd, it came out in 1983, but it is somewhat connected to both the Wall album and the Wall movie, so I wanted to drop a few words about it.  As I mentioned earlier, as originally conceived, "The Wall" was going to be a TRIPLE album, not the double album it was.  It got optimized out, and the third album of songs was shelved.
Originally, there was going to be an album which was going to be basically a "soundtrack" to the Wall Movie, its working title was "Spare Bricks".  Would have included the pieces I mentioned above, plus some other stuff.  This so much so was a thing, that a physical 45 RPM single was released for "When the Tigers Broke Free".  I know this exists, I bought it back in the day, as it was a NEW song.  I still have this in 2019 – the cover is shown to the right.  I couldn't locate it to take a picture, it's stored away in a box somewhere.  But the real thing of note here is on the back cover it says "From the album The Final Cut" (which Spare Bricks was now known as).
However, the Falkland Island war happened, and Roger wrote some new songs about that, combined them with some of the leftovers from the Wall and put out the 1983 album "The Final Cut", which was a very eclectic release.  About half the songs on the final version of "The Final Cut" were leftovers from the Wall sessions, and oddly enough, the 1983 release of "The Final Cut" did *NOT* include "When the Tigers Broke Free".  That never made it to the album until the 2004 remastered version (and then again on the 2011 version).  I wrote about that more in the aforementioned article on Tigers.  Anyway, you can clearly tell where some of the songs from Final Cut would fit into the Wall narrative, so much so that one of the songs has the lyrics ".. and if I did, I'll show you what's behind The Wall" in them.  However on the final album, a sound effect masks them saying "The Wall".
Here's a couple of pictures of the 1982 single for "When the Tigers Broke Free".  Still have my copy all these years later.
There's one other smaller section – one I always loved that connects The Final Cut with the Wall movie.  In the movie in the scene that goes with the song "Stop", Geldof's "Pink" is shown sitting on the floor of a bathroom stall taking notes on a notepad, and reciting lyrics.  What he's reciting at first before he gets to the actual lyrics of "Stop" are from the song "Your Possible Pasts" from the Final Cut album…  "Do you remember me, the way things used to be?  Do you think we should have been closer"..  I picked up on that way back when, and I really loved that connection – although I expect it went over most people's heads since they didn't know of or like the album "The Final Cut".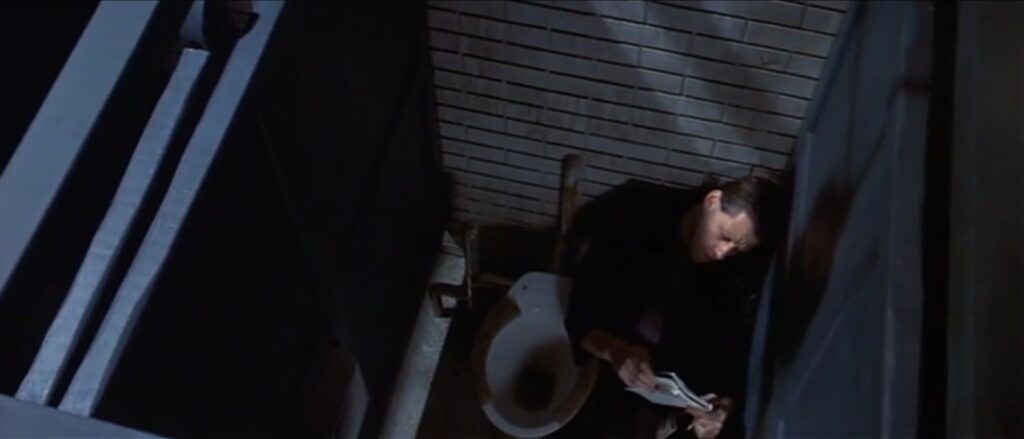 Summary
As you can tell, I have a strong affinity for Pink Floyd's "The Wall" album.  Overall, my favorite Pink Floyd album is probably Animals, but I'm always drawn to the story of "The Wall".   It's both fictional and autobiographical at the same time, so it's an odd mix.   There's so much music on this which is amazing, and so much that I enjoy that I never skip songs when listening to the Wall, even the ones I don't enjoy as much as others.
It's a complete masterpiece.  Bands if they're lucky get one of these in their career.  Pink Floyd had two of them (the other being Dark Side of the Moon).  While constructing this article I listened to The Wall, the Wall Live 80-81, and The Final Cut.  It just all flows together, to me.  If you've never listened to The Wall, then I urge you to do so.
Complete and total masterpiece.