KHAAAAAAAAAAAN!  The one word that spawned so many memes.  My teenage daughter who isn't really into Star Trek knows that!  The reach of William Shatner's meme worthy moment there transcends Star Trek and breaks into the more wider world beyond just Sci-Fi.  This movie holds a seriously long standing, well deserved place in my heart.  It's also the movie I've seen more than any other time in the theaters – and BY A LOT.  Before I get into the movie itself, I want to tell a story about me and the movie.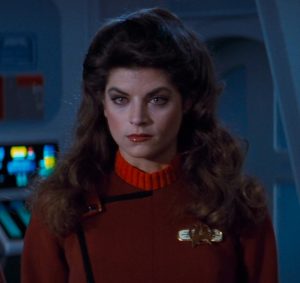 When this movie came out, I was a Junior in high school.  My parents had divorced, and it affected my grades (and my attitude).  I didn't realize that at the time, but that's obviously what happened looking back on life.  Long story short, I called out my English teacher (during class) for having a stupid plan and a bad concept for the final grade project.  He told me if I didn't do it, I'd fail, despite acing the course the rest of the year.  I failed.  Since I didn't want to have to repeat English in my senior year, I opted for summer school.  Now I was in Summer school with the people who really needed to be there.  I did not need to be there (not academically, anyway).   So I sat through the first class, and at the end I talked to the teacher, and asked her for the syllabus for the entire course.  When I came back for Day 2, I had 100% of the work done (and correctly).  She said "That's nice, but you still have to attend to get credit".   We worked a deal, where I would show up for attendance, and then I could leave.  So I would go to the summer school, and then I'd leave after like 5 mins.  The reason I said all this was because across the street from the summer school was the Orleans movie theatre in Northeast Philly.  I would walk across the street, and see the early bird matinee of Wrath of Khan – which was in its original run.  Saw it EVERY DAY.   I've told this story in real life a lot, and the truth is I've lost track of the exact number of times I saw it in the theatres, but it was slightly north of 40.   It's by far the most times I've seen something in the theatres, next closest would be 4 I think.   So I know this movie REALLY really well.  When I watched it for this review, I still had my mastery of the dialogue.  I don't think I could write down the entire movie, but I can absolutely tell you the next line at any point in the movie.  But enough about me…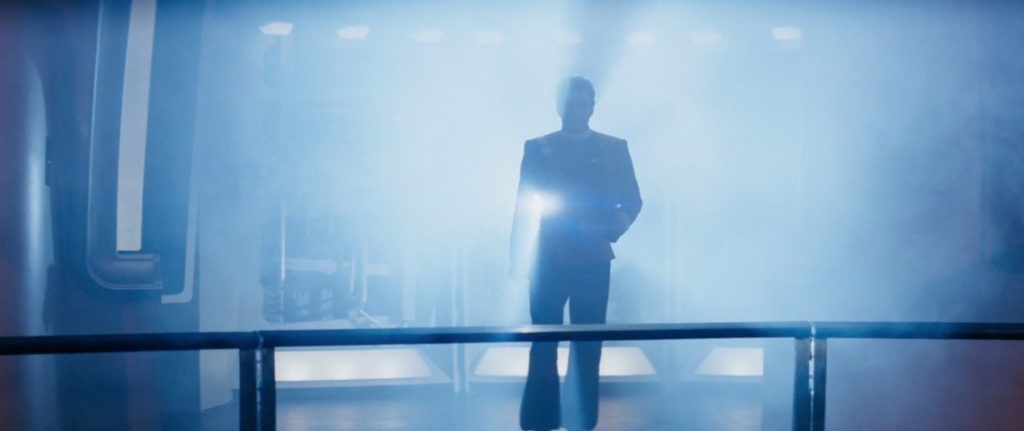 Leading into this movie, the reaction to the first one wasn't the best.  I wrote about it myself elsewhere on this blog, but I recall thinking "Well, they need to do something better for a sequel".  Boy, did they!   Wrath of Khan is generally regarded as the best Star Trek film by fans of Star Trek (non fans tend to like "the one with the whales").  This film is everything the first one wasn't.  It had action, it had character development, it was well paced, had well written and properly sprinkled jokes.  It's absolutely perfect, in my opinion.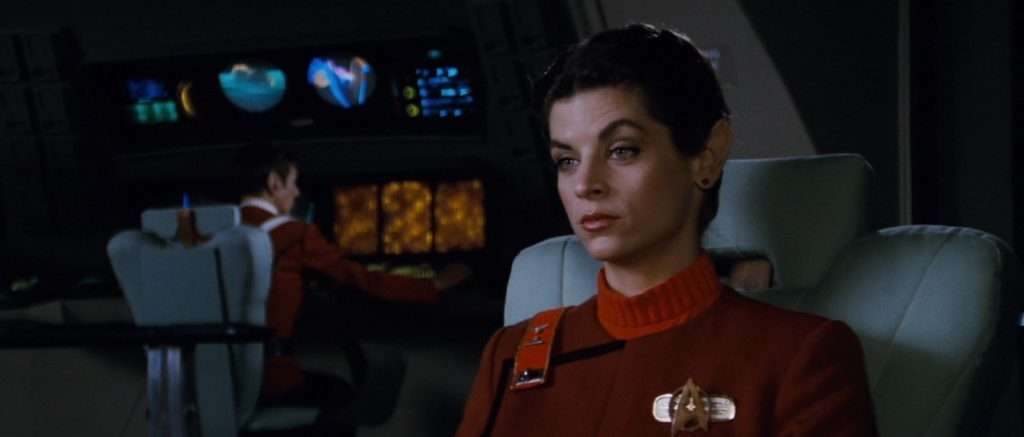 A story about Nimoy and the pre-movie hype….  The story I've read is that at this point in his life, Leonard Nimoy had to be convinced to return to the movie, and he wasn't going to do it until it was devised that they'd kill Spock in the movie.  That news leaked out to the press, and it was a fairly poorly kept secret.  It was mostly known that it was going to happen, so I loved that they played with this in the early part of the movie.  The beginning scene is a training session (the famed Kobyashi Maru scenario).   In that training session the Enterprise is attacked and disabled by Klingons, and most of the crew is killed in the bit.  But on first viewing – YOU DID NOT KNOW THAT.  They showed Spock being killed here, and on viewing 1 in 1982, I thought "Holy crap, they killed Spock THAT WAY"?  I was really suckered in by the training mission scenario, and is something that's lost almost 40 years later, but back in 1982 that was a great play by the moviemakers against the public news leaks.  Right after this scene, the next one started with Kirk asking Spock, "Aren't you dead?" which was a laugh.  I always thought this was the way it was devised, so if it wasn't, I really don't want to know.  I like my "play with the audience" scenario.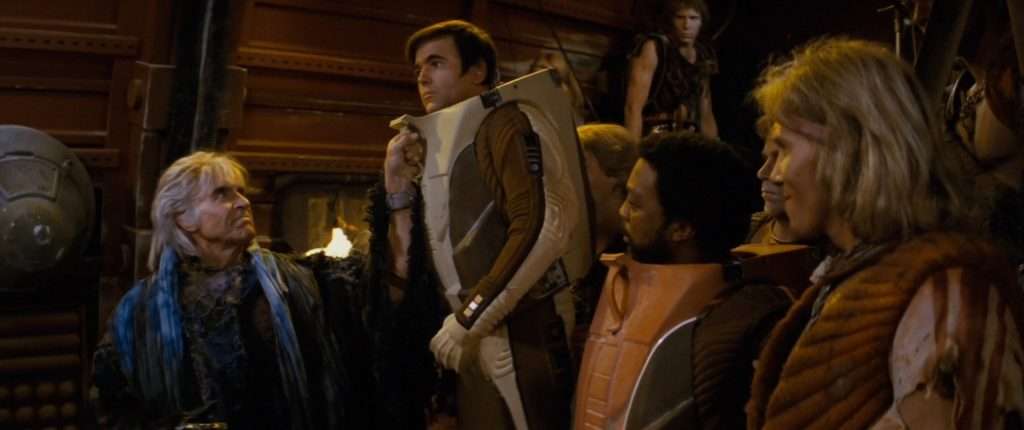 Once we got into the movie, Chekov was on another ship, wasn't on the Enterprise anymore.  He and his new Captain were doing some scientific exploration and ran into Khan from the original series.  That's Ricardo Montalban's great contribution to Star Trek lore, Khan Noonien Singh.   He revised his own character that he played in the 60's in an original episode, "Space Seed". I remember reading reviews at the time saying he was the "wrong choice" for the role.   That's insane, as he created the role!   Montalban was amazing.  He was a perfect mix of intelligent, charming, and borderline insane.  The charming part was more in Space Seed than this movie, but it's all there in your mind if you know the past.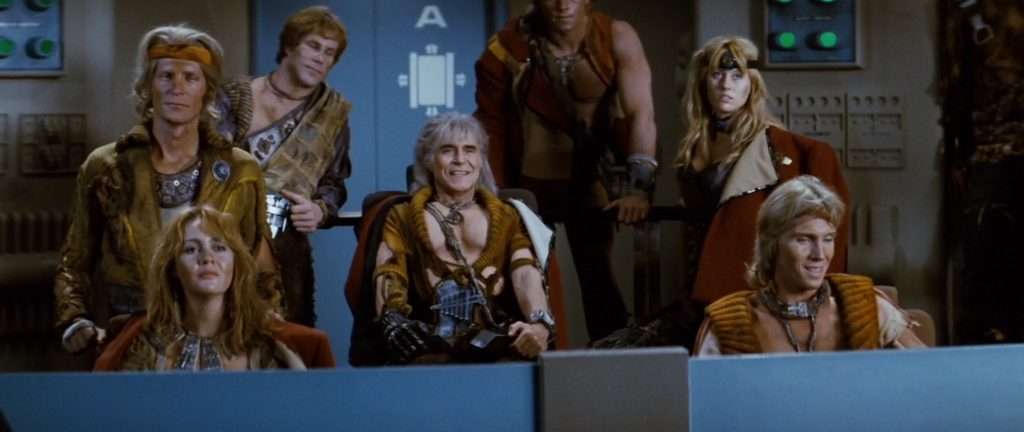 Speaking of the 60's, the one thing that stuck out to me is the age of Khan's people in the movie.  They mostly seem to have de-aged.  They were mostly older in the original series episode, and they're much younger here.  It's not a huge problem, but I definitely noticed it.  Only one of his "people" had a speaking role anyway, so it's mostly a non issue.  I don't know if it's totally a continuity ERROR as such, but the one that is more noticeable is the way that Khan recognizes Chekov.  Khan's episode of the original series was in Season 1, and the character of Chekov didn't come on the show until Season 2.    Khan says "I never forget a face… Mr Chekov!".   That's a problem, as Chekov wasn't on the ship – although fans have said over the years that perhaps he was, just not on the primary bridge crew. ;)  That scene was fun, as it was mostly driven by Montalban.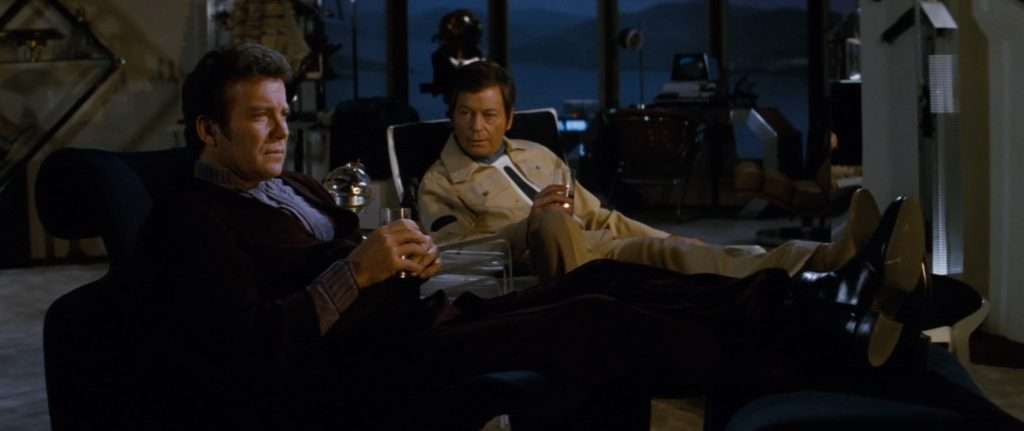 The movie also dealt oddly with Kirk's life and his feeling old.  This was done by having McCoy give him a pair of glasses for his birthday (as they're an antique), and we also got Kirk's old flame in Carol Marcus, and Kirk's son David.   All of these things combined with Kirk not having a ship command of his own, he spend a lot of time feeling old.  I felt this in the scenes with all the trainees on the Enterprise who looked like they were barely past teenage years.  About 2/3 of the way through the movie when they're having an exposition scene, Kirk talks about feeling old and "rundown".  It's an different character examination for Kirk for sure, and probably the first time they did anything like this with him.   Despite all that, I did like it.  It's capped off at the end of the movie after the death of Spock by Kirk saying "I feel young", so he had some definite character development here.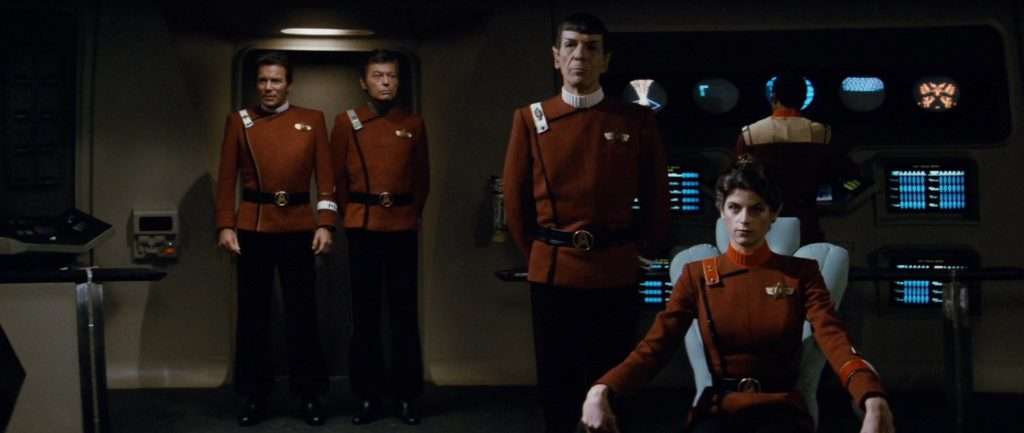 Another thing I thought was a great addition to this movie was a new character to the regular crew.  This was Savvik, played by Kirstie Alley.  You gave Kirk a son, and we have a younger regular cast member, and at the time I recall it being an attempt to bring Star Trek into the future.  We still haven't had TNG yet, so the aging and mortality of the original series characters was built into the plot.  I liked the nod to the future with the younger characters.  Kirstie Alley did a knock out job in this.  For me, Savvik is probably the best character she played, Cheers included.  Of course, I had a big time crush on her back then.   She was shown to be a Vulcan on screen, but in other media, she was said to have been a Vulcan/Romulan hybrid, which would explain things like her crying at Spock's funeral, and saying "Damn" in the initial training session.   With Spock dying in this movie, had he not returned in the third movie, I always wondered if they would have moved forward with Savvik in Spock's place in the regular TOS crew (remember, this was the ONLY incarnation of Star Trek at the time).  I'll write about what happened with the character after this movie in the next review, but I was always bummed this was the end of the Savvik I really liked, she didn't last (in this form).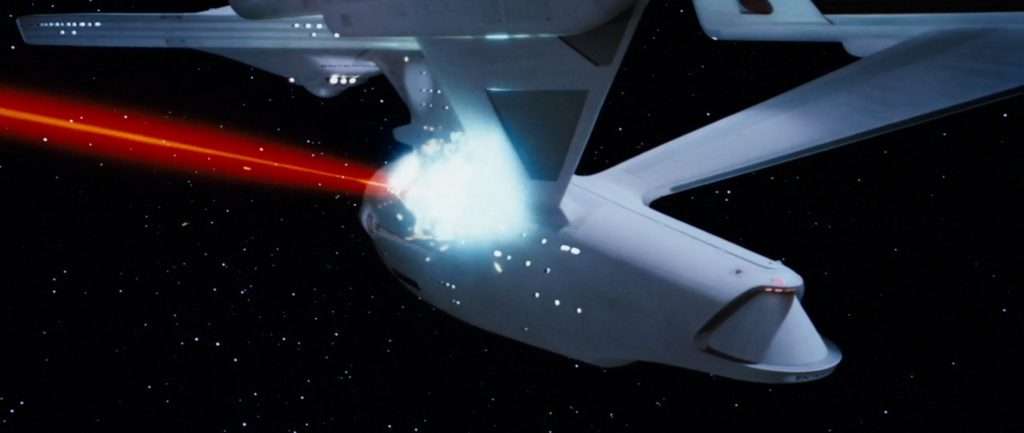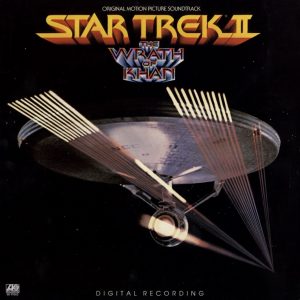 There were two major battle/action scenes in this movie.  The first one was the spot where Khan makes Kirk and crew aware that he's returned.  I loved them both, but the first one had more punch, as it was the first.  It had drama, it had tension, and it had interplay between the two lead characters (Khan/Kirk).   But one thing that makes this scene work really well is James Horner's soundtrack.  Horner's music here is amazing.  Every movie is helped by a good soundtrack, but this one mores than most.  It adds just SO MUCH to these scenes, that I feel it's elevated far more because of the amazing soundtrack work.  I'm not a person to listen to soundtracks by themselves, but this one I have a few times.  It's amazing.  You can listen to the soundtrack here.  After Wrath of Khan (which was his first big soundtrack), he did the soundtracks for Avatar & Titanic. Some of his other work is Cocoon, Jumanji, Aliens, Field of Dreams, and of course Star Trek III. There's a complete list of his work here if you'd like to see..  You can check a clip of the first big battle scene of which Horner's work is a major component here.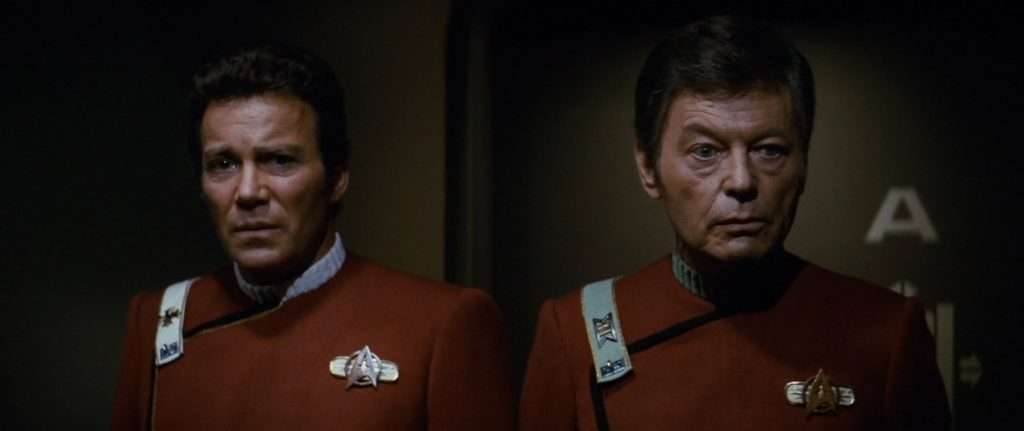 Despite all the drama, death, and emotion that's in this movie, the comedy that is in here is well placed.  There's a scene where Spock orders Savvik to take the ship out of dry dock, when she says she's never done it before.  Kirk & McCoy stare at each other, and then McCoy asks Kirk if he wants a tranquilizer.  That made me laugh in 1982, and it made me laugh last night. One interesting thing about the tranquilizer joke.  It doesn't work in a still shot.  Here's a pic of the moment, but you have to see it moving to get the joke.  There's the aforementioned "Aren't you dead?" line as well.  There's another with Spock being grilled by Savvik over lying which produced a funny line.  I loved the small moments of comedy sprinkled through the movie like this.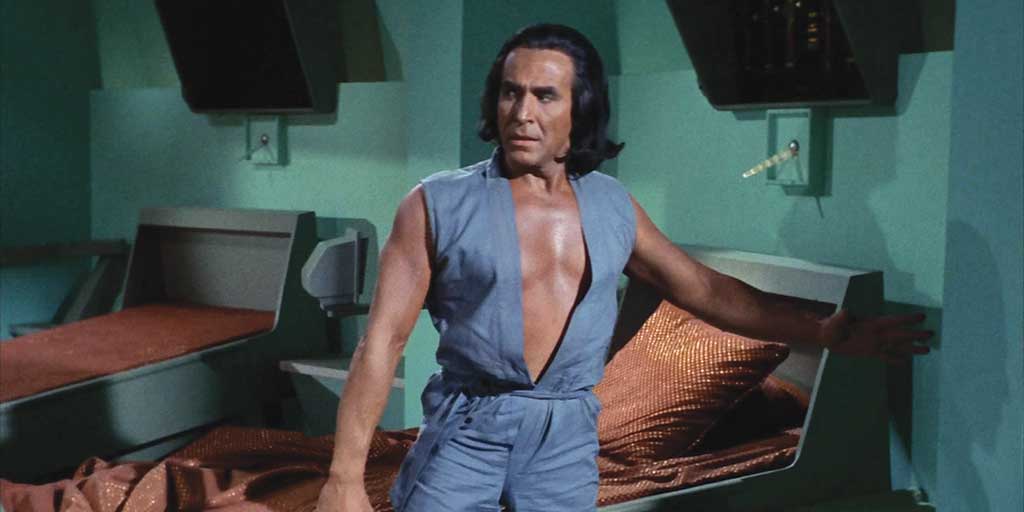 I know I haven't talked about specific scenes a whole lot, but I'd basically just be recreating the movie as there's so many of them I really love.  This is a masterpiece.   It's certainly helped by knowing the original 60's TV episode, but you don't have to know it to appreciate the movie.  It just enhances the flavor to have that backstory.  If you're reading my blog, I'll wager you've seen this movie before, but if for some reason you haven't, you really should see this.  Of course I've ruined most of the movie already if you're reading this and you haven't seen it.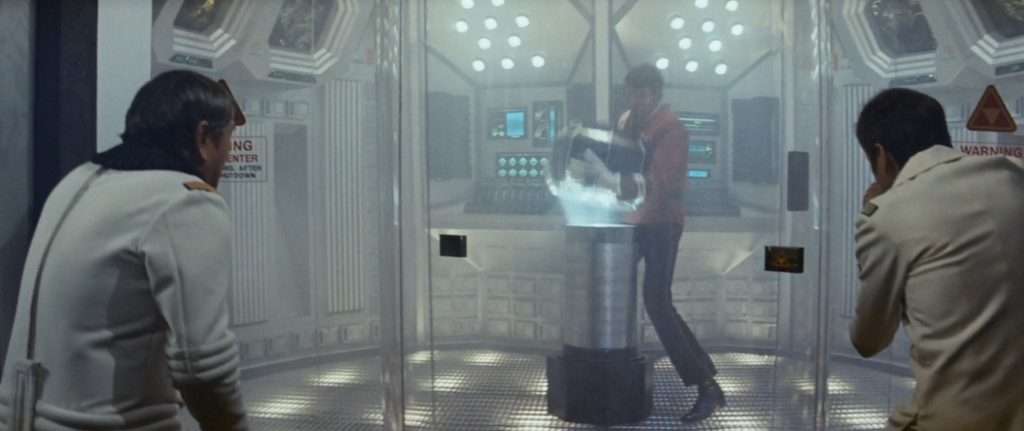 The end of the movie features Spock's death as was mentioned earlier in this review.  It was overturned in the next movie, but at the time it was expected to be "it" for Spock.  (Original) Star Trek without Spock is like Star Wars without Darth Vader, or Dallas without JR Ewing.  It's just such a part of it it's way different when it's not there.   Spock's death was named #2 in the "Top 10 Most Heartbreaking Moments in Star Trek" recently.  That's probably right, it was an emotional scene.  Kirk trying to get to Spock and not giving up until he realizes he's already dead.  Some good acting by Shatner there big time.  The cool thing about this is in the scene before Spock's death you saw him leaving the bridge, knowing what he has to do.  You could feel it coming, and Spock's sacrifice totally works.  It still sucked when it got here, though.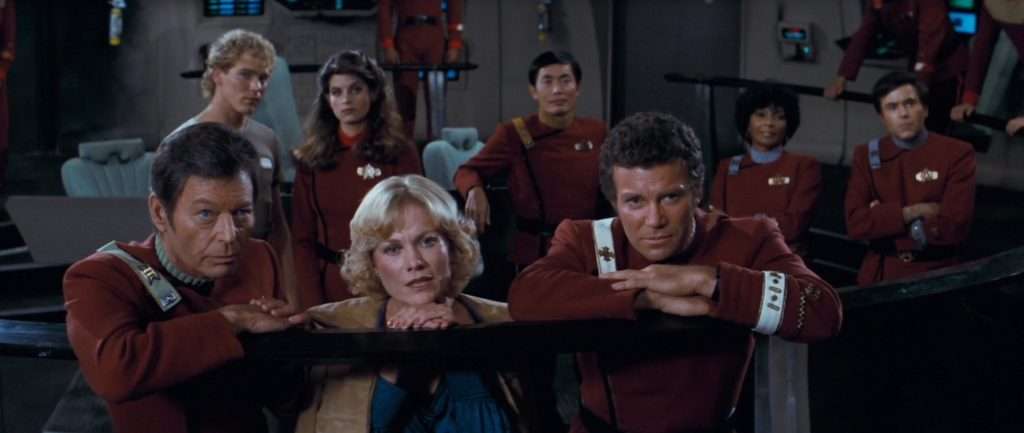 Here's a few small bits about the movie that I enjoy.  Some are things I found out later, but some I spotted just watching the movie.
This movie contains the first ever work by Pixar in a movie.  The special effect of the planet transformation in the Genesis video Kirk shows to Spock & McCoy was done by Pixar.  Now they weren't called Pixar then, they were called the "Lucasfilm Graphics Group", but that was their first thing done in a movie – a full 13 years before Toy Story.  You can read more about Pixar and Star Trek here.
After the first battle with Khan, Scotty shows up on the bridge with his bleeding and dying nephew in his arms.  Why would he go to the bridge?  I mean I get it with the narrative of the movie, as that's where Kirk was, but wouldn't he go to sickbay first?
As Scotty's nephew dies, he grabs Kirk's uniform, and leaves a blood stain there.  That blood stain stays on Kirk's uniform for a few scenes.  However,  the blood stain changes positions on his uniform.  Here's a picture right after it happens, and another where he is on the bridge later.  Note the movement of the blood spot.
In the scene where Spock has Savvik take the ship out of dry dock, Kirk & McCoy freak out like it's the stupidest thing Spock could have done.  The reality here was that all she  did was sit in the chair, and order Sulu to drive the ship.  She didn't DO anything as such.  Sulu wouldn't have crashed the ship into anything, this isn't Tommy Weber from Galaxy Quest here.  The McCoy/Kirk freakout was funny, but not sure it was needed.  ;)
William Shatner and Ricardo Montalban do not share any scenes together!  The only character from the original Star Trek crew that has a scene with Khan with is Chekov.  Kirk & Khan talk to each other on screens, but never are in the same room together the entire movie.  Which of course leads to this picture….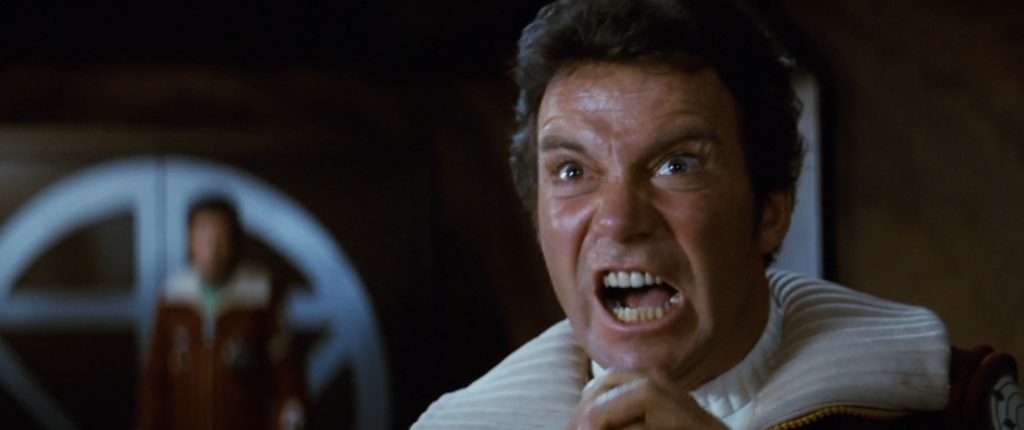 My Summary
Biggest Problem: None really.  Almost perfect movie
Biggest Strength: Perfect marriage of plot, acting, and music.
Overall Rating: A+
There's little to say beyond breaking down all the scenes – this movie is as close to perfect than any other one I've ever seen.  The only one I can think of that's more perfect is "The Shawshank Redemption".   Shatner doesn't overact, Montalban is a perfect foil for Kirk.  The supporting cast doesn't all have big moments, but they're all there.  Spock's death, Kirk's son, an overall theme of aging and death over the whole thing.  It's a masterpiece.  By far the best Star Trek movie.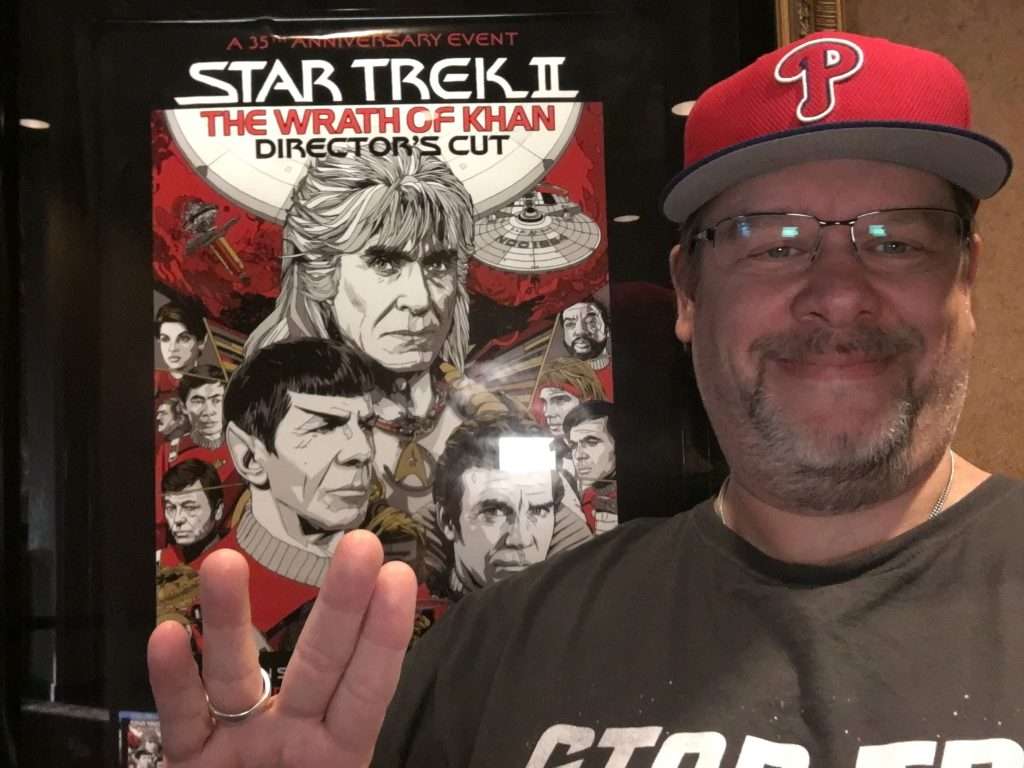 One postscript that I wanted to add to my story above of seeing the film 40 odd times in theatres.  In 2017, the movie was re-released again in theatres for the 35th anniversary.  It was only available for a short window, but there was NO WAY I was missing that.  It was the first time I'd seen the movie in theatres since the early 80's for sure.   So I was there on 13 Sep 2017 to see Wrath of Khan one more time in the theatres.
One little super fun thing for me personally that I enjoyed was this.  Officially this was a Fathom Events "event" movie.  To that, they usually have something extra, and they did here, too.  It was an interview with William Shatner, and it was done by the guy who does a lot of these things for Fantom – Scott Mantz.  Scott told Shatner of his own recollection of seeing the movie for the first time on the first night the movie was out.  What's really freaky to me is that he saw it with me all those years ago, as we both were teens in Philly at that time.  He even mentioned the name of the theater I saw it at, the "Orleans", and the date and time I was at.   I may have been the only person to see the 35th anniversary to geek out on Scott's talking to Shatner about the movie all this years ago like that.
UPDATE JUN 4 2022:  It was announced that the movie will be back in theatres yet again for the 40th anniversary.  While the 40th is technically 4 Jun 2022, it will be in theatres in early September, to tie in to Star Trek Day festivities.  I'll be there – only this time with my daughter.
The needs of the many outweigh the needs of the few.  Or the one.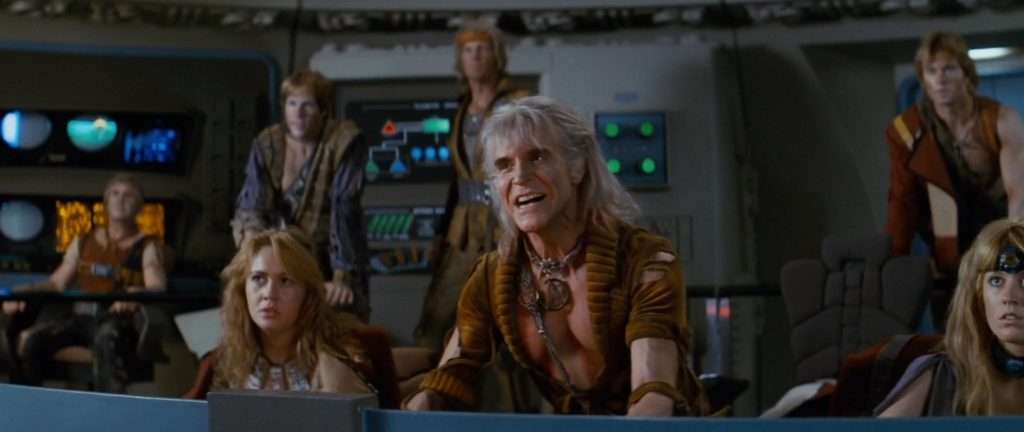 Original Trailer