This movie is maddening.  On one hand it has its reputation as the worst Star Trek film.  That's not fully undeserved, there's some big time cringeworthy stuff in here.  On the flip side, there's a few scenes in here that are some of the best things to ever appear in Star Trek ever.  I'll get into the details of that later, but suffice it to say when I watch this, I can clearly see the problems, and then I get annoyed, as there's a gem of a good movie in here.  It had problems, but it has some goodness too.  Let's get into the William Shatner directed film, "Star Trek V: The Final Frontier"…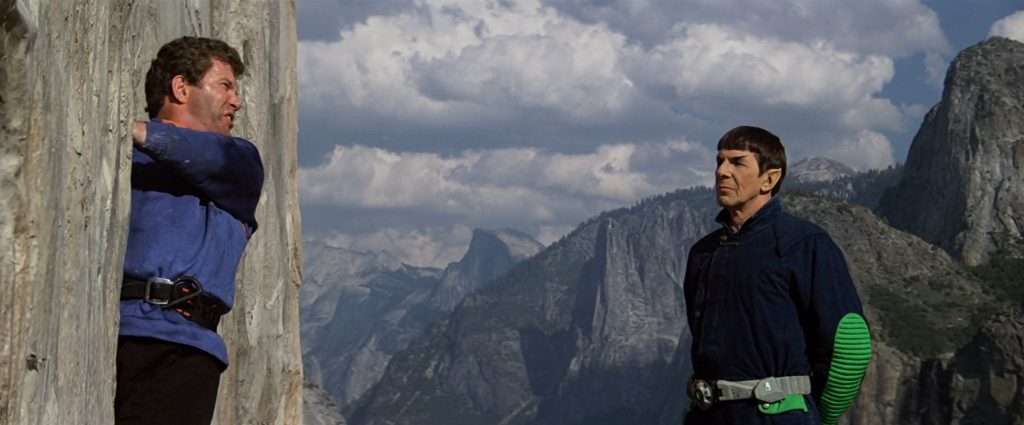 This movie really does annoy me.  So many of the things seem unrealistic.  Yet, there's so many awesome moments.  One of the first ones happens almost immediately.  There is an opening sequence with Sybok (more on him later), then we get to the theme/titles.  During that sequence, we have Kirk free climbing El Capitan.  I get that from a character standpoint, and it doesn't bother me in and of itself.  But the bit with Spock showing up with the anti gravity boots almost immediately set the movie into cornball.  Kirk falls off the mountain, and almost dies, but Spock saves him with the anti gravity boots going straight DOWN.  The character stuff that comes out of that is fine, but I would have preferred them find another way to write that. However, like most other things with this movie, something good comes from that – we get some good comedy with McCoy.  He's standing there on the ground bitching about Kirk on the mountain.  It's funny – fits McCoy's crotchety personality really well.  But Spock and his boots always bugged me.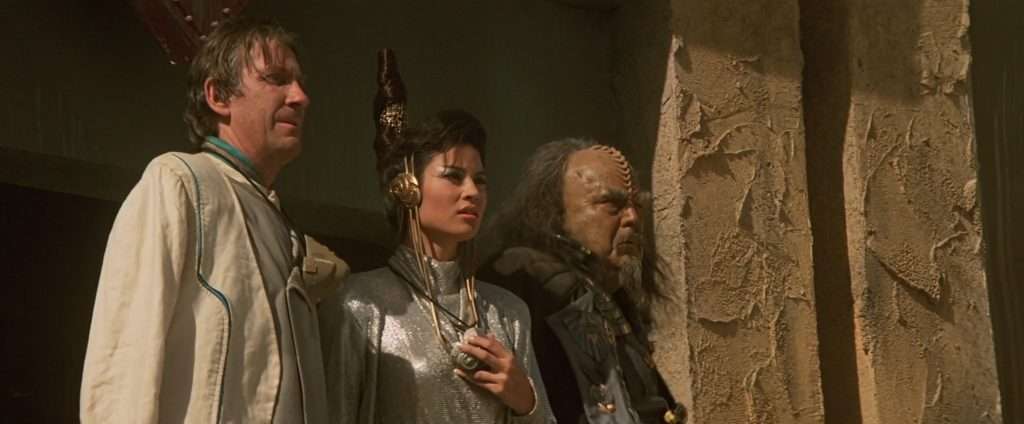 We move on to a shot on Nimbus III (the planet shown at the start).  We meet the Human, Klingon, & Romulan ambassadors to the planet.  The planet is supposed to be something that shows that their three cultures can work together towards peace, but the planet is anything but.  The Human doesn't care, and the Klingon is old, drunk, and doesn't care.  The Romulan woman shows up, and shortly after that, Sybok captures the three of them.  Sybok wants to lure a starship to the planet so he can capture it, and of course, the only one available is the Enterprise.  Even though it's mostly broken, and has virtually no crew on it.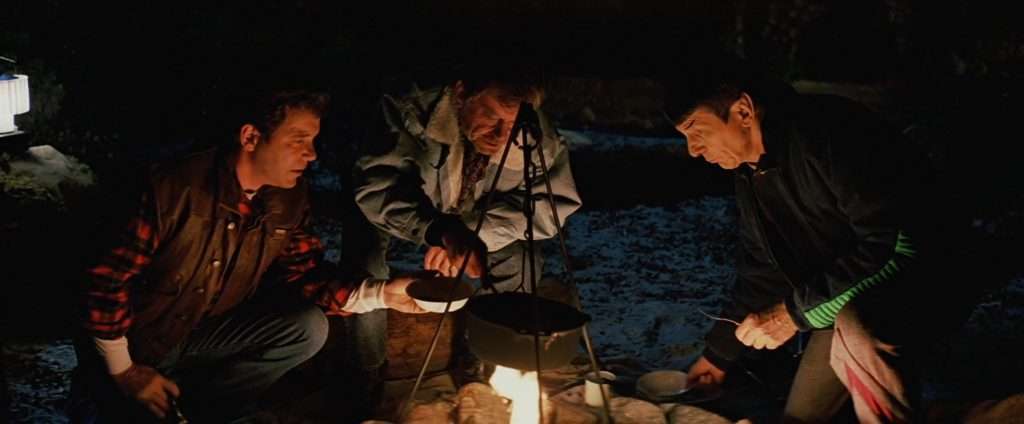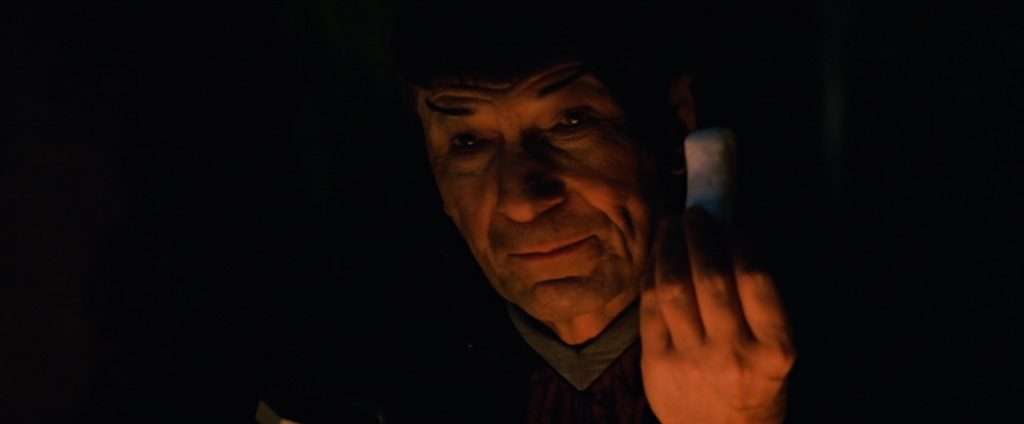 Before the real plot of the movie (such as it is) gets going, we get probably my second favorite scene of the whole movie.  It's the camping scene with Kirk, Spock, & McCoy.  For as much grief as this movie gets (and it has some huge problems), the things that work REALLY work.  Like this scene – it's a total home run.  The three of them sit around a campfire and talk about their lives, working together.  I particularly loved McCoy in this.  His cooking beans and talking about whiskey is so him.  I loved that.  The interplay between the big three is awesome, and even Spock's use of "marsh melon" instead of marshmallow is cute.  There's also an attempt of the three of them to sing "Row Row Row Your Boat".  It could be cringeworthy, but it is not.  That line brings up another one of my favorite bits here.  McCoy being exasperated at Spock yells "God, I liked him better before he died!".  The entire sequence is spectacular, and one I really REALLY enjoy.  There is a side sequence with Sulu & Chekov getting lost in the forest which is played for laughs, which I suppose is the humorous flip side to the Big Three's campfire sequence.  It's OK, but not the funniest thing ever.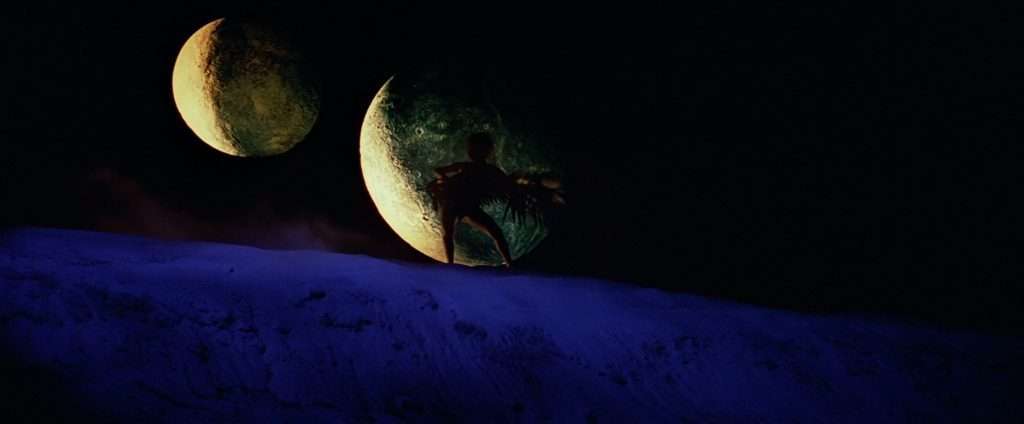 Kirk is ordered to investigate (via an admiral played by the movies producer Harve Bennett).  This is the scene with Kirk's "Go climb a rock" T-Shirt.  When the Enterprise arrives, Kirk and crew go to the planet to try and rescue the people being held hostage.  It does set up an amusing scene where Chekov is in command of the Enterprise and talks to Sybok.  I liked that scene a lot, because of the uniqueness of the sequence there.  But it's mixed with a mostly icky scene of Uhura dancing to distract some guys so Kirk & crew can take their horses.  In subtitles, they say she's naked, but at this point in her life, it doesn't strike me as the kind of scene she'd be doing.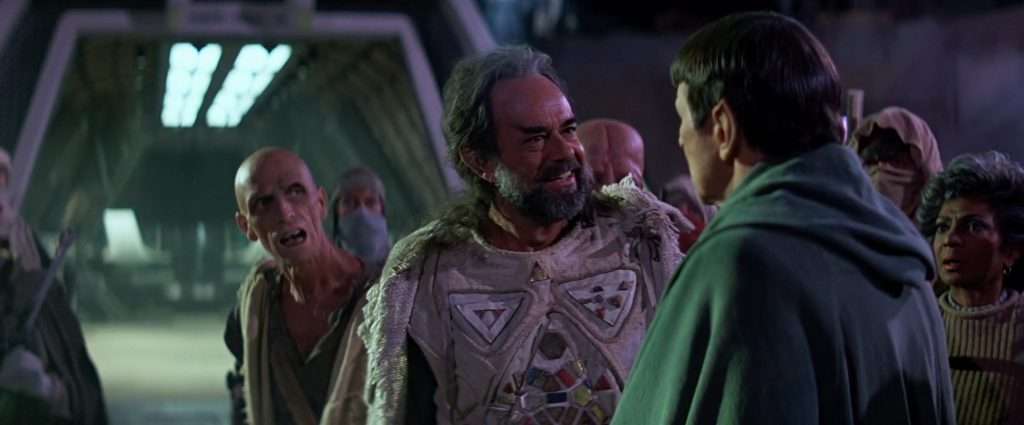 Sybok captures our crew, and Spock & he are reunited.  I mean at this point we had never heard of Sybok before, or even that Spock had a brother.  It's absolutely an invented backstory for the purposes of this movie, but I have to say – Lawrence Luckinbill nailed this role.  While the movie has problems, his acting is definitely NOT one of them.  He's one of the first characters we see in the movie.  He's shown to be a smiling, laughing Vulcan, which was something pretty new at this point (The Cage notwithstanding).  He handles the concept of whether Sybok is legit insane yet functional really well.  You (or at least I) can never put together whether he's brilliant and a true revolutionary, or just crazy and smart, and can pull things off.  His acting was great here, and I always wished there was more of Sybok elsewhere in Trek with Luckinbill.  But alas, just this movie.   I would love somewhere for Star Trek Discovery's Michael Burnham to mention Sybok in an off comment.  Based on the future continuity, she should know about him.  They don't have to show him, but just a reference would be cool to me.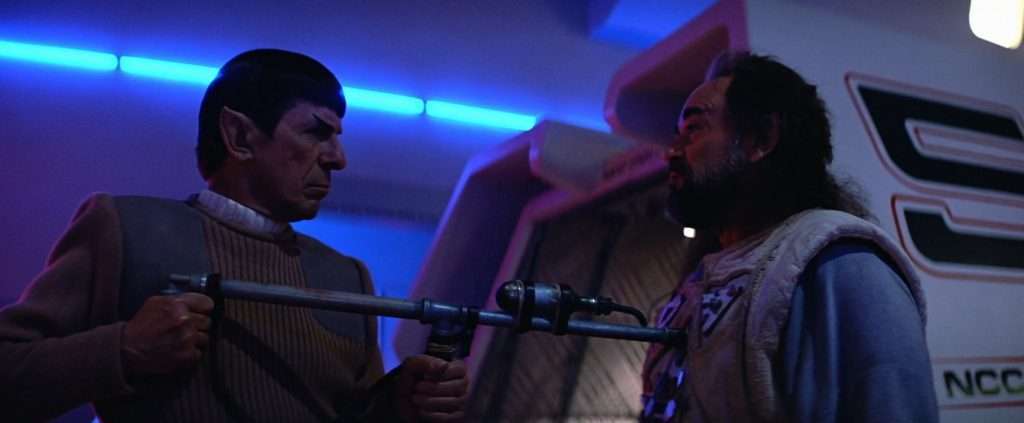 So Sybok says he's going to take the Enterprise, and they all head back to it on a shuttle.  Which brings up one of the other stupid things about this movie.  The Klingons.  They're there, but pose no true threat, except for the scene when Kirk and crew are on the shuttle.  They have zero character background, and no depth at all.  Just a foaming at the mouth Klingon who wants to shoot at things and defeat Kirk.   They're there through till the end of the movie, but you almost don't even need them.  The Klingon captain's name is "Klaa".  About the only thing I liked with the Klingons was that his ship has a periscope at the Captain's chair for firing. That was kind of unique, and nice to look at, but the Klingons themselves are pretty useless here.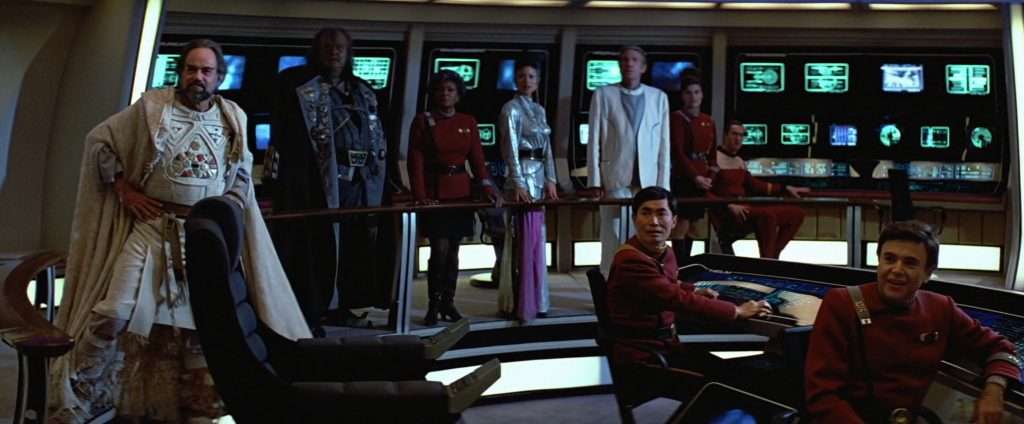 Once Sybok takes control of the Enterprise, we get into some weird mind control stuff.   Sybok's followers seem to follow him blindly – but we never get concrete evidence as to whether they're actually mind controlled, or what. On a ship of Starfleet officers, I can't figure out why they would follow him based on what he says he does.  Sybok says he doesn't control people, just makes them "face their fears and gain strength from the sharing".  OK.   The dude makes me feel better about the shitty parts of my life.  That's not in and of itself a bad thing, but it wouldn't make me follow the dude over the side of a cliff like a lemming.  I never understood how "freeing one's pain" leads to total devotion.  We see Sulu, Chekov, & Uhura taken over by this, and he tries with McCoy & Spock, but they say no.  Kirk just resists.  Presumably he's done this to the Human, Klingon, & Romulan ambassadors as well, but we never see those scenes.
Speaking of the mind control stuff, it brings me to the single best scene in the entire movie.  It's where Sybok is doing his thing on our big three.  The first up is McCoy.  The scene that Sybok makes him re-live is one where McCoy had to pull the plug on his own father who was dying of a disease.  While I've never lost a parent personally (mine are both still around), I have to imagine the pain that would come from this.  McCoy being a doctor made it worse, because he was the one who had to decide medically to basically kill his own father.  But the scene is BY FAR – not even close the single best bit of acting that DeForest Kelley got to do in all of Star Trek.  Any TV episode, any movie.  It was glorious.  It was played with Luckinbill – who as I said earlier did a great acting job.  Nimoy & Shatner basically just stood there staring at the scene – their reaction shots were cut to once or twice in all this, and I thought it was a perfect accent, as it showed what the audience was feeling.  For all the shit Shatner took over this movie, I thought that scene was perfectly acted, and perfectly directed – a major kudos to all involved in that scene.  It's Star Trek perfection, to me.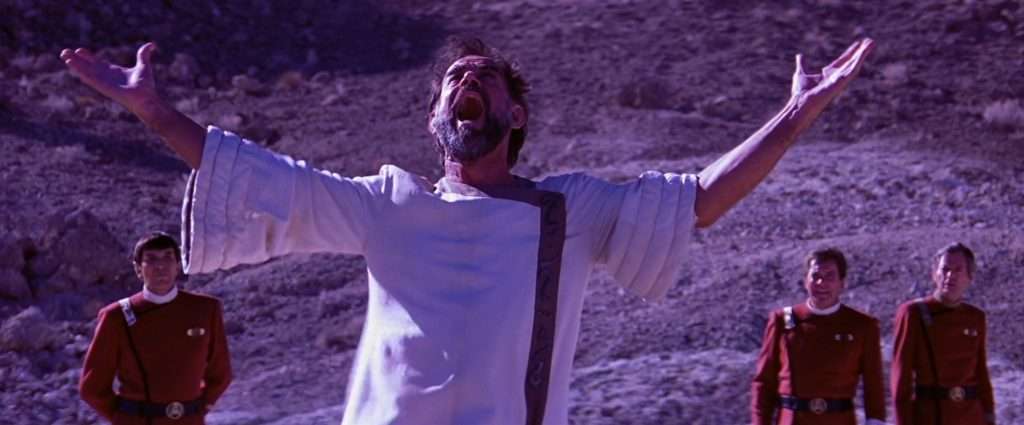 Once we got past that we got to the crux of the movie.  "Spock's brother steals the Enterprise to look for God".  We have several sequences that have no real depth to them in fast succession.  The Enterprise goes through a barrier that we're told no starship can survive.  No problem, Sybok says they can.   They do, but we don't ever see any beefing up of the ship's shields or defenses.  they just "get through".  Which reminds me, how does the Klingon ship get through later?  Nevermind.  Then they land on a planet where Sybok says God is (Sh-Ka-Ree).  Speaking of that planet name, that is supposedly a reference to Sean Connery, Shatner's first choice for Sybok.  Connery turned it down, but rumor is that they named the planet after him anyway.   So we land, and it turns into a sea of bad special effects.   From what I can gather, Shatner ran out of money – there was a whole sequence with Rock people that is on some deleted scenes on the DVD which got scrapped.  "God" turns out to be a not very good special effect face that tries to kill them.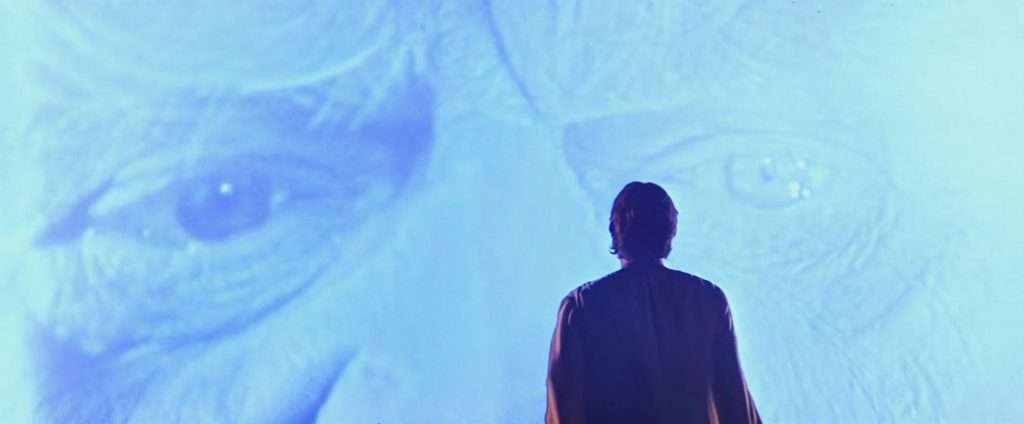 This whole sequence is kind of meh, except for one small bit.  "God" wants the Enterprise to carry his essence to everywhere in the universe, which prompts Kirk to ask "What does God need with a Starship?"  Which is a perfect legit question.  After "god" hurts Kirk & Spock by zapping them with lightning, Sybok realizes that this is not the "God of Sha-ka-Ree", and feels massive guilt for what he's done.  He then tries to do his "release your pain" thing to "God", and the two of them end up in a battle.  That allows Kirk & crew to escape, although Kirk's escape is delayed for dramatic effect.  Some more bad special effects there, but in the end it does tie into a theme from earlier in the movie where Kirk said he knew he wouldn't die, because he wasn't alone.  That's something that comes up in Star Trek Generations as well, when Kirk actually dies, but that's two more movies in the future.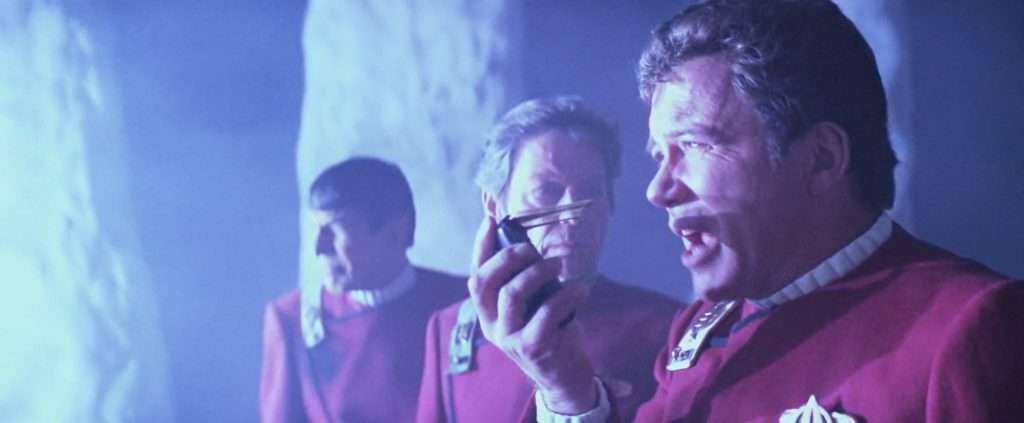 The movie ends with our big three realizing they're a family, and it has a nice ending feel, but..  There's SO MUCH that isn't great in this movie.  Here's some of (not all of) that stuff:
Spock's Boots
Scotty & Uhura acting like they're teenagers in heat earlier in the movie.  No kind of sexual desire (or otherwise) between the two characters EVER existed in any episode or prior movie.  So where did THIS come from? [ Screen grab ]
Bad Comedy – When Kirk sits in his new ship chair, and mentions "I miss my old chair", we get a cutaway to Spock who tilts his head in an "Awwwww" reaction.  No words, but that just feels SO bad. [ Screen grab ]
Uhura's dance.  Which sadly is her only solo moment in the whole movie.  [ Screen grab ]
Klingons in general – totally useless and ineffective.
How easily Sybok gets the Enterprise through a section of space that is supposed to be impenetrable.
Bad Comedy II- Scotty banging his head on a corridor bulkhead right after saying "I know the ship like back of my hand".  It was Loony Tunes level comedy. [ Screen grab ]
Spock's Boots II – When he tries to hold Kirk *AND* McCoy on the boots  by having them stand on his feet at the same time.  Such a bad scene. [ Screen grab ]
Bad SFX – When they're going through the great barrier – it looks like a tub of suds from dishwater. [ Screen grab ]
Bad SFX II – Mostly anything involving "God".  That entire sequence looks like it was put together on a total zero budget.  So much so that a lot of the scene was played against total black – not just dark, but BLACK, so they didn't have to put anything there. [ Screen grab ]
Bad comedy III – the bit at the end after Kirk is rescued and Spock says "Please Jim, not in front of the Klingons". [ Screen grab ]
Bad references to good stuff – the Row Row Row Your Boat line is referenced again outside its original appearance.  It works in the original scene's context, but not when called back to.  Same for the "marshmelon" line in the turbo lift shaft scene.  It doesn't work second time around at all.
Cringeworthy – When Sulu & Chekov are following the female Klingon into the lounge at the end when everyone is getting along, they're quite clearly watching her backside.  They follow her for a bit until she walks over to her captain, at which point the two of them veer off.  It was just such a bad scene.  Totally out of character for both of them.  Felt like a Shatner directorial ad-lib. [ Screen grab ]
Following that – when the Klingon captain is shown, he salutes Kirk, and they drink together in the same room.  Given what he said about Kirk earlier in the movie, this feels out of character, even if ordered to by his superior in rank.  It's just another part of a cringeworthy scene.  [ Screen grab ]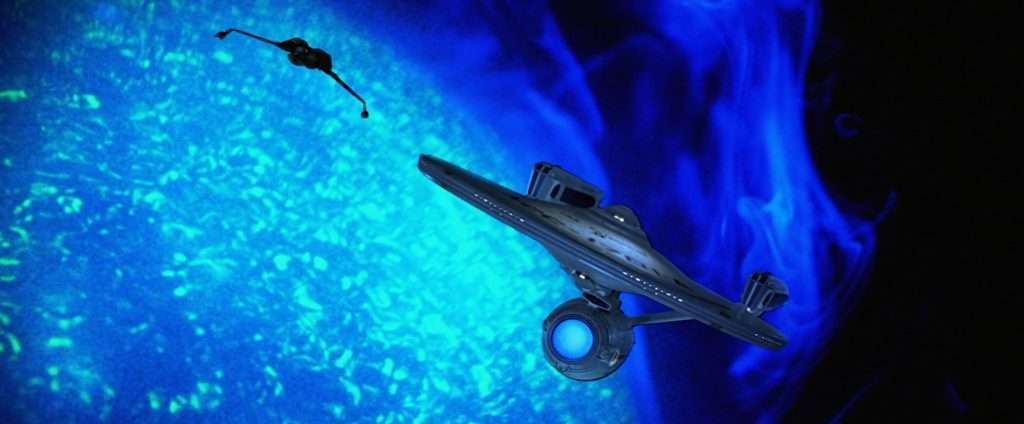 There's a lot more than that, but I don't want to rewatch the movie again just to get a list of every single bad bit.  If you can think of one of the bad bits I forgot to mention, let me know in the comments or on social media or something.
The movie does have the good sense to end with a repeat of one of the best scenes of the movie.  Kirk, Spock, & McCoy are back camping again, and while it's short, it does end the movie with a good taste.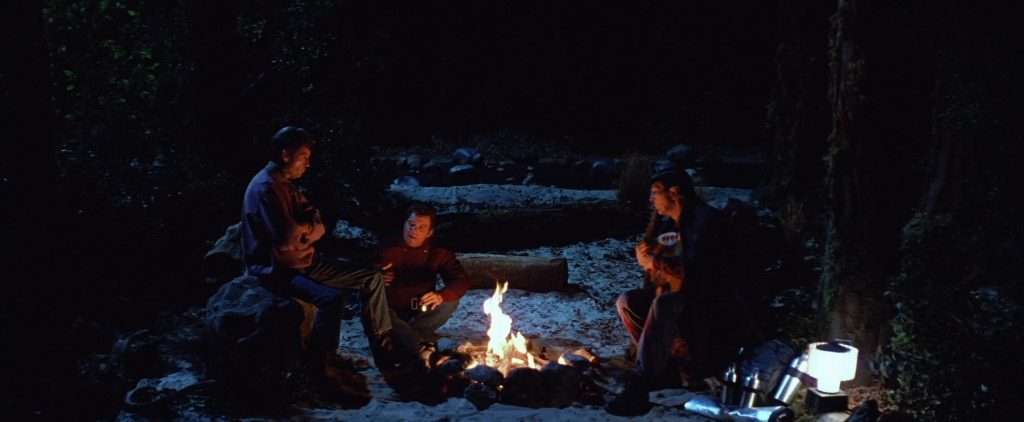 My Summary
Biggest Problem: Bad SFX, unnecessary/bad comedy
Biggest Strength: When done right, the character interplay
Overall Rating: C-
As I've said before, it's a maddening movie.  There's a couple of total home run moments.  Those are brilliant.  Several bits are just "eh", but unfortunately, there's more that are just bad.  Mostly surrounding special effects towards the end.  The great moments balance it out somewhat and make the movie watchable.  I just wish the bad/cringe moments weren't here.
I know they've gone back and done work on Movies 1 & 2. 3 & 4 also got recent 4k upgrades.  Movie 1 had the most extra work done, with new money being thrown at it to "finish the movie".  Honestly, this movie could go for that.  Shatner is still alive.  It's a shame they don't allow him to do that – I'd love to see it with some more money thrown at it, to make things better that honestly weren't.
This review doesn't feel as consistent as some of the others that I wrote in this series – but I think that's down to me getting mad at more parts of this than I liked.
One unique thing.  In all 13 movies and 800+ episodes spanning all Star Trek series..  This movie is the only time we ever in any incarnation of Star Trek get to see a toilet.  Just one question. Why can't it be used in space dock?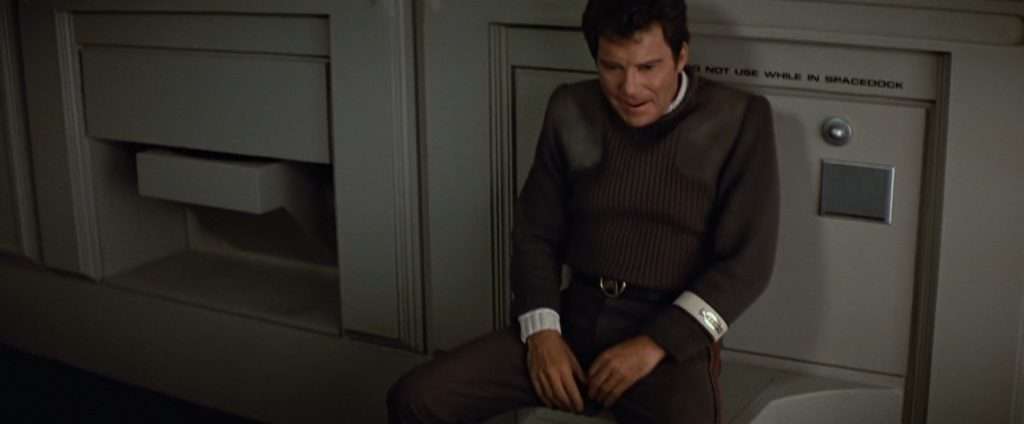 Original Trailer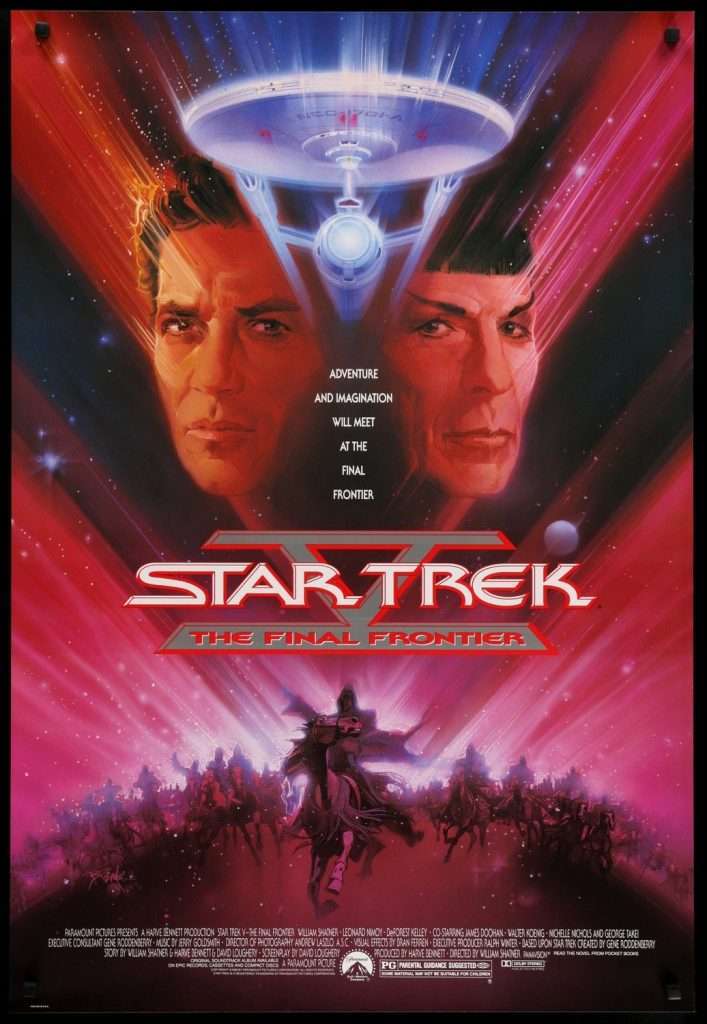 Finally, this one.  There's nothing wrong with it, but when I saw this scene, I got a "Doomsday Machine" vibe to the body language in play here.  Like Decker saying "But don't you understand?  We have to destroy it!"  Just thought I'd throw it in at the end here in a "post review scene" (ha), as it had no place in the review above.