I'm writing about Pat Benatar.  I've done this a few times before on my blog (here and here).  I've been a fan for a long time – several decades.  But something happened over the weekend that made me want to write about her.
You see, I saw Pat Benatar in concert this past Saturday night.  It was a benefit show for the local school district teacher's board.  There was an auction beforehand and plenty of things to raise money that I couldn't deal with, so I just showed for the concert.   But when I started talking about the show to some of my co-workers, one of them said this..
"wow she's still around?"
That bugged me a bit.  I responded with "Surely you don't think she stopped in the mid 80's?"  Thing is I know she's known for the 80's stuff like "Hit Me With Your Best Shot", "Heartbreaker" and all that – but to me, that's when the old Pat Benatar ended, and real one got started.  Let me explain what I mean..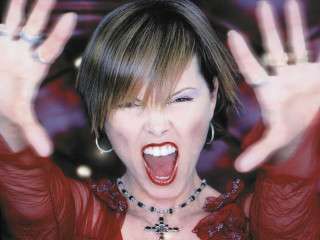 Again, the 80's version of her stuff is all good – I mean the bulk of the setlist from this weekend's show is from that era, and it all still works.  But in my mind, "Hit Me With Your Best Shot" is one of those songs I could go for never hearing again.  It's musically really simplistic, and while I don't think it's actively BAD, there's so many other tracks that are miles better than it.  Even from that era (Hell is for Children, Promises in the Dark, Shadows of the Night).  But it all in my mind seems tied to ".. Best Shot", so I've come over the years to segregate Pat's catalogue into two segments.
Discography Comments
One is the albums from 1979 through 1985 (In The Heat of the Night (79), Crimes of Passion (80), Precious Time (81), Get Nervous (82), Live From Earth (83), Tropico (84), Seven the Hard Way (85)).  There's nothing WRONG with these albums at all, but they're what I call her earlier output.  The reason is the albums that came from 1988 onwards mark in my mind a different feel to her recorded output.  These latter albums are far more mature in music, lyrics, and overall feel.  I cannot tell you the last time I listened one of the prior 1988 albums in full, but the ones since 88 I've listened to many times, ESPECIALLY the most recent one.
These more mature Benatar albums are Wide Awake in Dreamland (88), True Love (91), Gravity's Rainbow (93), Inamorata (97), Go (03).   That's where it stops.  Pat hasn't put out an album in nearly 20 years now.  "Go" remains the final Pat Benatar album to date.  There's been a handful of singles since then (One December Night (15), Shine (17), & Dancing Through the Wreckage (17)).
I suspect these latter albums will come as a surprise to a lot of folks, as I suspect a lot of people fall into the category of "She's still around" like my friend did above.  The sad thing is the music on these albums is superior output – and so many don't know any of it.  If you've never heard these before, you really should seek them out.  The music is amazing.  I'll list a few thoughts about each of them below.
The 2022 Concert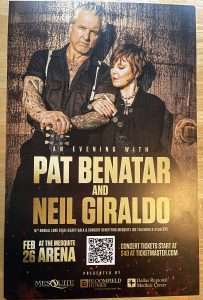 But before I get to that, I wanted to touch on the concert I went to this past weekend.  It was the first concert I'd seen since Covid happened.  The last concert I attended prior to this was Queensryche & John 5 back in Jan of 2020.  I actually tried a few times prior to this.  I had a ticket to the Rolling Stones last fall, but it was outdoors and it rained.  I didn't want to do that and get myself sick while Covid was going around.  I also had a ticket to seee Quiet Riot in December 2021, but I wasn't feeling well that night.  Finally made it to a show in Feb 2022.
Pat Benatar was someone I'd only seen once before – in 2003 right before the Go album came out.  That's detailed elsewhere on this blog.  So I was due – with it being nearly 20 years later.  I've seen videos of her over the years, and even at age 69 now, she still has it.  Her voice isn't perhaps as glass shatteringly powerful as it was when she was 25, but it was still darned awesome in person and she definitely can still bring it in concert.   I had a really great time.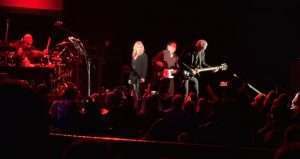 As much as I was going on about the "Go" album, I really hoped she would have played some stuff from that album, but she didn't.  It was mostly tied to the earlier output, but it wasn't all that.  There were a few tracks from my "Modern era" of her catalogue too.  The entire set list can be viewed here.
I shot a view videos at the show, and they came out OK.  The lighting wasn't great for my phone, it kept having focus and brightness issues.  But the audio is amazing.  I'll include two here, but all of them can be viewed on my "Concert Videos" playlist on Youtube.  She only has two other shows scheduled for all the rest of 2022 (May 11 – Cabo San Lucas MX & Aug 23 – Kennewick, WA).  If you can get yourself to one of them, do so.  It was great stuff.
Other than no Go material, I was hoping we'd get to hear the new track they were playing back last fall when the tour stopped.  In the shows they were doing last year, they were playing a new song called "After the Fall".  They didn't play that, nor the other song from last fall's set list (Strawberry Wine).  This sounds like a complaint – it isn't.  Just comparing setlists.
Anyway check out the videos I shot for "Promises in the Dark" & "Heartbreaker" – the latter also has her rendition of Johnny Cash's "Ring of Fire".
Album Commentary
So here's the part where I talk about the individual "Modern albums".   I'm not writing a book for each, but I wanted to say something, because they're all amazing.   First up takes us back to 1988..
Wide Awake in Dreamland (1988)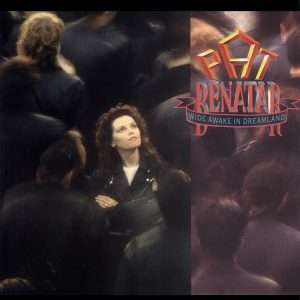 This one came out 22 Jul 1988.  This was right in the middle of when my wife and I were dating originally.  We have been married since 1996, but dated originally from 87-89.  So this got played a lot when we were together.  I admit that is part of my feelings towards it, but even just the music without the emotion feels like the start of an upward climb in the maturity I talked about.
Some of the tracks that bear this out to me are "Let's Stay Together", "Too Long a Soldier", & "Cerebral Man".
The whole album doesn't have the same feel of things like "..Best Shot" or albums from 6-7 years prior.  Of the albums I'm detailing here, it's the one I have probably listened to more than any other, but that's probably because it's the oldest.
My track preferences here other than the ones already mentioned are "All Fired Up", "Cool Zero", and "Wide Awake in Dreamland".
True Love (1991)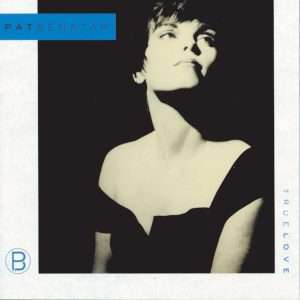 This one is the one total outlier in her entire catalog. It's like nothing else.  That's because it's not an album of rock music, it's an album of blues songs.  Mostly covers, but a couple of originals, too.  It's a divisive album – I remember reading at the time that it came out that Pat was throwing away her career by doing this.  Bullshit.  This was glorious!  I love bands that take chances with music, and don't just put out the same thing over and over.  This is VERY MUCH a new thing.  Oddly, I can't say I know very many friends who know and like this album either, which is a shame, as I really love it.
The styles are all over the place, too.  It's not just one style of song.  There's fast ones, really slow ones, rather moody pieces, it has a nice variety of styles in the songs selected.
When I saw Pat in 2003, they did a track from this album (True Love), and it was glorious live.   Makes me wonder how much of this album has been done live, as it seemed to come alive in a totally different way than it does in the studio track (which I like as well).
My favorites from this album are: Bloodshot Eyes, I've Got Papers On You, True Love, I Feel Lucky, & So Long.
Here's a video of Pat doing So Long & Bloodshot Eyes from the Tonight Show with Johnny Carson.  Johnny was holding one of the old long boxes that CD's used to come in around that time.  Haven't held one of those with my own hands in decades.
Gravity's Rainbow (1993)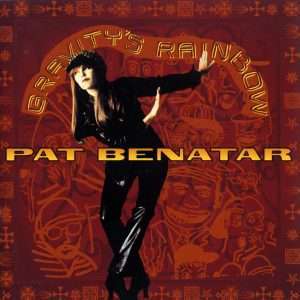 I think this is the point where people lost track of Pat's recorded output.   Other than going to a Pat Benatar concert, I've rarely ever run into anyone who knows this album.  Which of course is a shame, as it's a great album.  It's back to the traditional style of Pat Benatar album after the great experiment of True Love.  Gravity's Rainbow is a great followup to Wide Awake in Dreamland.  It builds on that feeling, and expands it.  The album is also her last on her original Chrysalis record contract.  The remaining two studio albums had different labels.  Perhaps this has something to do with the perception.  Hard to tell.
Even the album cover shows a different style.  I loved this look on her, and thought it matched the more mature music produced for it.  The album was named after a book of the same name from 1973 by Thomas Pynchon.  Thematically the music doesn't seem to have anything to do with the book, however.
The music has a great feel to it.  I'm not sure how to describe it well here, it's just one of those things you need to hear.  She did music from this album at both shows I saw.  Two tracks in 2003, and one in 2022.
My favorite tracks here are: Everybody Lay Down, Somebody's Baby, Disconnected, & Crazy.
Here's a video of Pat doing "Everybody Lay Down" (and Promises in the Dark) from the Arsenio Hall show in 1993.
Innamorata (1997)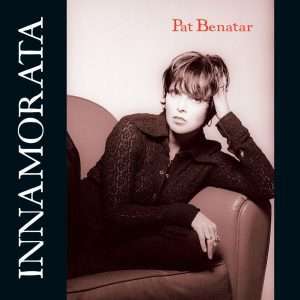 Here it is.  "Peak Mature Benatar".  This album is glorious.  At the time it was new, I wrote that it was her best album ever.  And in 1993, I meant it.  It's amazing as hell album.  Yet another nobody even knows about.  The song Strawberry Wine speaks to this big time. It's got chops, but it's got a powerful and yet restrained vocal delivery.  Great lyrics.  It's one of my wife's favorite Benatar tracks of all time.
Was her first record off Chrysalis, so that might have something to do with the lack of attention.
When I saw her in 2003, I was able to tell her to her face what I thought of the album, which was a great moment for me.
The number of tracks I like off this one is increasing.  My favorites here are: Only You, River of Love, I Don't Want To be Your Friend, Strawberry Wine, Papa's Roses, In These Times.
I've included the official video for Strawberry Wine below.  For my wife.  Pat & Neil have been married for just over 40 years as I write this blog entry, and this official video shows their affection for each other.
Go (2003)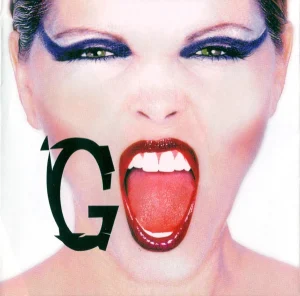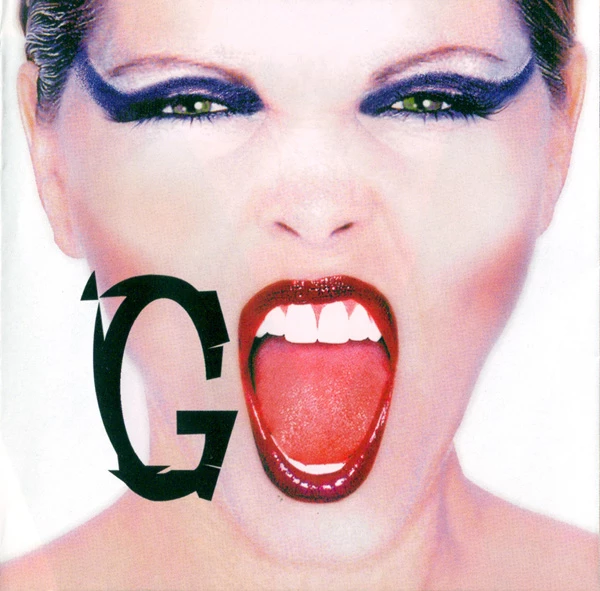 And then there's Go.  There is simply nothing better that bears the name Pat Benatar.  I will die on this hill.  No album she's ever put out has been this good.  I thought it when it first came out in 2003, and in 2022 – 19 years later, my opinion has not changed.  The power of this album has not lessened with time.
Which makes its availability MADDENING to me.  You see, this is out of print.  But neither is it available digitally on iTunes, Spotify, etc.  It's just GONE.  If you read her memoir (which I did), she spends an awful lot of time saying how she wanted complete control over her music in her career.  Something that never happened until this album.  Go is her 11th studio album (12th overall), and in all that time she finally gains complete control over what she's doing, and produces the singular best album of her career.  BUT IT IS THE ONLY ONE NOT AVAILABLE IN ANY FORMAT.   WHYYYYY?  I constantly sing the praises of this album, and I can't legally get it to people – not on iTunes, no CD, nothing.  You have to find a used physical copy – which means CD, as it was never pressed on vinyl either.  Damn.  I keep hoping against hope that she'll put it back in print, but it hasn't been in at least a decade at this point.  I don't usually advocate for this, but given you can't buy it..  Seek this album out.  Youtube, whatever.  It's worth it.  You'll hate yourself you didn't have it earlier.
Musically, the album is all over the place.  That's not bad – it's a testament to her entire career.  There's bits that sound like things from her entire recorded career on here.  Even the True Love album.  It also has one of the straight up harder rock tunes – I'll include that as a Youtube link below.  It's amazing as hell track.
The album is part of what I've referred to as a "perfect artist experience". My wife and I went to see her in Ft Worth in 2003, and that night we got to meet her and her husband/guitarist Neil Geraldo. Was a great concert, and they had the then unreleased "Go" album on the merch table. Given it was an hour drive home, we got to listen to the entire album on the drive back. So meet the artist, listen to the album, and attend the concert in one go. Only time I've ever done that. It's clouded other concerts since then, since that was a "perfect artist experience", I felt.
I just hope Go isn't her final album.  I recently read a rumor that there might be a new album after all this time, but next year makes Go 20 years old, so I'm not holding my breath.
Summary
If you haven't figured it out by now, I really dig Pat Benatar.  It bugs me when people think she stopped in the mid 80's.  She most certainly did not.  If you never tried any of these albums I got into detail for here, you should. They're all excellent, and well worth your time to check out.  I've been listening to most of the tunes I talk about as I put this together, so I've enjoyed the tunes while constructing this.  I like to do that.
Oh, and given it's one of the cooler things that's happened to me, I have to include it again.  In the 2003 show my wife and I saw of Pat's, we got to meet her.  I won't duplicate the story, you can read that in one of the other Benatar posts, but I have to include the picture.  Was so much fun meeting her that night.  Internally I was geeking out – "Pat Benatar has her arm around me!  w00t!"  haha.