Wanted to throw out a short update about my Doctor Who Marathon.  Normally I wouldn't do this save for a Doctor change.  While I'm actually somewhat close to one of those, I wanted to take the time and point this out about my marathon.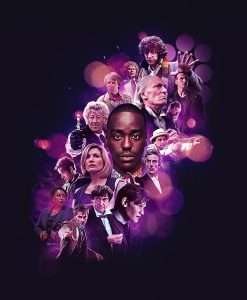 Today is the one year anniversary of me starting this project.  On 18 Aug 2021, I started with the first ever episode (An Unearthly child), which aired originally on 23 Nov 1963.  I've been going pretty steadily since then.  My idea I had of doing a single episode per day has worked out beautifully.  I wasn't sure if I'd be able to sustain it, but a full year in now, I have never ONCE had a sense of "Oh god, I don't want to do this".  I mean there's been a handful of individual stories and/or episodes I haven't liked, but never once did I want to stop the whole thing.
By rights, as today is day 366 since I started, today's episode should be 366, but it isn't.  The episode or 18 Aug 2022 is Death to the Daleks 3 is #368 overall, as there were a couple of times I was just too impatient to wait for the next episode, did two in the same day. :)   I've talked at times about doing that more so I can be done by the time of the 60th Anniversary in Nov 2023, but I'm not sure if I really will or not, will probably take about 6 weeks of doubling up to catch up to that.
Ah well, this all carries on.  As I write this, the next episode will be Jodie Whittaker's finale on 16 Oct 2022.   That will be episode 871.  I would reach 871 in my project 3 Jan 2024, and we will definitely have a few more episodes by then, although nobody knows how many for now.
For those of you who follow me on Twitter, I'm sorry if the Doctor Who is not to your liking, but I like putting it out there on social media.  You can always mute that hashtag if you want, and you won't see my posts on Twitter.   If you do like Doctor Who and are on twitter, follow me, always up to talk more about Doctor Who.
P.S.  A full on RIP to Bernard Cribbins – who died recently.  Loved his time in Doctor Who, and it appears he may have filmed some stuff for the upcoming anniversary stories before his passing, so that will be super bittersweet if true.
For a throwback, here's the two tweets I posted one year ago today for Episode 1: