I've been a James Bond fan for a long time.  Many many moons ago, after my parents had divorced my dad showed me my first Bond film which was "On Her Majesty's Secret Service", the one off with George Lazenby.  The first one I saw in the theatres was Octopussy, and I've seen every once since then on opening day.  I'm a big Bond fan, and there's certain subjects that Bond fans tend to rank like Bond actors themselves, the films, the theme songs, etc…
That is what this post is about, my ranking of the James Bond themes including some commentaries on the various tracks.  For the longest time I've had a playlist in my iTunes music library of the official Bond themes and a few other selected pieces of music I like over time.  I mean this list goes back for ages.  A friend of mine who is a soundtrack king used to tease me about my "Bond Playlist" back when we used to work together.  In fact about half of my most played songs total in my iTunes library are Bond themes.
Before I get into the individual tracks, a few thoughts…
I'm including official primary themes only.  This means no alternate themes, which locks out kd Lang's "Surrender", which is a crime, as that's the best Bond theme that wasn't a bond theme.
But..  I am going to mention the alternates, as they're good pieces of music.  They just won't be ranked.   Quite a few of the Bond themes have songs that were cut, never used, or otherwise not officially recognized, but still got released somewhere.
It's not just a list of themes and that's it.  I'm explaining a bit about why I put them where they are, memories I have of the songs, so it's not just a "numbers" listing of the songs.
I am including two unofficial Bond Themes from Casino Royale (1967) as well as Never Say Never Again.  They're not canonical, and their stories are themselves their own blog entry, but the movies existed, and there are theme songs for them, so I included them in my rankings.   IT explains why I have 27 themes for 25 (official) Bond movies.
Some of these choices are probably going to piss people off, but then that's the nature of these rankings.  "What do you mean so and so is your least favorite?  You're insane".  Don't like it?  Make your own list.

Before I get into my rankings I wanted to mention a documentary that's on Amazon Prime video called "The Sound of 007 – Documentary".  If you're reading this, then you have some interest in James Bond music.  If you have Amazon Prime, then you owe it to yourself to watch this.  I've been a Bond fan for decades.  I consider myself an expert, but I'm no fool.  I don't know everything.  I learned a LOT from this, including hearing a few bits of music I'd not heard before (in the alternate/demo department).  It is absolutely amazing.  In fact, this trailer is what inspired me to get off my duff and finish this piece.  I've had this in mind for some time, even ranked the songs some time ago, but never sat down to write it.  But watching this documentary was a great moment, so I decided to finish off this piece.  I CANNOT recommend this documentary any higher.  Amazon Prime also has a companion piece, a live concert at the Royal Albert Hall of nothing but Bond music performed live.  Check that out, too.

My Rankings
I will be ranking the Bond themes backwards with my least favorite first and my favorite all the way at the top.  I really struggled with this list, especially as it got closer to the top.  You'll find if you try this yourself, the top 1 or 2 are easy, and the bottom 2 or 3 are easy, but everything else in-between isn't that easy.  But I did it.  Took me a couple of hours one Saturday afternoon when not much else was going on, but here we go…
#27 – License to Kill
One thing that holds true with Bond themes over the 60 years they've been a thing is that they reinvent themselves.  There's so many different musical styles across the entire range of music.  There's very little I actively dislike, but sadly this song is one that I consider unlistenable.  That actually pains me, because the film it is attached to is one of my favorites.  I adore Timothy Dalton's interpretation of James Bond, but this song never worked for me.  I get what they were going for, but it felt to me like they were trying to force that old Shirley Bassey vibe into this song, and it just doesn't work at all.
Alternates: None that I'm aware of.

#26 – Die Another Day
Madonna's theme is one that you can't call polarizing.  If anything it's galvanized fandom – it's usually at the bottom of these lists when you run into them.  Given I have it near the bottom myself, I'm not a huge fan of it, but in the right frame of mind I can still enjoy it, which is why it ranks above License To Kill – but only barely.
I mean the bit with Sigmund Freud on the middle and "Analyze This" is just weird.  I remember at the time Madonna had some interview where she said she felt that she needed to reinvent Bond themes with this.  I get changing things up.  But changing the format so much that source is unrecognizable I don't think is the right way to go.  I can't say the Bond producers didn't go out on a limb with this one.
One thing that was a first with this one is that it was the first Bond title sequence where they advanced the plot in the titles.  Bond titles usually are artistic pieces (All praise Maurice Binder) that are fun to look at, but don't do anything plot wise.  That changed here.   At the end of the pre-title sequence, Bond is captured, and the plot is advanced during the titles showing Bond tortured in a North Korean prison.  Say what you will about Die Another Day the movie, but that opening titles sequence and the first 5 mins or so after the theme song are GOLD – some of the best moments in Bond's history period.
Madonna's music video for Die Another Day played into this, it re-created the torture scenes, and showed her as the object of torture and not James Bond.  Rumor has it that the music video made it the second most expensive music video of all time.  I don't know how true that is, but it is pretty well done, despite the song itself not being that great, IMO.
Additional: One of the best pieces of music from this soundtrack is one called "Hovercraft Chase".  The scene occurs during the pre-titles sequence, and is the big action piece, which involves, well.. hovercrafts.  I love how David Arnold mixes in the Bond theme into his own unique creation.  I love this as a piece of music even outside of the movie sequence it goes with. Here's the scene from the movie.

#25 – Never Say Never Again
The first of the two unofficial Bond themes on the list.   This was the remake of Thunderball that came out in 1983 due to a few decades old legal wrangling between the Fleming estate, EON, and Kevin McClory.  The story of that is its own book that's worth a read.  Given it wasn't an official movie, they didn't have the usual tropes – the 007 logo, the Bond theme, etc.  They had to do all original stuff, and that includes the music.
This theme isn't bad – for the longest time I used to like it more than I do now.  But over time the problem I think I have is that they wedged the phrase "Never Say Never Again" in the song.  Then repeated it a lot.  The song as a piece of music isn't that bad, but the movie's title in here bothers me.  If they had chosen something else there I probably would emjoy it more.
As a piece of music, it's not that bad.   Lani Hall isn't bad here evoking some of the better song concepts from the past.  But again, "Never Say Never Again" as a piece of lyric just doesn't work in a Bond theme for me.
Alternate: There was a version of NSNA done by Phyllis Hyman, something I didn't know about until working on this article.  You can hear this version on Youtube.  In researching it, I found out this about the unused title song.   "During the filming of the James Bond movie Never Say Never Again, I co-wrote the title song for the movie with Jim Ryan. Warner Brothers informed our attorney that the song was to be used as the title song in the picture. However, shortly before its release, Warner Bros informed us that the song could not be used because Michel Legrand, who wrote the score, threatened to sue them, claiming that contractually he had the right to the title song. So my song was never released. The legendary Phyllis Hyman was my first choice to sing the song and working with her is one of the highlights of my musical career. I personally auditioned and sang the song to her while she was having breakfast in her manager's office. After agreeing to sing the song, she arrived at the studio and, without any rehearsal and only having heard the song sung once at the breakfast audition, sang the song in one perfect take. Phyllis sadly took her own life in the early nineties. The year before she died, she called me late one night and told me she felt that "Never Say Never Again" was her best and favorite recording."

#24 – Moonraker
The third of the theme songs sung by Shirley Bassey (the others being Diamonds Are Forever & Goldfinger).   It's easily the weakest of her three songs.  It just never gets moving.  It starts in low gear, and you get the feeling that it would kick into something higher, but that never happens.
Her voice is great.  What she sings is great from a vocal performance, but the song is just boring.  I ranked it higher than the ones below this on the list out of respect to Ms Bassey.  She doesn't do the big high note thing she does on her other songs, either.
Thing is in the documentary I referenced earlier in the article Shirley herself said the song doesn't work for her, and she's never performed it live because she doesn't care for it yourself.
When the person singing it doesn't even like the tune, then well..  it's probably just not good.

#23 – For Your Eyes Only
This is a song I used to like more in the past, but over time (it's 41 yrs old now) it hasn't held up as well for me.  This kind of reminds me in some ways of The Spy Who Loved Me (which appears later on this list).  This was a HUGE hit for Sheena Easton.  Got pretty high up on the rankings (#4 by my research).  It's not like it's a bad song or anything, but for me I keep hearing echoes of Spy Who Loved Me, and I have a hard time getting past that.  That might be more on me, but since this is my list, I'm going with that.
Don't get me wrong, if I'm in a mellow mood, I can still enjoy this song.  A caveat of nearly all of these no matter how high or low they're ranked (except maybe the last one).   But when I think I want to hear a Bond theme, I don't reach for this one first – ever.
If I'm not mistaken, it's the first time in the Bond titles the artist singing the song actually appears (and is fairly well featured) in the titles, which I've included below, as there doesn't appear to be an actual music video for this one.
Alternate: Apparently the band Blondie talked to the producers about doing this movie's theme as well, as there is a track of theirs out there (also called For Your Eyes Only).  Blondie were super popular at the time.  You can check out their song here.  There's also a story out there which talks about Blondie's Bond theme here.

#22 – The Living Daylights
This is a song that is definitely of the era it came out.  The song was done by A-Ha, a Norwegian pop band.  This followed the Duran Duran theme, and I always felt that using A-Ha was a direct response to the popularity of Duran Duran's song.
This one is just kind of "there".  I don't hate the song.  I don't rave over it there.  It's enjoyable enough, and when listen to it, I have fun with it, but it's just one of the middle of the road themes.
The music video is a bunch of sequences taken from the movie with the band interjected into it, unlike its immediate predecessor.   I remember this being somewhat popular at the time, but I doubt it's high up on many Bond fans list of themes – unless of course you ARE A-Aha.
Alternate: An alternate / unused theme for Living Daylights is this song by The Pet Shop Boys.  It's called "This Must Be The Place I Waited Years To Leave".  Another one I didn't know about until working on this article.  It was not used obviously.  PSB released it on their own album in 1990.  If they used this, my wife would have liked it as it reminds me of Depeche Mode.  If they HAD used it, I wouldn't have liked it.

#21 – No Time to Die
Originally this was all the way at the bottom of my list.  Due to covid, the song was available something like two years before the film actually came out, as they started the promotional machine a few times for this one.
I am NOT a fan of Billie Eilish, and when I heard this, I was like "What is this mess?"  It just never gets going, it's super slow, boring as hell, I just DO NOT like this – it felt like "Emo Bond", which is definitely not needed.
However, after the movie came out, and had a chance to digest it, a funereal feel to a Bond theme fit the overall vibe of the movie.  I also realized that the title itself matched the plot of the movie, and then they worked Eilish' own voice into the movie as a musical instrument.  It helped the song work for me but it's still listed here because it's not great all of a sudden.
HOWEVER, I still feel it's too slow in parts (mostly in the beginning).
Alternate: When I was putting together this article I looked up the music video on Youtube and found out there's one on Billie's channel, one on on the Elish VEVO channel.  I'm not sure what the difference is, so I picked one to embed (above), and linked to the other one here.

#20 – Diamonds are Forever
The second of the three Shirley Bassey sung James Bond themes.
This film is not one of the better ones, Connery phoned it in, the handling of Blofeld was a disaster, but the song was good.  Diamonds are Forever has a nice early 70's vibe to it.  It's not as good as her Goldfinger performance, but it's quite enjoyable.  She does do some high notes in this, which is a strength for her.
The Bond music documentary I mentioned above brings a different lyrical take to this song that I never considered.  I won't spoil it here, but it was a chuckle.
Just wish the film with it was better.

#19 – The Man With The Golden Gun
This is a film and theme song that take a lot of grief, but I never understood that.   I enjoy this song, but it falls in the middle with a lot of them.  That's the thing, even though a lot songs in the middle here I might have the most glowing remarks about I do enjoy them.  There's just quite a lot of them now.
I'd never heard of who sings this song before this (or after).  Lulu?  No idea.  But it's definitely in the mold of classic Bond theme.   As a piece of music, it's got a lot of horns.  The voice is a tad on the whiny side of the register, but nothing that bothers me too much.  It is far more in the mold of the 60's themes than the ones that surround it in the order of releases in the 007 series.
Alternate: Another version of this song that was written, but not used was by Alice Cooper of all people.  My guess is it was an attempt to follow the "rock and roll" of Paul McCartney's song with another like that.  Ultimately not used, but you can hear Cooper's track online here.  The documentary mentioned above actually uses some of this song in a scene, but it isn't referenced by name.

#18 – Casino Royale (1967) Theme
The other of the unofficial theme songs on my list.  The thing is the movie this is tied to is positively atrocious.  It's borderline unwatchable.  I mean Peter Sellers, Woody Allen, and Orson Wells in a Bond film?  Yeah, I don't think so.  I do own this, but solely for completeness' sake.  But it's awful.
Thing is, the theme is not.  It's an instrumental by Herb Alpert.  It's a great piece of music that works really well.   It is also a song of its era, it sounds 60's.  I mean, the official name of the band that did it was "Herb Alpert & The Tijuana Brass Band".  It's a very horn oriented track, and I can't explain why I like it, as this isn't a genre that usually appeals, but I like this track.
But again… the film is bad.  If you want to get a taste of the horror, check out the trailer.

#17 – On Her Majesty's Secret Service
We're back to official Bond again, and I'm going with two instrumentals in a row.  I couldn't figure out how to separate the two of them so I stuck them together in the list.  But I like this one better than the CR song.  This was the theme to the the only 007 film with George Lazenby as Bond.  The sequence behind this played a bunch of clips from prior Bond films, presumably to remind you that this guy is supposed to be the same character.  I never saw an article explaining why they went with an instrumental here.  It's not the first time.  Technically Dr No & From Russia With Love were both instrumentals as well.
Given it is an instrumental, it works outside of James Bond.  So much so, the 2004 Pixar film "The Incredibles" used it as music in that film's original teaser trailer.
Additional: While the John Barry instrumental was the official theme song, there's another song from this movie that I think is a bit more well known.  That's "We Have All the Time in the World" by Louis Armstrong.  It's a great song, and fits the theme of Bond falling in love in that movie.  It was also re-used in the 2021 film, "No Time to Die".

#16 – Tomorrow Never Dies
This one is an odd case.   The song itself isn't bad, really.  The film it's connected to is QUITE good.  The problem I have here is that the alternate below is so much better, it makes the official theme weaker by comparison.
On the positive side, her music video is very much done in the style of Maurice Binder's title sequences.  Both her video and the title sequence itself are both good, and work well with the song.  Perhaps I'm being too harsh on it.  It isn't bad as I said, but every time I hear this song, I go "Why isn't this Surrender"?
Here's Sheryl's music video:
Alternate 1: Now we get to this.  kd lang's "Surrender".  As I understood it this was supposed to be the theme, but something happened, and we got Crow's.  The thing is, if kd Lang's song was the official theme, it would absolutely be Top 5 for me, and perhaps top 3.  It's DAMN good.  The song WAS used, it played over the closing credits.  In fact, I saw a funny remark about that on a Youtube comment on the song somewhere.  It said "I was a kid working for a movie theater when this movie came out, and I'm telling you that no song makes you feel more bad ass than this when you're cleaning a movie theater.".  That comment is all kinds of awesome.  Make sure and check this out.  It's amazing.
Alternate 2: kd Lang wasn't the only rejected theme.  There was also a song called "Tomorrow Never Lies" by a band called "Pulp".  The title comes from an earlier point in the movie's creation when the title was slightly different.  I'm glad this one wasn't chosen, as it doesn't work for me.  There's an article here talking about Pulp's involvement if you care to read more.
Additional: There is one other piece of music I like from the soundtrack.  It's by David Arnold and is called "Backseat Driver".  In the big action piece set in a parking garage, this song plays behind it.  It's a great piece of music.  Check this out, too.

#15 – You Only Live Twice
I'm not the biggest fan of the slow themes, but this one works for me.  Thematically it fits with the moment that came right before it in the movie (Bond seemingly killed).   Sometimes the slow ones bore me, but this one didn't.  It's got a nice flow to it, and when it's over I find it's a good lead in to the continuation of the movie.
I know I'm not saying much about this one, but I do like it, and I just feel mellow listening to it.  :)
Alternate: There was another version of this song put forward by an artist named Lorraine Chandler.  There's not much that I found about this version out there, but it was never officially released until after her death.  Check it out here.  It's got a VERY 60's sound to it.  It's got a totally different vibe from Nancy Sinatra's official theme song.

#14 – All Time High
This song holds a place in my memory.  It was the theme song for the first James Bond movie I saw in the movie theatres.  I was aware of Bond films prior to this for sure, but it was my first.  When it was announced what the name of the film was for this was connected to (Octopussy), I wondered how the heck they would work THAT name into the song.  Well, they didn't.  Went the other way and ignored the name completely.  Which isn't a huge surprise, really.
It's an OK song if I'm being honest.  I probably like it more than it probably deserves.  It usually ranks lower on most of these lists, but my own nostalgia for the movie and it being my first helps a lot I'm sure.
The music video she produced (or someone produced) features her a lot, but has rather a LOT of clips from the movie in it.  Far more than I'm used to with things like this.  Oddly enough the song was used in both the opening titles and the closing credits.  That almost never happens.
I always kind of wished someone would have taken a crack at this theme WITH the movie title in it.

#13 – Another Way to Die
This is one that I take a lot of shit for.  I really like the theme from Quantum of Solace called "Another Way To Die".   This film was originally supposed to have its theme done by Amy Winehouse, but she had started her degeneration at this point, and was unable to work the project.  So it went out to a different direction.
Say hello to Jack White & Alicia Keys, the only two to ever do a duet on a (released) Bond theme.  The song here is WAY different than anything that Winehouse would have done.
Oddly enough I have Die Another Day way down the bottom partially because it totally changes the format, and I gave it crap for that.  This song does a lot the same – it is barely recognizable as a James Bond theme song, but I really do like this one probably because it feels more "rock" than most.  It's a great track, but I'm fully onboard as to why people don't like it.
In fact, Jack White is interviewed in the aforementioned documentary about 007 Music, and he talks at length about how people don't like the song. He does relay a story that Prince told him to his face that he loved the song.
This song is different, it's barely a Bond theme, but I really like it.  It's total break from format is why it doesn't crack Top 10 for me, however.
Alternate: This movie and its music had a bit of a tortuous history.  The original person they wanted for the theme was Amy Winehouse, but she was in a bad place towards the end of her life, and was unable to work on the track.  They started working on this track (No Good About Goodbye), but before a lot of work was done on it, they switched to the White/Keys song we got.  Apparently after the fact, Shirley Bassey & David Arnold finished this song.  It was not completed during the movie's production, so it's not a true alternate, but it's worth noting.  The song is quite good, actually.  The lyrics even manage to get the word "solace" in there.

#12 – From Russia With Love
This is one that took me a long time to warm to.  When I first got into Bond, I recognized the Connery era, but I didn't care for this movie.  I've since come around on that, but I skipped it a bunch.
The actual opening title song is an instrumental.  The "Theme Song" plays over the closing credits.  By my own rules I should use the instrumental, but I'm not.  It wasn't until several years after I heard the closing credits song that I realized it was there.  The opening title version is super short, and part of it is mixed with the classic Bond Theme song as well, so it's not a full song in the opening titles anyway.  So I'm going with the closing song as the "Theme" here.
It is also not one I'd call a fast song, but it's got such a smooth vocal delivery, I really enjoy this.  I wish I could find more to say about it, but I can't, just a smooth song that I very much enjoy when I listen to it.

#11 – The World Is Not Enough
This was one I was prepared to like before I heard who was doing it, mostly because I was super psyched they were using this a film title.  Way way back when I first saw the Lazenby film "On Her Majesty's Secret Service", they used the phrase "The World is Not Enough" in dialogue – it was on the Bond family crest. I thought then it would make a great Bond film title, and they finally got around to it in 1999.
Then they announced the band was "Garbage", and I said "who"?  That's not really a problem, I didn't know most of the Bond title people before I heard them.  However, a friend I was working with at the time was a huge fan of Garbage, and he was psyched.  So he talked up Garbage, and by the time the song showed up, I was really into them.  I think the workup for me personally helped a lot.
It's a pretty good song, and I also really love the music video they made was its own spy film.  Shirley Manson, the groups' singer was some sort of robot bomb that would kill people.  Special effects are quite good.  Very much liked this song and video.
Fun story: Said friend also told me that Garbage would ask people during their concerts what they wanted the band to play next.  Allegedly someone asked the band to play the Bond theme, and the reaction was "No, we didn't even write that song!" :)

#10 – Writing's On the Wall
This is another one I shouldn't like, let alone be in the top 10, but I'm going to have a few here that will make people go "What?"  When I first heard this song, I didn't care for it.  But like anything else Bondian, I will watch/listen to it a ton of times, even if I don't care for it as much as others.
Somewhere along the line, this song clicked for me.  I can't tell you why it did exactly.  I can't point to lyrics connecting to the movie, or whatever, but somewhere after the movie was out, I really REALLY started to like this song.
The orchestration in the background is pretty classic Bond.  The vocal delivery is pretty high up on the male vocal range where some of the highest notes make me wonder "That's a guy?"  What's interesting about this song is that the vocal track on this song was the first one.  He only sang this once in the studio, and what we hear here is his first attempt.  Pretty damn good for a first try.
I still don't know anything of Sam Smith's other than this song.  I probably should look into that.
Alternate: This movie has an interesting alternate story.  Apparently both Daniel Craig and Sam Mendes were fans of the band Radiohead, and got together with them to do the theme.  They produced a song called "Man of War", which apparently the Bond people really liked, but when it was found out the song had been released on a Radiohead live album already they said no, as Bond themes have to be original songs.  So the producers moved on from Radiohead, engaged Sam Smith, and while they were working with him, Radiohead came back and said that they wrote a brand new song, which was also liked, but they were already well into working with Sam Smith's song.  In the end, Radiohead released their second song (titled "Spectre") on their own.  The second song probably would have gone over really well, but the timing didn't work out here.

#9 – Thunderball
Thunderball as a film is not one of my favorites.  I don't care for extended underwater scenes, and this film has a lot of them.  However, the song is a banger.  It's a spectacular track, perfectly fitting the movie it goes with, and sounding like the era its' from, yet not in a bad way (as some 60's sounding songs don't hold up).
This came out the year I was born, so obviously I have no memory of these things.  But I have to imagine that it was a massive big deal when it was brand new, as this was the height of Bondmania.
Then of course there's that extreme high note at the end of the song.  Story goes that Jones held the note so long that he had to hold himself up from falling over.  The music documentary mentioned above talks about this a little.  It's quite the note.  Check out the Youtube video below to hear it.
Alternate 1: The Tom Jones song wasn't the only attempt here.  There was a rejected song called 'Mr Kiss Kiss Bang Bang" sung by Dionne Warwick.   In reading about it, apparently someone (no idea who) wasn't thrilled with her performance, and got in Shirley Bassey to re-record the songs.  In the end, neither of them was used in the film which I think was the right call.  You can hear both of them online: [ Warwick | Bassey ].
Alternate 2: There's a lesser known alternate version of this song.  It's by legend Johnny Cash.  While I have nothing against the song as it is, it just doesn't sound like what would work as a James Bond song – even in 1965.  It sound like something straight out of a Western, not a James Bond movie.  Check it out.

#8 – Goldeneye
The film Goldeneye is one of my top Bond films period.  It's a spectacular film, and on top of it, the song is quite good too.  It doesn't rank higher because I've never been a huge fan of Tina Turner.  I don't dislike her, but I probably would have enjoyed it more with someone else singing.  Having said that I do enjoy the song as it is.  Heck, I must have passed something on, as it's my daughter's favorite James Bond theme song.
The song was written by Bono & The Edge from U2, but they didn't want to sing it, they felt it should have a woman's vocals.  Enter Tina Turner.  This was the start of a new era of James Bond, as it was Pierce Bosnan's first film.  It was great, song was great, the whole vibe around this for a Bond fan was a good one.
Alternate 1: By all accounts, the biggest work for this track was done in the studio with Tina, but before she got involved, there was a demo that I believe all of U2 played on.  By Bono's own accounts, it's not his best performance, but it is after all a demo.  Still, it's worth checking out for the novelty of it.
Alternate 2: There was another band involved before U2/Tina Turner as well.  The band was Ace of Base, and the song they put forth for a Bond theme that wasn't used ended up being called "The Juvenile".  You can hear that song here, as they released it themselves.
Additional: There was one piece of music from Eric Serra's soundtrack that I really like, and it made onto my Bond playlist.  It's a track called "Ladies First", which is played during a scene in the movie when Bond & Xenya are having a car race.  It's a fun piece of music, and an amusing scene to go with it.   You can hear it here.

#7 – A View to a A Kill
This song was massive when it came out.  The film it was connected to, not so much.  But this Duran Duran song made it to #1 on the music charts, which I'm pretty sure no other theme song has ever done.
It is my wife's favorite Bond theme, although that might speak more to her affinity to to Duran Duran in general (Rio video and falling in the water dear?).  I rather liked it myself.  In fact, I remember causing a stir at a Pizza Hut back in 86 by playing the song like 8 times in a row on the jukebox, which made me have to leave since people were starting to get mad at the song repeating itself, and I couldn't hold in the laughter anymore. :)
The music video for this is very cool.  It's got both clips from the movie and a plot with the band acting as if they were part of the movie too.  Extremely well put together music video.  Even the humor works for me.  Perhaps the video is part of the appeal to me.  Who knows?  After nearly four decades, I think it's too intertwined.
This was also the last hurrah for the classic lineup of Duran Duran, they split apart after this.

#6 – Goldfinger
This song for a lot of people is top of the charts..  I can't deny that, it defined the Bond theme song.  It was from the third movie, and nailed what a James Bond theme song should be.  To a large extent, it's what everything that came after it is measured against.  As I write this, the song is 58 years old now, and has a power that's still there.
It's wedged its way into popular culture too.  There's a funny scene from the TV show Frasier where he and his brother and dad sing the Goldfinger theme at a bar piano .  Check it out, it's worth a laugh if you know the show and those characters.
There's not a ton to say about this, as it's Goldfinger.  If you got this far in my article, then you know this song.  It's a classic, and is part of the reason my ranking these top songs was so hard.
This was the best of Shirley's three Bond themes (four if you count the unused Thunderball).  She continued to perform it for decades after its release.  Here's a video of her doing the song live in 2011, nearly 50 years after it came out.
Alternate: During the recording phase, one of the two guys who wrote the song recorded a demo version of it.  That guy is Anthony Newley.  You can check that out here.  It was never intended to be used in the movie, more as a demo for the producers to give them an idea of what was going on.  His version has a creepy feel to it.  His version doesn't have the super high note that Bassey sang, though.

#5 – Live and Let Die
Paul McCartney's 1973 James Bond theme was the first pure Rock & Roll theme song for James Bond.  At the time the Beatles were relatively freshly broken up, and while McCartney had a bunch of hits with his Wings band, I submit this was his most well known track post Beatles (at least to this point).
The film it is connected to has some moments but isn't my favorite (the overall feel is just off).  But the song is top notch.  It's a killer track, there's no two ways around that.  Yeah, all I can think of to say is it's a balls out rock and roll track – something else that redefined what made a Bond theme – as it has zero orchestration, which is a Bond hallmark.
There was no music video that I'm aware of, just the movie titles, but I'll go with my own video I shot in 2019 when I finally got to see McCartney live for the first time.
Alternate: There's an alternate version of this song, which was actually used in the film.  Was song by "BJ Arnau".  It was played in a scene in the movie when Bond & Felix Leiter go into a restaurant called the Fillet of Soul.  You can hear her fully recorded song here, or check out the scene it appears in (but dubbed in Spanish, as I couldn't find an English clip).
Additional: The LA metal band Guns & Roses also covered this song, which goes full on metal, given who they are.  You can hear that cover here.

#4 – Nobody Does it Better
Well, we're near the top now, and this song is nearly perfect.  This song is quite epic, and doesn't just fit the movie it goes with, but fits Bond completely – works for nearly any movie, I think.   it's a nice mix of slow and faster (although not super fast like the rocker tunes).
I've grown up with this song, and is just awesome on multiple levels.  It's a dangerous one for me, as when I listen to it, I almost NEVER listen to it just once.
The titles themselves are darned good. I always loved this kind of title,  when you got images with the music.  By that I mean not necessarily real people's faces or objects but things in shadow, things you had to work at to figure out what's going on to some extent.  Bond titles always had a mix of naked women and guns in there, but this one combined them.  We had the girls walking on guns or using them as exercise equipment of sorts.  See images, which are the only ones I'm using in this entire article.  I really love the look of the titles, and the music that goes with it.
It doesn't hurt that the pre-title sequence that precedes it is one of the best in Bond history – skiing off the side of a mountain with a union jack parachute.

#3 – Skyfall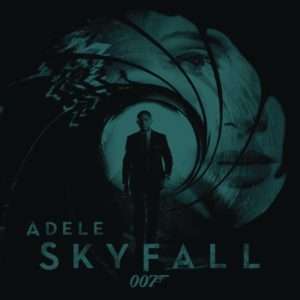 I cannot stress how much I loved this song when it was new.  After years of Bond themes experiementing with different sounds, we finally got a theme that sounded modern yet hit all the perfect themes of a classic Bond theme.  I loved the lyrics.  I loved the song, I loved Adele's delivery. It's sheer perfection.
This song also got me to watch a few Adele concerts on TV to see if she'd do Skyfall live, without knowing a single other song of hers.  This is another one where the film and song are matched perfectly. The leadin from the pre-title sequence goes into the titles, and then leads back into the movie all too well.
It's also another of those trap songs.  When I put on the video while writing this, I watched not only her music video, but the opening titles from the movie, and had the song on for a third go around.  I got stuck here writing this article a bit.
Where you go, I go
What you see, I see I know I'd never be me Without the security Of your loving arms Keeping me from harm Put your hand in my hand And we'll stand….
I adored Skyfall the movie, and that it has such top theme song as well makes it a perfect match, only bested by…

#2 – You Know My Name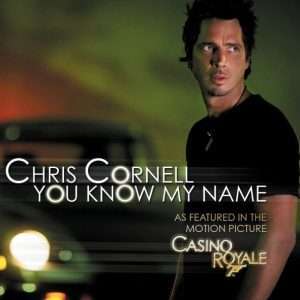 Chris Cornell's theme for Casino Royale is to me the best James Bond movie theme song.  As much as I thought Skyfall was a perfect marriage of movie and theme song, Cornell's track is perfection for the movie it goes with.  Casino is a film showing Bond at a much harsher/earlier time of his life, so this harder rock song fits the theme perfectly, I think.
Of course with me being a metal head at heart, it shouldn't be a huge surprise that this harder edge song is my favorite.
I always felt the lyrics were about Satan, but apparently that's not the case, they're apparently about Bond himself.
I do love the story that Cornell gave around the time saying that the only reason that he agreed to do the song was if he could do something different, do his own thing, which they agreed to.  Thing is, this doesn't take the format too far as Madonna or the Keys/Black song do.   This still works for me (obviously as I have it on the top).
The version that played over the titles in the movie was a slightly different mix than the single that was released and sold at the time the movie came out.  I have a pretty bad case of tinnitus in my mid 50's, and I think many repeated excessively too loud playings of this song probably piled on with the decades of Black Sabbath to do that to me.
It was the first Bond theme since 1987's "The Living Daylights" to have a male singer, as most of them tend to be women.  That doesn't mean anything, just a "fun fact".

#1 – The James Bond Theme
I seriously struggled as to whether to put this one or Cornell's song at #1.  I really REALLY do love Cornell's theme song more than any other.  The theme song for Dr. No in 1962 was what's become known as "The James Bond Theme Song".
I mean, this guitar riff is one of the most well known out there.  Right up there with Ritchie Blackmore's Smoke on The Water.  Everyone knows this guitar riff.  It's used in all 25 official James Bond movies.  Because it's so intertwined with every movie despite technically being the theme song for Dr. No, it gets the overall top spot on the list, because no piece of music has dominated the landscape of James Bond music like this one has.  No matter who is playing Bond (Connery, Lazenby, Moore, Dalton, Brosnan, or Craig), this song comes on, and "Yeah – that's James Bond up there".
There's a cool video segment on the creation of the song here.
In fact, for the video, I'm going to use a recording by the Brian Setzer Orchestra when they played it live.  It sounds awesome.  Has just a touch of Setzer's own guitar twang mixed in there, I'm a big fan of this version of the song.
A few other covers I like of this are from a Australian string group called "Bond".  Their song is called "Bond on Bond".  There's also this techno sounding version by Moby from the Tomorrow Never Dies soundtrack.

Summary
Well, that's my list.  I'm sure there's a few people won't like, and wonder what the hell I'm thinking.  There's a YouTuber I watch a lot who does nothing but lists of videos about movies and TV.  He says "This isn't the right list, this is just my list. I'd love to see your list too."
Having said that, I realize how hard it is to rank the Bond themes having just done that.  To show you how serious I am, I'll close this with a picture of this triple vinyl set I have called "The Best of Bond.. James Bond".  It's a triple vinyl set and contains every primary (official) James Bond theme song from Dr. No through No Time To Die. I had to have this on vinyl.
I spent some time in my iTunes playlist today working on this article, and thought I'd mention (per iTunes) the most played Bond songs in my collection.  They are:
You Know My Name
Another Way To Die
Casino Royale 1967
On Her Majesty's Secret Service
Thunderball
Given how I ranked them above, I have to say that surprises me a little.  Skyfall was #6, and only one play behind Thunderball.  Overall there's 12 James Bond themes in my Top 25 most played songs in my entire music collection.  That's weighted much higher than I expected.  The only two songs that I've played more than You Know My name are Resurrection by Brian May & Gangnam Style by Psy.  Go figure.
Go listen to some of these tunes, there's a lot of variety here for you to choose from.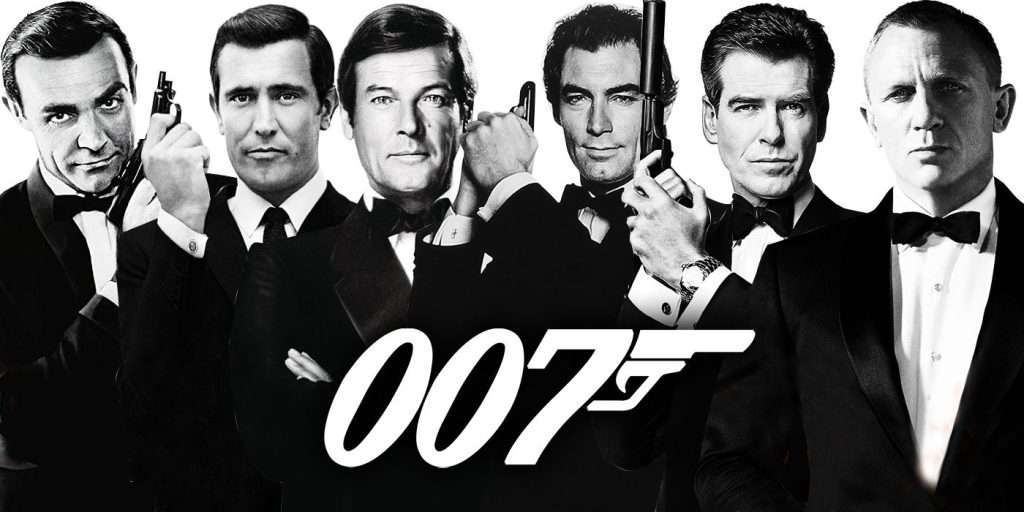 The picture of Connery with headphones isn't mine.  I found it here.  Go read their article.