Sun 19 Mar 2023 brings yet another milestone in my Doctor Who Marathon.  I reached the end of Peter Davison's era with Episode 4 of "The Caves of Androzani".  What a way to bow out.  Androzani is epic, and a spectacular end to Davison's era.  But I'm not here to talk about Androzani, I have a separate post for that.
They say you never forget your first, and this is where I started.  Peter Davison was the incumbent when I started watching Doctor Who originally.  My first ever story was "The Five Doctors".   A heck of a way to start, and I elaborated on that exact subject elsewhere on my blog.  I recently passed that story in my marathon, and it was a weird feeling passing that.  I've been doing this Marathon thing since Aug of 2021, and in all that time, it was "in the past".  As I move in to Colin Baker's era, it's all things that I remember watching NEW, and didn't discover with reruns or DVD's.  But anyway, I digress.  Some facts about Peter Davison's era:
Number of series: 3
Number of stories: 20
Number of episodes: 69
Number of companions: 6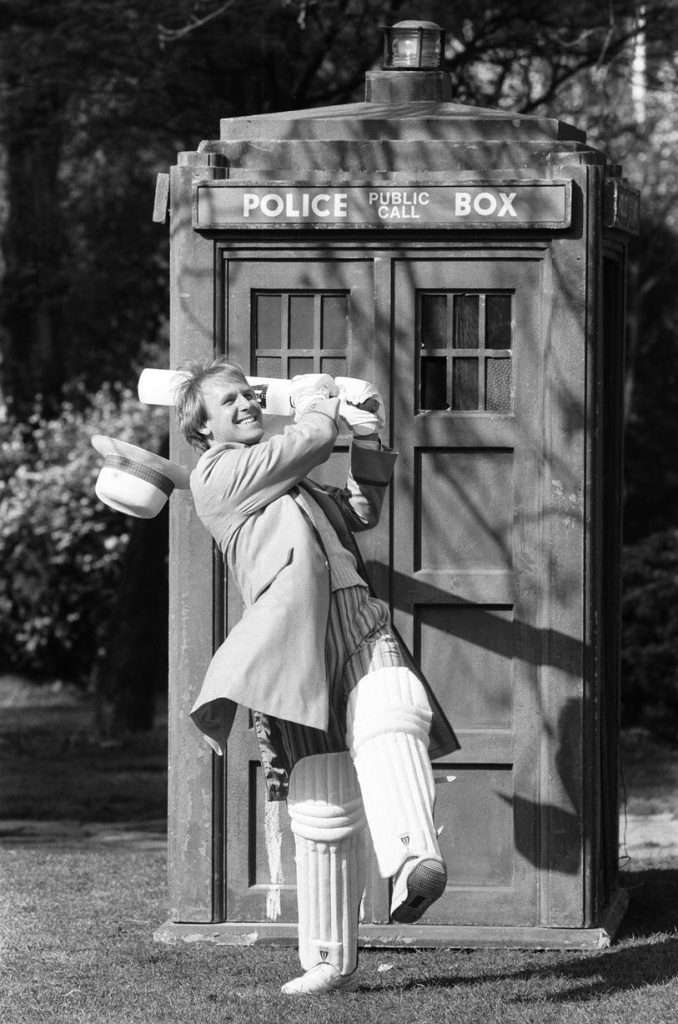 There were some grand concepts tried here, but didn't always work.  Anthony Ainley's Master turned up in every series at least once, but not to the extent that Roger Delgado did in the past.  He became somewhat of a mustache twirling bad guy, less of the elegant threat that Delgado was.  There was the experiment with Kamelion who conceptually was an awesome idea.  But the tech in 1983 couldn't deliver that kind of experience.
But there was a lot to like.  Davison's Doctor was less the unapproachable guy that I always perceived Tom Baker's Doctor to be – especially in later years.  You felt like 5 was someone you could talk to.  There seemed to be more a sense of family with the Tardis crew, as we saw bedrooms and characters doing things that didn't surround the main plot of the week.  I know some of that started at the end of Tom's run, but that was partially because of the producer John Nathan-Turner starting there.  We got to see more of the Tardis in this era than before, something I REALLY liked.
Davison didn't inhabit the role like Tom Baker did – and that's not a bad thing.  Davison was an established actor when he got the role (hello Tristan Farnon).  Davison's era wasn't super flashy in your face – at least that was my perception of it, but one that I enjoyed.  It had a much more down to earth feel than the later Tom Baker stuff did.  The comparison I've seen mentioned between say the 007 movies Moonraker vs For Your Eyes Only seems appropriate to me.
That's not to say there weren't big dramatic moments.   For the first time since the 60's, Doctor Who killed one of their companions here – Adric.  Say what you will about him, but Adric's death was the kind of event that doesn't happen in the show's history very often.  We had some excellent stories both in high drama, and science fiction concepts.   They also brought back the two episode stories, something that hadn't been seen in forever.  We also got a historical, something that hadn't been seen since Patrick Troughton's era.   For the 20th season, every story was based around a bad guy who was from the show's past somewhere, culminating in the Five Doctors.
As I've done in the other sections, here's a few words about the companions Peter's Fifth Doctor traveled with…
Peter Davison left after three series, quite publicly crediting Patrick Troughton as to why he stayed just three series.  Troughton wanted out after his three series, so Peter modeled after that.  However, Patrick also made 119 episodes in his three series, where Peter only made 69.  The workload was quite different.   In fact, Peter went on to say that had he gotten the kind of writing he got in this third series during the second series, he would have stayed for a fourth.  Apparently he had to commit to the fourth year during the making of the second (for some contractual reason), and he was dissatisfied with the writing in the second series.  Given it was a year after Peter left that the show started having major issues, I always wondered wha would have happened had Peter stayed on after Androzani.  Ah well…
Is there an essential Fifth Doctor story? In the past, I've defined "essential" as something that moves the mythos of the series forward and/or establishes some large piece of the Doctor's background.  There are two like that in Peter's run.  The Five Doctors (where we first get the idea that Time Lords can have new regeneration cycles) and Arc of Infinity (lots of Time Lord society and background info).  However, for the Fifth Doctor, I have to go with Caves of Androzani – his last.  It's a glorious story.  Written by Robert Holmes and directed by Graeme Harper, it's everything you want in a story.  About the only thing it doesn't have is comedy, but it's not needed here.  Androzani doesn't push the Doctor Who mythos in any weird directions, it's a great straightforward drama that closes out the Fifth Doctor's era perfectly.  If the show kept doing this past Series 21, it would have not been scrapped after Series 22, I think.
I met Peter several times at conventions back in the 80's.  I don't have a picture with him, but my memories of saying a few words here and there are pleasant.  Always has time for Doctor Who, which is not something that everyone of his compatriots can say.   I wish I had more to write about this part, but I don't.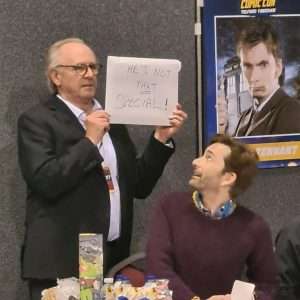 One of my favorite real world bits with Peter Davison is his family.  First off, his real family name is not Davison.  His full proper name is Peter Malcolm Gordon Moffett. Davison is a stage name.  His daughter is Georgia Moffett (maiden name).  Georgia was cast in Doctor Who as "Jenny" in the Tenth Doctor story, "The Doctor's Daughter".  Anyway, it was here that she met and started dating David Tennant.  They eventually married, so this created the fun circle of Georgia being married to the 10th Doctor and the daughter of the 5th.  She really plays into it as well, because after Jodie Whittaker's final story aired, she put out a post on Instagram saying "Daughter of 5. Girlfriend of 10. Wife of 14".  I loved that. funny stuff.  The family fun spills over to conventions where Peter Davison has snuck behind David Tenant to mock him (see the picture here).   One funny little postscript of this is that Georgia has said in an interview on a DVD that when she was going to school, her best friend was one of Colin Baker's daughters.  :)
Peter has come back to the show several times.   The first time was the non canonical "30th anniversary" special "Dimensions in Time".  He next returned for a 2007 Children in Need special short called "Time Crash" which involved the 10th Doctor as well.  Was the first multi-doctor anything in the new series at the time.  He returned most recently in Jodie Whittaker's final story, "The Power of the Doctor" playing both an AI hologram of the Fifth Doctor as well as a projection of the Doctor's psyche as an aged Fifth Doctor.  Time Crash actually made an on screen explanation as to the aging of Doctor, but the other appearances did not.  He's also voiced the Fifth Doctor in a very large amount of Big Finish audios, going all the way back to the first ever one called "The Sirens of Time" in 1999.
Peter Davison also wrote and directed the most excellent special "The Five(ish) Doctors Reboot".  This was produced for the 50th anniversary special of the show in 2013.  It basically stars Davison (along with Sylvester McCoy, Colin Baker, & Paul McGann) complaining about not being in the actual 50th anniversary special.  It's glorious in every regard.  It's absolutely non canonical, because Davison and the others play themselves, not their Doctors as such.  It had some big name cameos too.  Peter Jackson, Olivia Coleman, lan McKellen, and many MANY others.  And of course I wasn't sure that Sylvester was in The Hobbit.  Might need to check.
Here's some photos – click on any of them for a larger version.
As I wrap this up, I wanted to say I've enjoyed Peter's run going through it for my marathon, but there wasn't a lot of changing of opinions like in the past Doctors.  Part of that is as I said before this was my on ramp, so I remember this stuff new.  Having said that I did come around on Snakedance & Kinda.  I had both filed in my brain as bad, but I enjoyed Kinda a lot this time around.  Snakedance was better than I remembered.
As the actors age, it becomes harder to work them into the modern show.   I adored Davison in the Whittaker finale, and while I felt it was a sort of a closure arc for Tegan, I can easily see that being the last time we see the Fifth Doctor and I'd be OK with that. I think the Fifth Doctor is done, and cheerio to him for all the fun times he brought.