Tonight I completed the collection of State Park Quarters and polished off the collector's book. If you didn't know the US Mint ran a program called "America the Beautiful Quarters", and there was a quarter design produced for each of the 50 National Parks, as well as one for each of the 6 US territories […]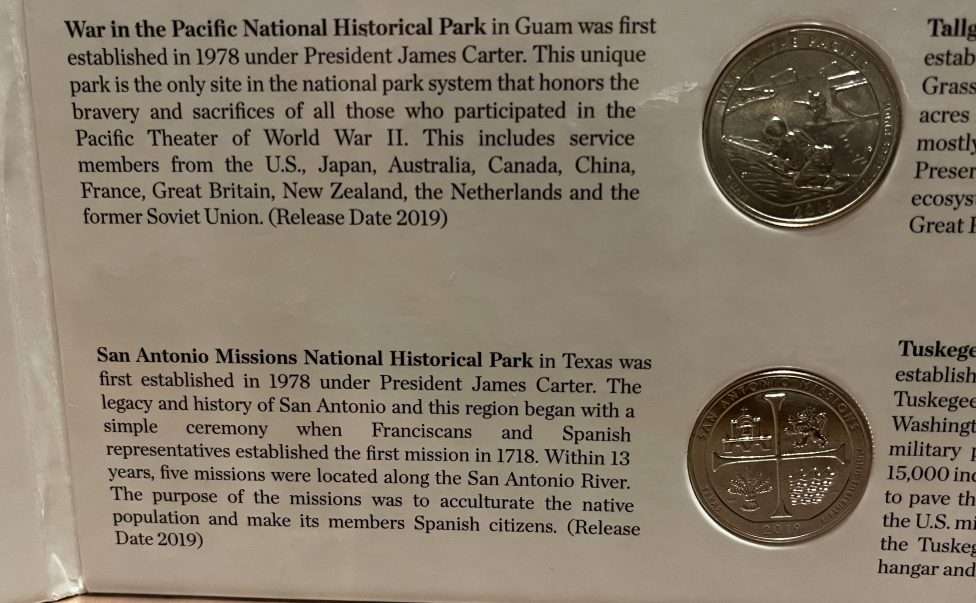 The cyber sale is here
Aliquam aliquet eget est ac faucibus vestibulum facilisis lorem sed volutpat aliquam aliquet eget est ac faucibus.
Continue reading
Follow on Instagram
Nam libero elit, laoreet non sagittis at, tincidunt non velit. Duis venenatis hendrerit lectus, ut fermentum velit nulla varius.
Let's stay in touch
See the new products
Duis venenatis hendrerit lectus, ut fermentum velit. Nulla varius aliquam magna, feugiat ultrices erat eleifen.
Visit the shop
[powerkit_subscription_form display_name='true' title="" text="Sign up and receive insiders offers and flash sales every weeks in your inbox. " list_id="default" bg_image_id='null']
Tonight I completed the collection of State Park Quarters and polished off the collector's book. If you didn't know the US Mint ran a program called "America the Beautiful Quarters", and there was a quarter design produced for each of the 50 National Parks, as well as one for each of the 6 US territories […]
Last year, just as the pandemic got started and we were all locked in, I did something I haven't done since the early 80's. I bought a record player. Somewhere around 1988 I stopped with records completely, as I got my first CD player in Dec 1987, and I was mostly into cassettes then due […]
For the last 5 or 6 years or so, I've been keeping a "xxxx deaths" playlist in iTunes.  Whenever I hear of some musician I know and like something from, I'll add a song for them to my playlist.  As today is the 31st of December, it struck me as a good time to put […]
On the surface this is a music post, but it really isn't. It's about human emotion and feelings. Before I get to that…
Those who know me (and have read my blog over the years) know that I spent quite some time working for Scott Miller & George Broussard of Apogee Software (later 3D Realms).  Was probably the single most fun job I've ever had in my life, and to this day, I still wish the old team […]
I've known about George Takei for probably my entire life, as I was watching Star Trek as far back as the 60's (in a playpen, but still)…  As the years went by I learned he was way more than just an actor, he was an activist for any number of things, including gay rights, but […]
My review of the third Star Trek film where the Enterprise blows up.
My review of arguably the best of all of the Star Trek movies, "Wrath of Khan".
Today I installed a totally new theme on my blog.  I did something I've wanted to do for ages, was install a dark theme blog. Problem is that most new themes for WordPress don't have plain blog themes.  They're all eCommerce this, or publishing that.  The good ol fashioned blog format has kind of fallen […]
My review of the first Star Trek movie from 1979.