Well, last night was the Pat Benatar concert in Ft. Worth. Going there, I was stressed out for two reasons. One, I didn't know where exactly I was going, since I'd never actually been to Billy Bob's before. Two, we were running late, and since we were on the backstage list to meet Pat, I was told that under no circumstances should I be late. People who know me will recognize that mood of mine, probably. :) Anyway, we ended up getting there with about 15 minutes to spare, and hung around outside the venue. After a bit talking with the other folks on the Meet & Greet list, we went into Billy Bob's and made our way towards the side of the stage towards the back. After another period standing around, we got to head inside what I presume to be a "green room" of sorts. While we were waiting for Pat to come out, I saw Neil Geraldo walk by, and boy does this man have some tattoos. It appeared that most of his arms are covered by them, and there were rather a lot elsewhere, since all he was wearing was a pair of speedos. :)
Anyway, Pat eventually came out, and I'll be saying what I'm sure a lot of other folks have said who have met her face to face. She's short! She's apparently 5 foot and .5 of an inch. My wife is 5'2″, and I'm 6′ even, and you can see this in the picture below. Anyway, we had very little time to spend with Pat – originally we were told we could get autographs, but that was discarded, and we got maybe a total of 30 seconds with Pat, including the time it took to take the picture. That's fine for me, it's not like I was expecting to strike up a friendship or something, but I did get to say one line, which was "Thanks for Innamorata – it's brilliant", to which Pat's eyes lit up and she said "Why thank you – that was very nice of you to say" (or something, I forget the EXACT words, but that's essentially what she said). We took the picture (which had Pat's hand around my waist – Woohoo!), and then we were escorted out of the backstage area. Very short, but very fun – especially considering I didn't have to pay anything for that, it was most nice to meet Pat Benatar, since I've been listening to her for ages. Thanks to Joe Cross for getting my wife and I backstage. You can see the pic of my wife and I meeting Pat here.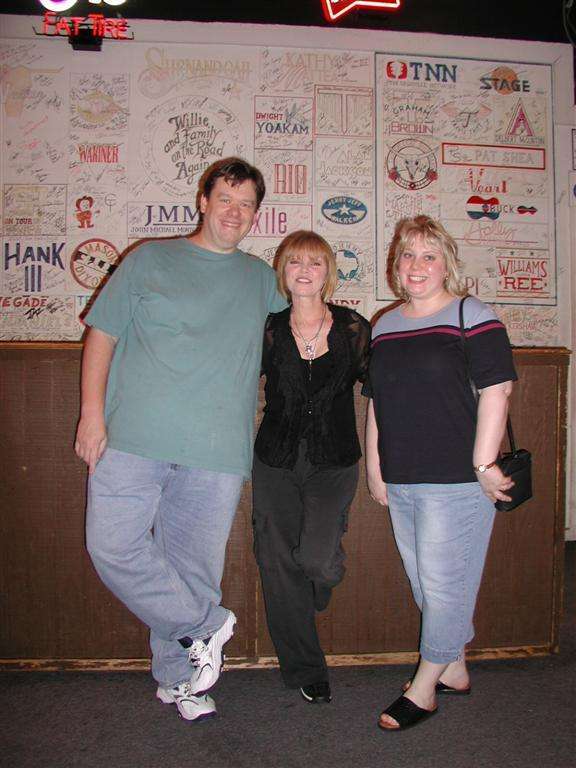 Now, about the concert…
I thought that Billy Bob's Texas was an odd place to hold a Pat Benatar concert. Travis Tritt, hell, even George Thorogood would have worked here (and it did according to someone else from the Meet & Greet Crowd I was in). But Pat Benatar? Anyway, the thing I'll say about Billy Bob's for concerts is that it's not a conventional concert. They have a stage at one end, and the floor is made up of folding tables with lunchroom chairs! It's not a conventional concert arena by any stretch – and to make it worse, the sound isn't that great. It was fine when Pat was playing, but when she (or Neil) was talking to the audience, you could NOT understand what she was saying. It was totally wasted time, because I couldn't understand her. Maybe 1 or 2 words out of 10 I could pick out. That was it. Oh, and there were pillars in the place, so some views of the stage were obstructed. From where I was, Neil Geraldo was obstructed, but since he moved around a lot, it wasn't a real problem. Oh yeah, there was an opener, but I was like "Get off the stage and get Pat up there". That's probably unfair to them, but I never like it when an opener is there that I don't want to see, and don't know anything from. Give me a headliner with no opener, and I'm happy.
Enough negative. Her show was fantastic. I've been listening for ages. Not from her first album, but from her second, back in 1980. In all that time, I never saw her live, and I'd read reports that she's as great in person as she is in the studio, and that bore itself out last night. At age 50, she can still wail live – something that I wasn't in doubt of, but it was nice to see confirmed just the same. After meeting her backstage, I have to say her stage persona makes her seem much taller than she really is. Neil as well has an interesting persona – I didn't know much about him really; he was just "Pat's husband & guitarist" for ages for me. Neil seemed to work the crowd well, and my god, does he change guitars a lot. It seemed like he changed guitars after EVERY song, and in one case in the middle of a song, and I don't mean from an acoustic to an electric! The band was great, and while I didn't know any of the other band members, it sounded great, which I suppose is the mark of a good band, eh?
I did not write down the exact set list, but I lookd at some other reviews of the tour, and with a single exception, I think this was pretty much the set list…
Disconnected
We Live for Love
Shadows of the Night
Girl
Invincible
Brave
Love Is a Battlefield (Acoustic)
River of Love (Acoustic)
True Love
Hell Is for Children
Heartbreaker
Encores:
Go
Promises in the Dark
Have It All
Hit Me With Your Best Shot
All Fired Up
Now, they did not play Brave in Ft. Worth. I cannot recall what they replaced it with, if anyone who was at the show knows, please drop me a line about it. Also, I don't remember there being FIVE encore songs, I think Have it All was in the main set list. Anyway, when I saw the set list on concert reviews, a few things came to mind..
It was short! In looking at this list, it doesn't seem like a lot of songs quantity wise. Boy was I wrong about that. The show came in at something like 1 hour 50 minutes. I was pleasantly surprised at that issue.
The two acoustic songs. Generally I abhor it when artists play acoustic versions of songs that weren't originally that way. In fact, when I saw the free Pat Benatar concert on DirecTV some months ago from her last tour, I skipped that bit. I really don't care for "fake acoustic" stuff. However, the two songs she did here were great! Love is a Battlefield also isn't one of my favorite songs of hers, but this worked beautifully. Probably because it was live, but I don't really care as to why, but it worked!
Nothing from Innamorata. That album is by far and away my favorites of Pat's. I think it would be one of my 5 desert island albums. Turns out there was a song from Innamorata – it was the other acoustic song, River of Love (which wasn't originally that). When I looked at the set list, I saw the song title, and didn't recognize it. As I told someone in the meet & greet group, Innamorata & Gravity's Rainbow are two albums that I view as "entire albums". Yeah, there's about a dozen individual songs on there, but I don't see them as individual songs – when I listen to these albums, I listen all the way through, and I view it as one big 45 minute song, so the individual song titles get blurred to the point that I don't recognize them. Same thing went for the Disconnected track they opened the show with. I didn't know that was from Gravity's Rainbow, but when they played it, I knew it right away. Anyway, I was dissapointed there was not going to be anything from Innamorata, but when they played that, it was a major bonus I felt – because I had already gotten past the disappointment when I saw the set list. I really enjoyed that song.
Overall, a wonderful concert, despite the venue it was in. If you are reading this, and have a chance to "Go" see the "I won't Go" tour, do so. Unless you're one of these people who like wanker shit like Korn, Linkin Park, Marilyn Manson, and garbage like that. Do yourself and your mind a favor, and see something real and good like Pat Benatar.
Oh, one final thing – they had the new album for sale at the merchandise table, so I snapped it up immediately. It's quite quite good, and while I don't think it will be as solid as Innamorata, it is an absolute pickup if you've ever liked Pat Benatar. Here's a link to buy the album on Amazon. This album goes immediately to my list of recommended albums, you won't go wrong with this.
EDIT YEARS LATER: I was wrong, Go is her best album. Period.