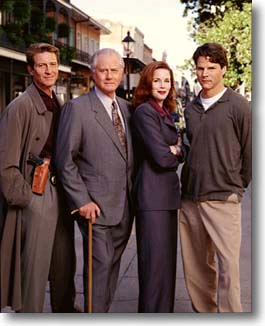 Shortly after my wife and I were first married in the fall of 1996, we heard of a TV series to air early in 1997 starring Larry Hagman. Dallas had ended in 1991, and other than a (really great) Dallas reunion movie he hadn't done a whole lot. So when I heard Hagman was not only coming back, but in a new TV series, I was definitely excited.
The problem was that after 13 years of watching Dallas, I didn't know how I'd react to seeing Larry Hagman doing anything other than John Ross Ewing II. Orleans was on CBS, and if I remember right, it was also in Dallas' old time slot – at least initially. CBS pushed it pretty well, and I had a gut feeling that it was going to do great.
Now I must admit, my primary reason for watching the show was Larry Hagman. I knew zero about anyone else in the show. Larry played Judge Luther Charbonnet, a southern judge who was quite a character. He led a family which consisted of two sons (one a cop, the other working for the DA's office), and a daughter, who was the manager of a riverboat casino. Some interesting plots were that Hagman's character was dating a black woman who was (if I recall) something like 25-30 years his junior. Plus I believe there was another couple relationship that was way out there – it was incestuous if I remember right. What made this show work for me was the fact that I went into it expecting to see "Judge JR". And to Mr. Hagman's credit, I didn't see any of JR Ewing in there. At all. He so well buried the JR character there that I totally bought Judge Luther Charbonnet.
I loved this series. Unfortunately, it wasn't a hit with the general public. I suspect that has something to do with the fact that Mr. Hagman so buried JR Ewing that folks didn't like seeing him as anything else. A danger with such a popular character. There was only eight episodes aired in total. 5 of them ran in January of 1997, and then the other three in Mar/Apr of 1997.
This brings me to my biggest irritant. The show jumped around a bit timewise, as I recall. It wasn't terribly easy to find if I remember right – which I'm sure didn't help the ratings. The show had a running plotline about Judge Charbonnet trying to find out what happened to another daughter he had that had supposedly died ages ago. Well, in the 8th episode, we were supposed to find out what happened. My wife and I were very attached to the show, in the short amount of time we watched it. Problem was that on the night of the 8th episode, my VCR setup didn't work right, and I MISSED the episode! That was really irritating, as we never found out what happened.
Virtually no one has any idea that the show even existed. If I mention it to people, I get strange looks. But my wife and I loved this show. Since there's only 8 episodes, it'll never get aired again, nor will it ever get released on video anywhere. We'd really love to see it again. By some miracle there's anyone out there reading this that happens to have them on videotape, please email me, so I can get copies of them.
Also, if you know of any sources of information about Orleans the show, please email me with that as well, since I've only really been able to find a couple of websites about the show online. They are:
IMDB Entry
TV Tome Site & Episode Guide
That's it. Nothing else. In fact, the picture shown here is the only thing I have visually, save for this Cast Promo Picture I picked up back when the show was new.  Can't find the show now. Can you help?
That's it. I loved this show; can't find it now. Can you help?
UPDATE: I originally wrote this blog entry in early 2004. In January of 2005, I decided to look around the net, and found Larry Hagman has a page for Orleans on his website here, and it has a short episode guide. Decided to bump this entry to current as well.