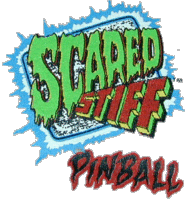 My company has had a pinball machine in its offices for about a decade. It's a really great machine called "Scared Stiff". The theme is based around the character "Elvira: Mistress of the Dark". As with most pinball machines, you can't really get them anymore. Shame that they're becoming such a rare thing.
Anyways, since we've had this machine for so long I've gotten pretty good at it, and know the machine's "shtick" pretty well. Back in the day I was conversing with one of the designers, a guy by the name of "Cameron Silver". Cameron was a fan of my company's work, and had asked me for a logo for my company, he was going to send over a custom rom with our logo in it, and some requests I had. Again, when you play the same pinball machine a lot, the jokes and whatnot got somewhat old, so he put in some skips and aborts for us. It was quite cool what he did.
Then Williams stopped making pinball machines, and Cameron told me that he no longer had access to those materials. D'oh! The machine is still cool, but we lost the custom work.
Anyway, I'm writing this entry as a sort of "message in a bottle". Cameron, if you're out there and happen to see this, please give me a shout. I've long since lost Cameron's email, and I'm banking on the fact that he might have a Google news alert for himself, and would see this thing – Lord knows he wouldn't come to this blog for any other reason. :)
Anyways, if you are a pinball collector, look into this one, it's a rather fun machine – so I think.