I signed up for XM Radio back in the Spring of 2005. The reason I did it was because of their 24 hour baseball talk channel, dubbed "MLB Home Plate". They run several things on that channel. Primarily it's various talk shows. But the biggest bugger has been that it's not on the XM Radio online service. If you're an XM subscriber, you can login with your account, and listen online anywhere. This is particularly helpful to me, as my office is a cave. It's in the middle of the building, I work in, and while it's a small one story building, it's still got no windows, and I cannot get reception for my XM Radio. I've tried with signal repeaters at various windows in the building – no go. This is an issue for me, because the online version of XM has to date not included the MLB Home Plate channel.
I've written to several producers and folks at XM, and they have told me the reason they have not been allowed to put it online is MLBAM themselves. You see, one of the things they do on MLB Home Plate is include "live lookins" when something cool happens in a game. I don't particularly use that feature on the shows they have, but I could understand (if not agree with) why MLB didn't want a competing product available online like that. So I've missed a lot of programming I've wanted to hear because I couldn't listen online.
Well, that's finally changed. I saw a story today on Orbitcast (Satellite news) saying that as of Saturday the 29th, XM will FINALLY MAKE HOME PLATE AVAILABLE ON THEIR STREAMING ONLINE SERVICE. This is such good news, I think it warrants an appearance from "w00t guy!" :)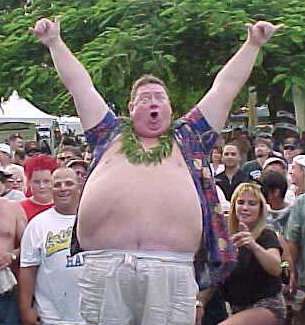 Seriously, this is extremely good news. I've wanted this channel online for ages, so I can listen during the day. I love the talk shows here, but I haven't been able to listen because I've been unable to get a signal in my office during the day, and they haven't had it. w00t indeed! Anyway, here's some of the shows on the channel (all times below are Central):
Baseball This Morning: This show's hosts are Mark Patrick & Buck Martinez. Mark Patrick knows baseball, but seems to be less "serious" than some of the other show hosts. One of their producers goes by the nickname of "The Godfather", and Patrick himself goes by the nickname of "The Big Chair". While their baseball talk is fine, they seem to be more into the "show" and "character" aspect of being on radio. When it originally launched, there was a third host, that being Larry Bowa. Bowa stayed there until he got a job with the Yankees as a coach, and was replaced by Orestes ("The Latin O") Destrada, who stayed for awhile until he left last year. They did not replace O, and I think they gave up on the idea of three hosts, which I liked, since it tended to keep the focus more towards baseball with three on this show. Anyway, this show runs from 5AM to 8AM, and then immediately repeats from 8AM to 11AM.
Fantasy Focus: Hosted by Jeff Erickson of rotowire.com, this show runs one hour (from 11AM to noon), and focuses (as you'd guess by the name) on fantasy baseball. There's less talk about baseball news on this show, and a stricter reliance on discussions specifically relating to fantasy baseball. This is my least favorite show of the lineup. Not that it's bad, but the fantasy aspects of baseball discussion are of less interest to me.
Baseball Beat: To me, by far the best show on the channel. This is hosted by Dodgers broadcasters Charley Steiner. What I like most about this show over all the other show – and this is a big one for me – NO CALL INS! At least not from the general public. He does take calls, but that's the beauty of it. It's from beat writers for specific teams, hence the name of the show. They've had Evan Grant on several times, and they talk to other local writers for teams. I absolutely love that, you get to hear from people who actually cover teams like the Pittsburgh Pirates, the Tampa Bay Rays, and the Kansas City Royals. I mean, will ESPN do big deals on those? Hell no, they want to suck on the gob of the Yankees and Red Sox. So I love the fact they talk about other teams, and with people who know what they're talking about. Unlike the usual callers who call in to these shows and ask a litany of stupid questions, which make me want to scream and turn off the radio. I love this show – no public call ins! YAY!
The Show: Hosted by former Ranger manager Kevin Kennedy and Reds pitcher Rob Dibble. This one I get to listen to the least, as it runs from 2PM to 5PM, and I'm usually at work then. From what I heard, this is the more opinionated show on the slate, and that's likely due to the personality of the hosts. Or at least Rob Dibble. That's the reason I garner he disappeared from ESPN's Baseball Tonight – strong opinions. Which is fine. When I listen, I like the show, but I hear this the least based on timing.
XM on Deck: This show runs for an hour between 5 and 6, and will preview the games coming up that evening. During the offseason, it's just a general talk show.
MLB Live & MLB Live Late Edition: These shows combine to run from 6PM to midnight. They consist mostly of live look ins to games in progress. There's also a healthy dose of talk too when nothing is going on in terms of things to "look in" on.
Other things that run on the channel are classic games on the offhours, and there's some other shows that don't run as regularly. Like Baseball Confidential where they talk to an individual for an hour. There's also some weekend only shows, like "Minors & Majors" with Grant Paulsen and "Ripken Baseball" with the Ripken brothers. If you like talking baseball, this is the channel for you. Yeah, I realized I turned this post into essentially an ad for XM Radio, but the fact that I will be able to FINALLY listen to Home Plate online while I'm at work is a MAJOR huge deal for me.
And on top of that, they have all the games broadcast during the season too. If you're a hockey fan, that's a bonus, as they have a 24/7 NHL channel, too (as well as the NHL games in a similar fashion).
If you don't have XM, you should consider getting it. They have a trial signup you can get for two weeks via the website to listen to the streaming version – which after Saturday will include Home Plate, the entire reason I bought XM in the first place.
It's about time, guys.