As an Xbox owner, I've paid close attention to the offerings on Xbox LIVE Gold, as I've been a member of that since it's inception.  My profile bears the "8" mark, which means I've been a member for eight years.  I was one of the people chosen from the public to test the service before it launched on Xbox 1.  Anyway, my point here is that I'm aware that they're finally going to get Hulu Plus as a video option on XBL two days from now.  My post here is about Hulu, and not so much Xbox, it's just the launch on Xbox made me want to ask this.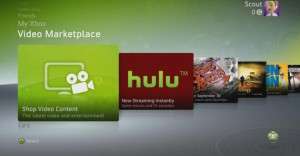 Why does Hulu Plus not allow you to watch the "regular, free" Hulu videos and episodes?   Hulu has been around for a long time, and I've used it several times myself, when I missed recording something, or wanted to look at some recent clip, or something along those lines.  You can view these on your computer, and in most cases stream them to other websites, too.
An updated pay version of the service has been available since last Summer, called "Hulu Plus".  That's a version where you pay monthly, and get access to a much larger list of shows and episodes.  In most cases, entire series are available.  However, I found the paywall content lacking in shows I'd REALLY want to watch, so I only subscribed for one month as a test.  It is currently $7.99 a month for pay access.  It was initially more expensive than that, but the price came down, amongst stories that not enough people were interested in paying.
However, what I'm writing about today is the Hulu Plus app and the free version of Hulu online.  In the Hulu Plus app, you can only access Plus material.  There is a sample of some free videos in the Plus apps, but you CANNOT access the regular hulu.com free content through the Hulu app.  I've always felt this was a stupid move.  The last time I looked, the free/sample material in the Hulu plus app is the same as when it first launched back in the Summer of 2010.  It hasn't changed.  The free content on the Hulu website, however, is constantly updating.
The Playstation Network has had Hulu plus for awhile now (since late last year), and Xbox is getting it in a couple of days, if reports are true.  My Blu-Ray player in the bedroom also has a Hulu plus app.  But I don't bother with these, because there's no compelling reason to pay for Plus, and the free content is not their "real" free content.  I'm sure it's some stupid licensing issue, but they REALLY need to make the free desktop content available on the "free side" of the Hulu Plus apps (Xbox, PS3, iOS devices, etc)..
Won't happen, though.  :(