Going into last year, I've seen an option on my Amazon checkouts called "Amazon Locker".  I wondered what that was, and did some research.  It's basically a place where you can have your Amazon packages delivered to in place of your home or work, and you can go pick it up when you want.   I would imagine for most people there's little point in using it, as they just have Amazon stuff delivered to their house.   Still, if you live in an apartment (or a housing development) that has one of those "cluster mailbox" things, or if you have a theft problem at your place then this would be a useful idea for sure.   Yeah, you have to drive to pick it up, but then you have to drive to go get stuff from a USPS PO Box, too.  So in that regard, it's the same.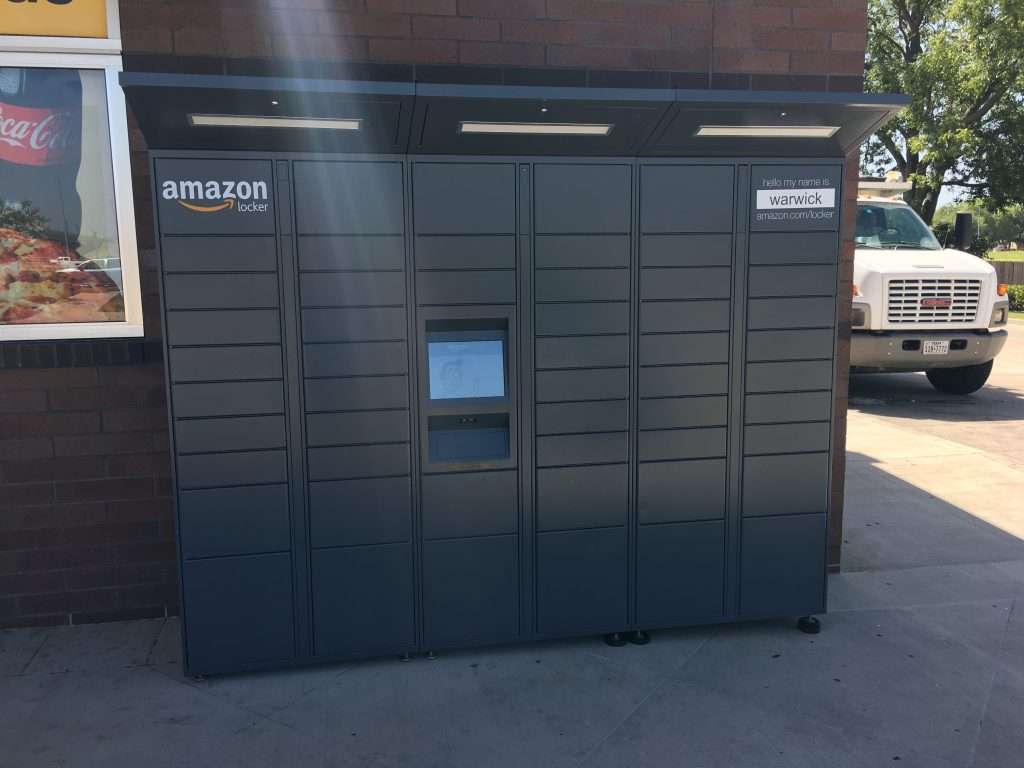 Thing is, there was never a box near me – until something I went to order last week.  It wasn't anything important, or anything I needed in a hurry, so I decided to try the Locker location that was near me.  According to Google Maps, it's 5.5 miles from me, which isn't that far, really.
Since I'm the kind of person who keeps extreme track of his stuff via tracking, I knew it was gonna be there this morning.  When I had a break from work this morning, I decided to drive over there and pick it up.  As you can see via the picture here, it is an outside device.   Why the thing is called "Warwick", I don't know – probably something in their system, but I don't know.   They all have individual names, so I suspect that's part of their shipping system, but why "Warwick" – who knows?  :)
If you look at the picture above, you can see a face there.   When you come up to it, you just touch the screen, and it asks you to enter a code or scan a barcode.   When you have something at a locker, you get emailed and told this information.   This is how you prove you are who you say you are.  Again if you look under the picture, you can see an indentation, this is where you can hold the barcode to be scanned.  It has a good scanner, as it was able to scan my iPhone screen.  Not every barcode reader (I'm looking at you grocery stores) can read barcodes off an iPhone screen.  This can.
Anyway, after it scans you, it thinks a second, and then an arrow shows up on screen and points to where the open door is with your item.   Here's a picture of the arrow, as well as your locker being open showing where your package is.  (Technically the picture of the arrow was taken on a different visit than the other photos, hence the "left arrow" not syncing up with the open door pic).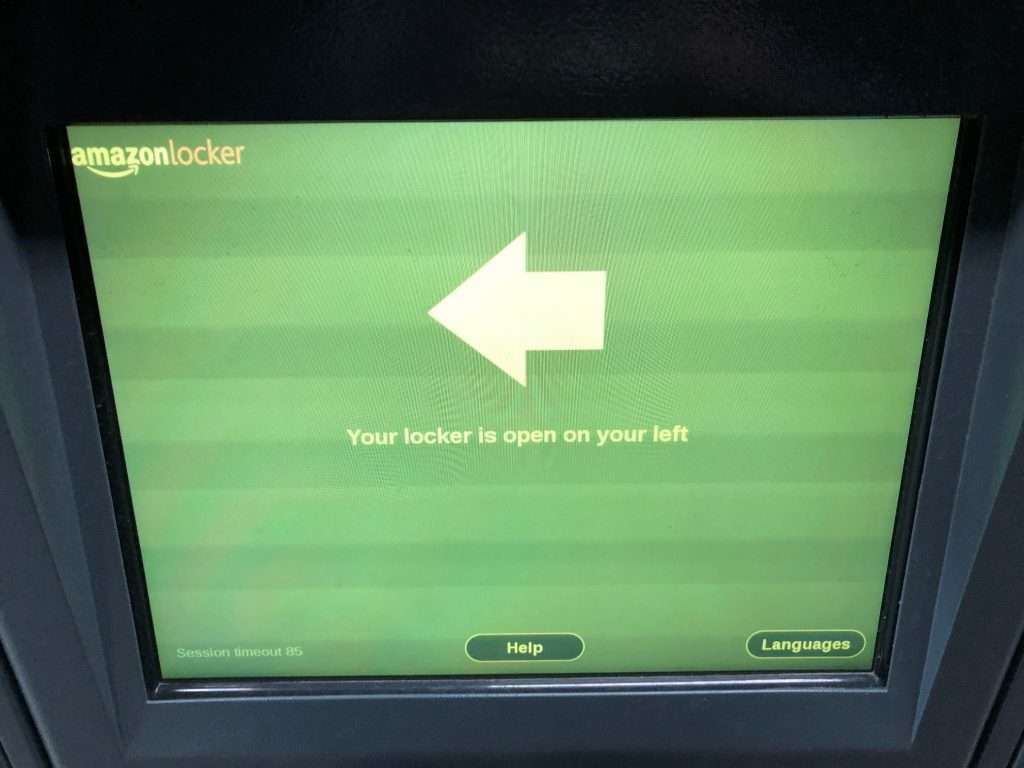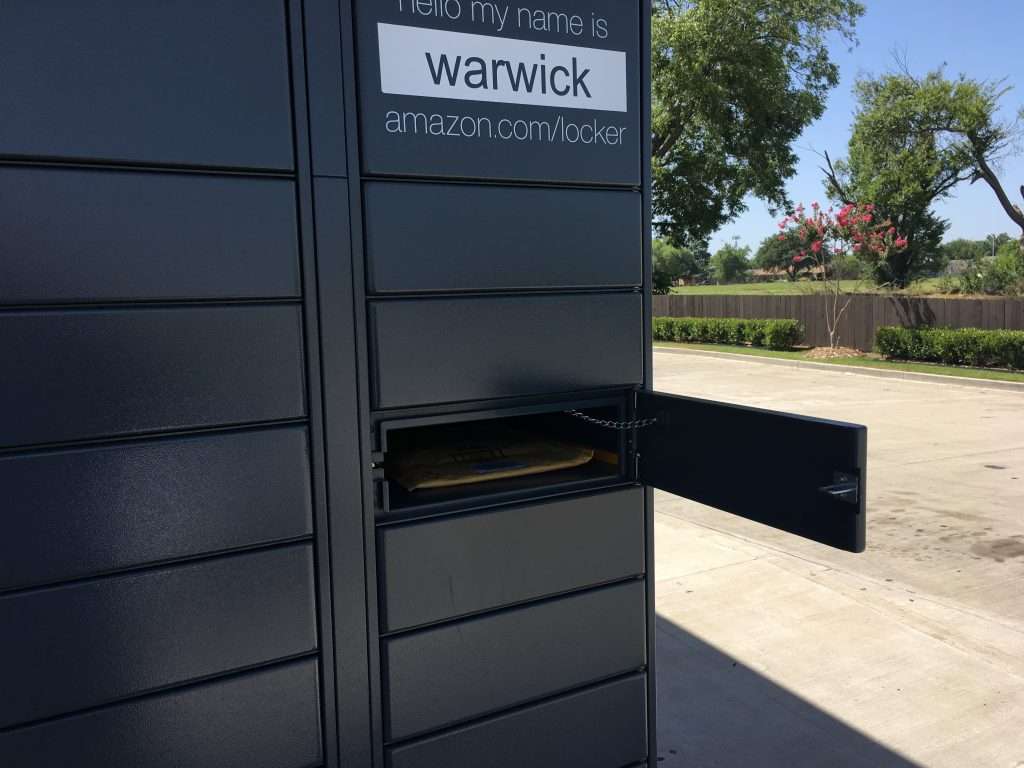 You then take your package out, and it waits for you to close the door.   I don't know what happens if you never close the door, as I actually followed the instruction.  The screen with the arrow says "Session Timeout 85" in the picture above, which implies that if you do nothing in that timeframe it will close the door.  Whether it assumes you took your package or not I can't tell.
Once you take your package out you close the door, and basically you're done.    The screen does say thank you after that.  You do get a followup email saying thanks for picking up your package and asking for feedback, too.
Overall, it's a nice easy way of getting your stuff, should you need this kind of pickup facility.  As I said earlier, I have no need of it personally, as I don't have a theft problem at my house.  But I could easily see myself using it if I did.  I do hope enough people use it that it doesn't go away.
One thing I saw on the notification email is that you have only four days to pick it up.  I was notified that my package was available on August 1st.  I was told I had until August 4th to pick it up, otherwise, "If you're unable to pick up the package by this date, it will be returned for a full refund.".  So you can't use it to store things for like a month before picking up.
One other thing to factor into this.  The one I shipped to is outside.  In Texas.  In the Summer.  In a BLACK METAL device.   You will need to keep that in mind depending on what you're shipping there.  You wouldn't want to ship say candy or candles there.  They'll be melted when you open the door.
One really NICE thing though is that you can put returns here.   That I will probably use more than I would use to pick up stuff.  Depends on the carrier, of course, but I can definitely see myself using this for returns.
You can get more information at Amazon's Locker page at http://www.amazon.com/locker – Their page doesn't list Dallas (this one is technically in Mesquite) as a city, but there's definitely several in Big D, so you might want to give their system a check, see if you have one.