The latest in my #watchemall series has been completed. The second overall Star Wars movie, and the fifth "episode", "Star Wars: The Empire Strikes Back", or as most of us who love this movie call it, simply "Empire".
I find it hard to run across a Star Wars fan that doesn't think this is the best overall movie.  I'm sure they're out there, but I've never run into them – and they're wrong anyway.  ;)   But seriously, I'm going to take a few minutes to talk about "The Empire Strikes Back"…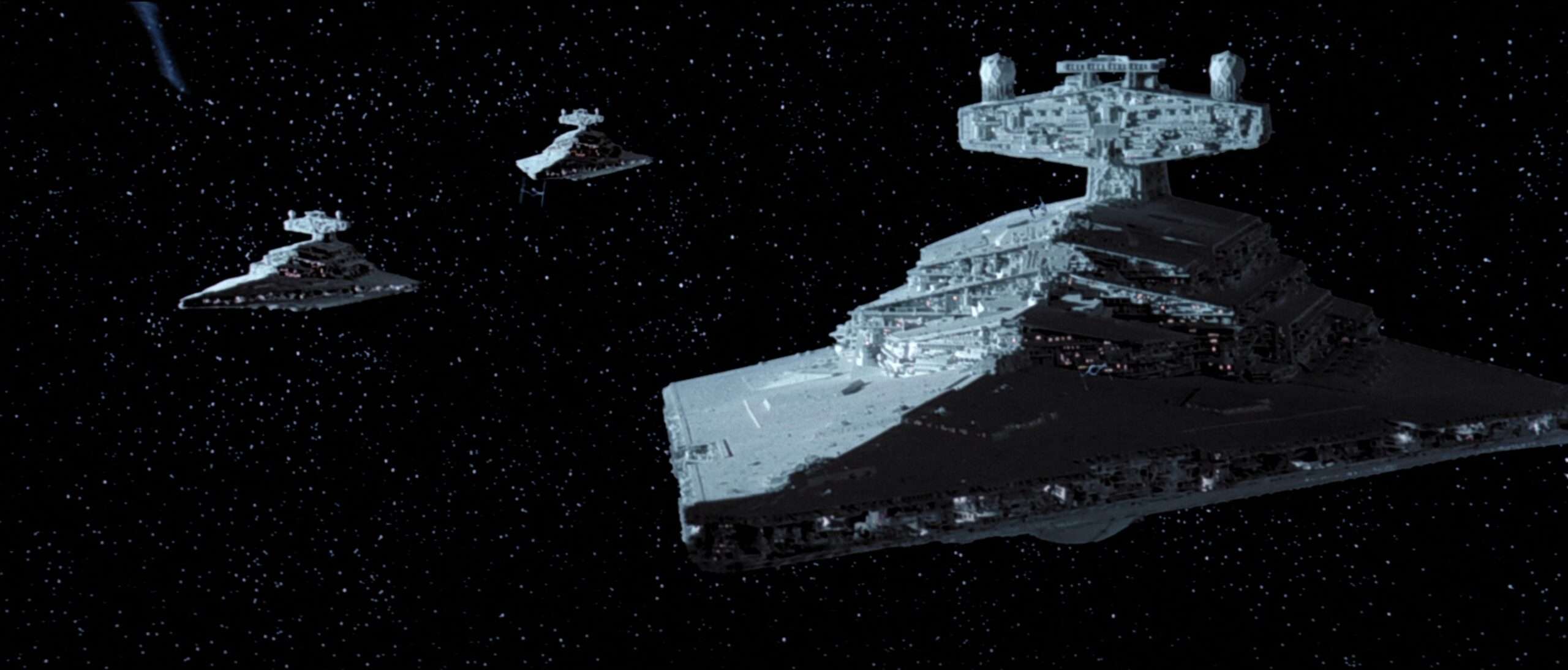 It's probably good that this film came out in an era before social media, websites, and all that.  The major, series changing plot twist at the end of the movie was something that there was likely no way it could be kept secret.  That would get out – there would be no way this level of secret could be kept quiet. This was the first Star Wars movie I saw on opening night, and I came out of it with a "holy crap" feeling.  For any number of reasons I felt that, but ESPECIALLY the "I am your father" reveal.  In fact, TO THIS DAY, it's one of the primary reasons I go to see movies I want to see immediately. In this day and age, if something big happens in the movie, you're likely to have it ruined, even if you don't seek the info out.  Friends will mention it, Facebook will be "helpful" and share people's posts.  It's best to go dark, which I can't do.  So I see movies I want to see IMMEDIATELY to avoid that.  Anyway, the "I am your father stuff has been parodied and referenced in any number of places over the years, but this particular one from the Simpsons some years back sticks with me all these years later..
That moment was probably the biggest moment of the movie, so I led with it.  But there's so much more.  Empire is just an amazing movie, front to back.  Of the first six Star Wars Movies, it's one of only two not directed by George Lucas.  It was directed by Irvin Kershner, who also directed the unofficial 007 film "Never Say Never Again" a few years after this.  I'm not entirely sure if the "feel" of the movie was a whole lot different than the original, but the story certainly is.  The original felt more innocent due to Luke's "origin" story as such.  This one was more about facing the Dark Side, one's demons to advance in life (this is manifested here as "becoming a Jedi").  Like most middle movies in a trilogy, it was the darkest of the three.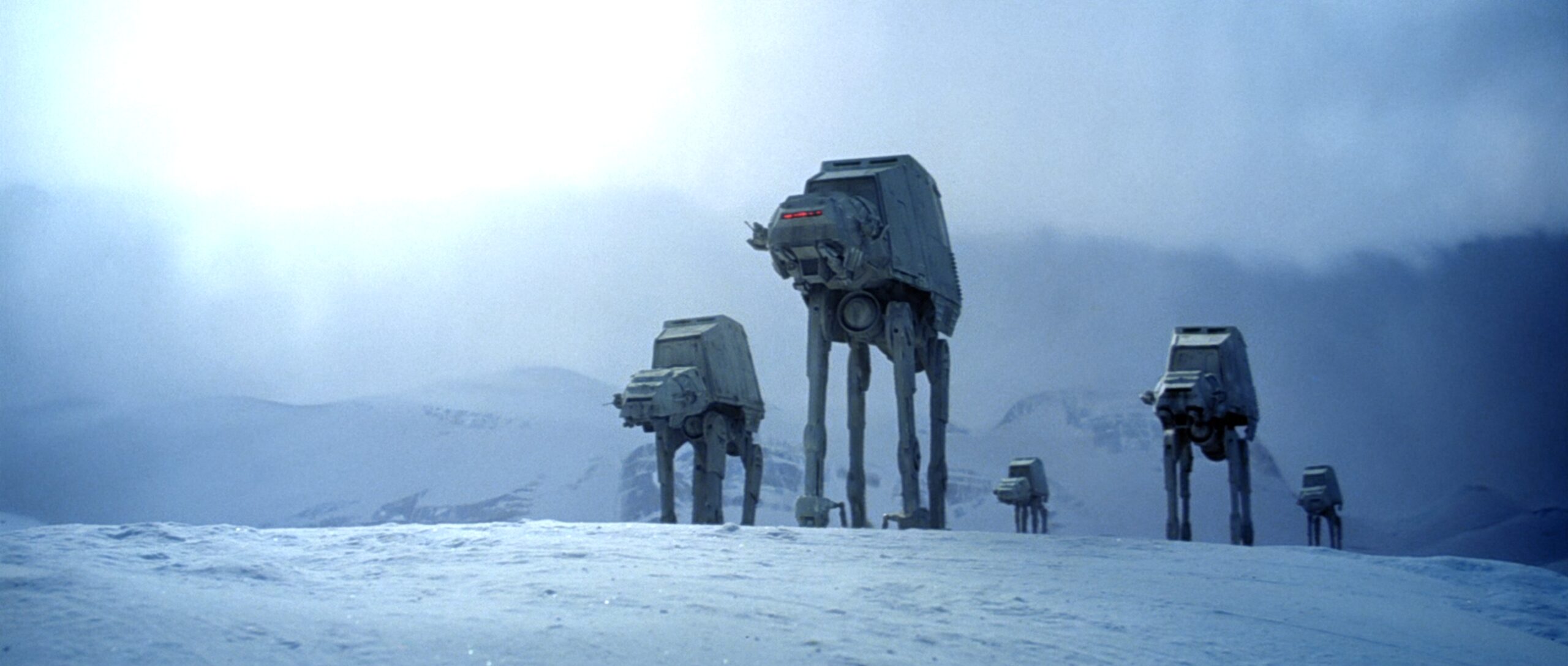 In 2019, the AT-AT walkers look like a bad idea – and to some extent they aways were.  But in 1980, these things were totally badass.  The first time you ever saw them, you got a "holy shit is that cool" vibe to them.  That whole battle on Hoth was visually very interesting.  I loved the background of snow, it made things look more distinctive, I thought.  They re-used the AT-AT's in "Rogue One", and if I recall, they were taken down the same way.  You'd think the Empire would come up with a defense against that.
This was also the first Star Wars movie with "The Imperial March", or what I called as a kid as "Darth Vader music".  That hadn't been done by John Williams for the original, it made its first appearance in this movie at around 20 minutes in.
This was also the first time we saw the concept of a "Force Ghost".  We heard the "voice from the grave" of Obi-Wan at the end of the first movie, but this was the first time we'd seen a dead Jedi come back and appear (not just as a dream or an illusion) to someone living.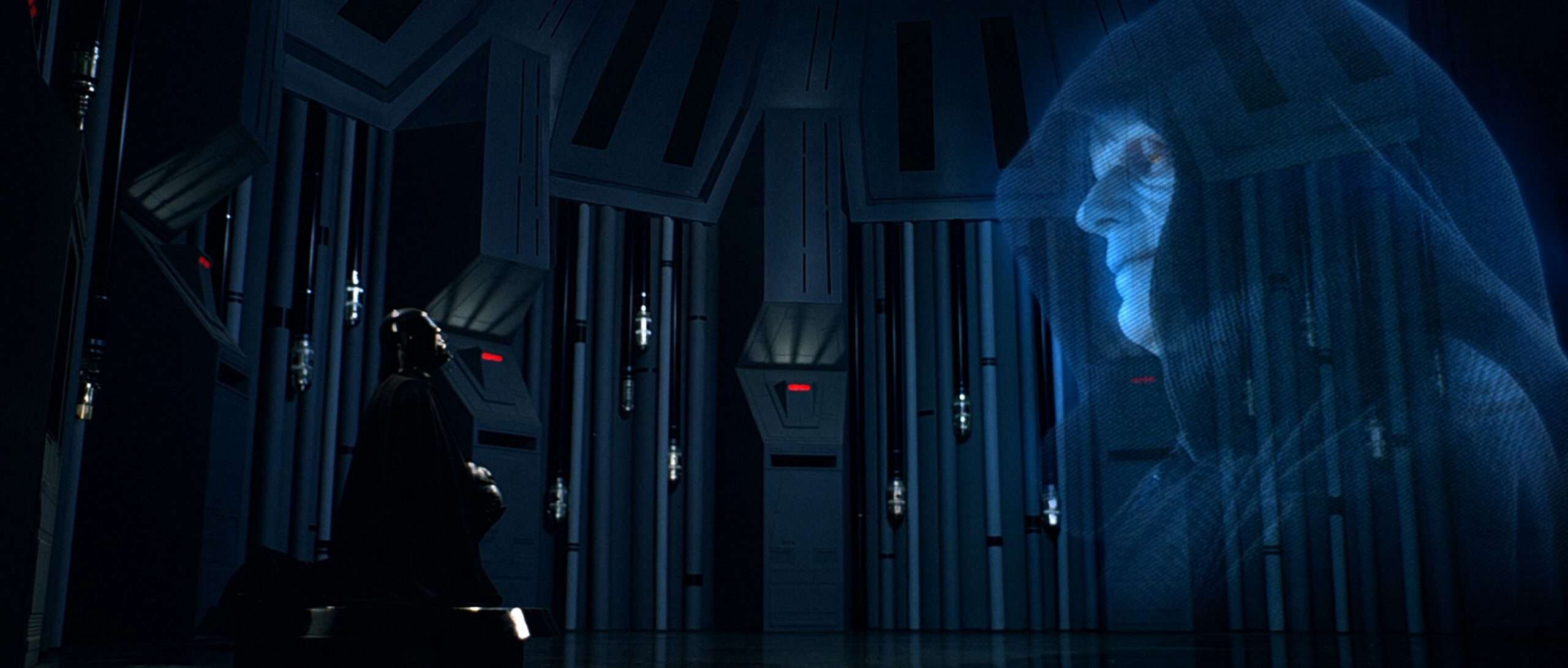 There's so many short bits that are great.  The "Vader Cave" on Dagobah, the chase through the asteroid belt, the escape from the creature inside the asteroid, Lando Calrissian (underused character I thought), C3PO being blown up (ha), 3PO being put together backwards, Leia kissing Luke (happens twice actually, not just the one most people remember), Luke's training by Yoda, and many others…
Speaking of Yoda..  At the time I really thought he sounded like Grover from Sesame Street.  That lessened as the movies went on, but I get why.  It's Frank Oz doing both.  But even seeing him as the purple muppet, Yoda still worked – was a perfect character.  Loved the deception at the start when he first met Luke – which made for some great comedic moments like bashing R2D2 with his stick, and mocking Luke "Awww, cannot get your ship out".  Yoda is a brilliant character, and he looks best IMO when he's a practical puppet like he was here.  Once he went all CGI, the impact was lessened somewhat.  Yoda did return to being a physical puppet for his appearance in Episode VIII: The Last Jedi, and it made him look a lot better. More on that movie when I get to it in a couple of weeks.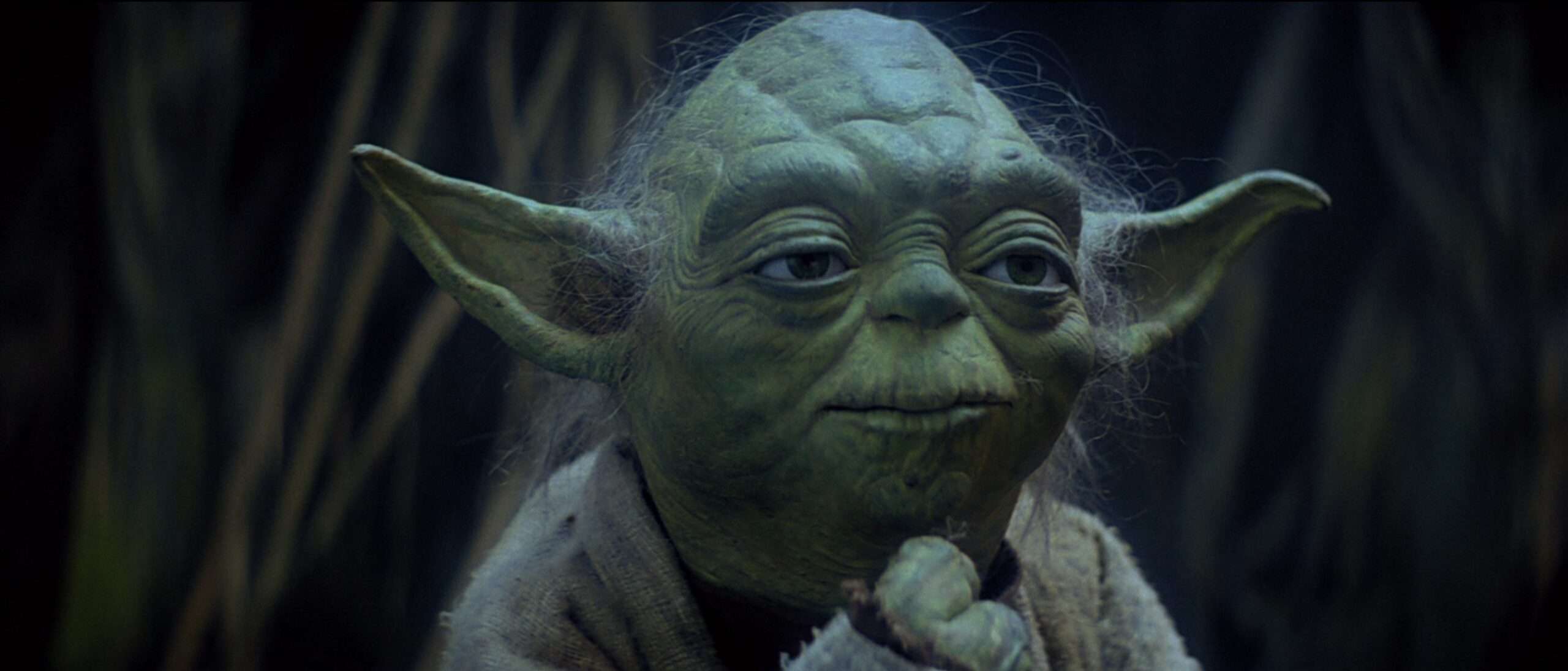 There are some minor continuity issues that the prequels brought up – like here Force Ghost Obi-Wan mentions that Yoda trained him (was shown to be Qui-Gon later), and when Yoda says "No, there is another", Obi-Wan would know that, as he was there for Luke & Leia's birth.  It doesn't change my enjoyment of anything, but as I'm someone who likes to make all the pieces fit together, it can by annoying at times.  :)
While Luke is not the whiny prat he was in the original movie, it appears that all his whiny went into C3PO, as this movie is a constant state of wanting 3PO to shut up.  C3PO is always like that.  Dances the line between helpful and super annoying.  More often than not you want him to shut up.  An interesting take.  He's a beloved character, but also annoying as hell at the same time.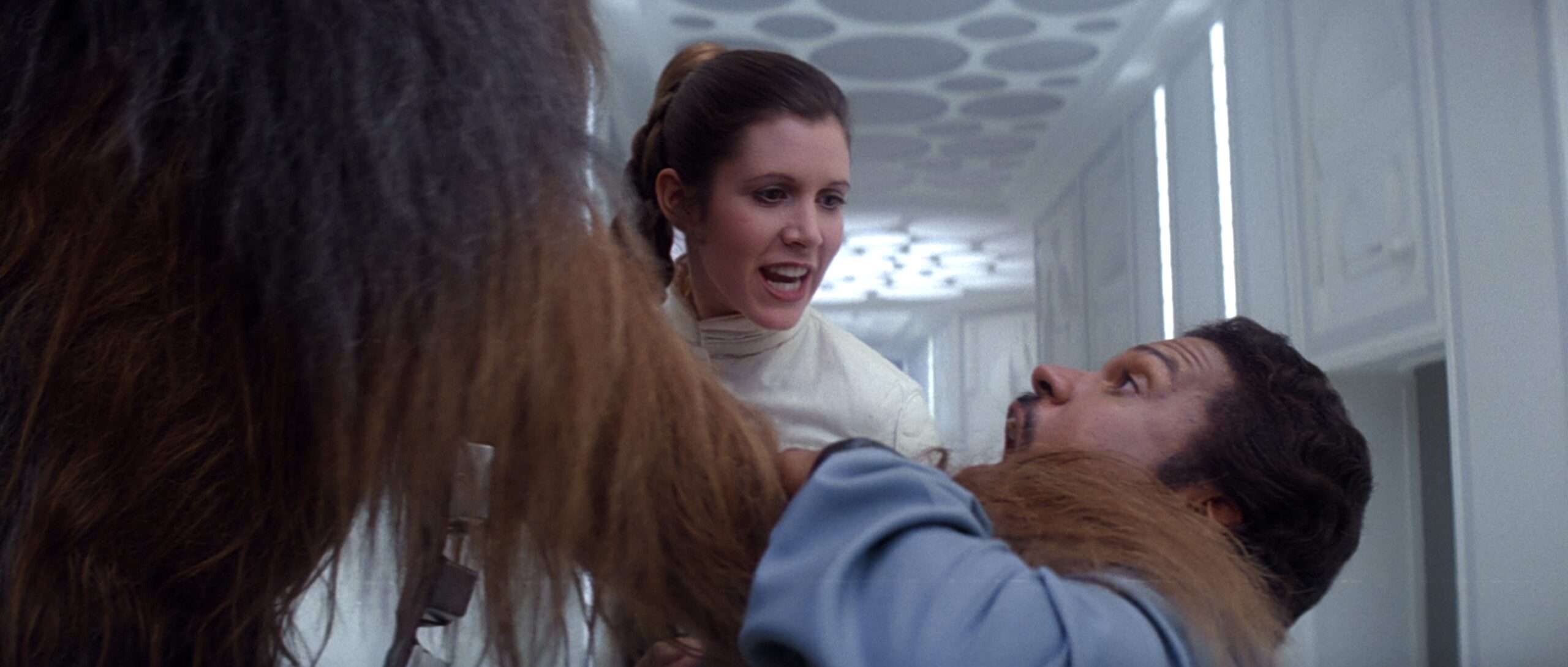 The George Lucas edits weren't a problem here at all.  There was no "Han Shot First", and no "Nooooooo" added.  The only changes here were good ones – like making the Cloud City walls more open with stuff in windows – VERY much helped the atmosphere.  Things of that nature I had no problem with.  One other one I liked was when Vader contacted the Emperor.  In the original version, the Emperor looked different than the version we know from Return of the Jedi onwards (Palpatine).  So that was a good change, too.  This movie was touched the least by Lucas' tinkering.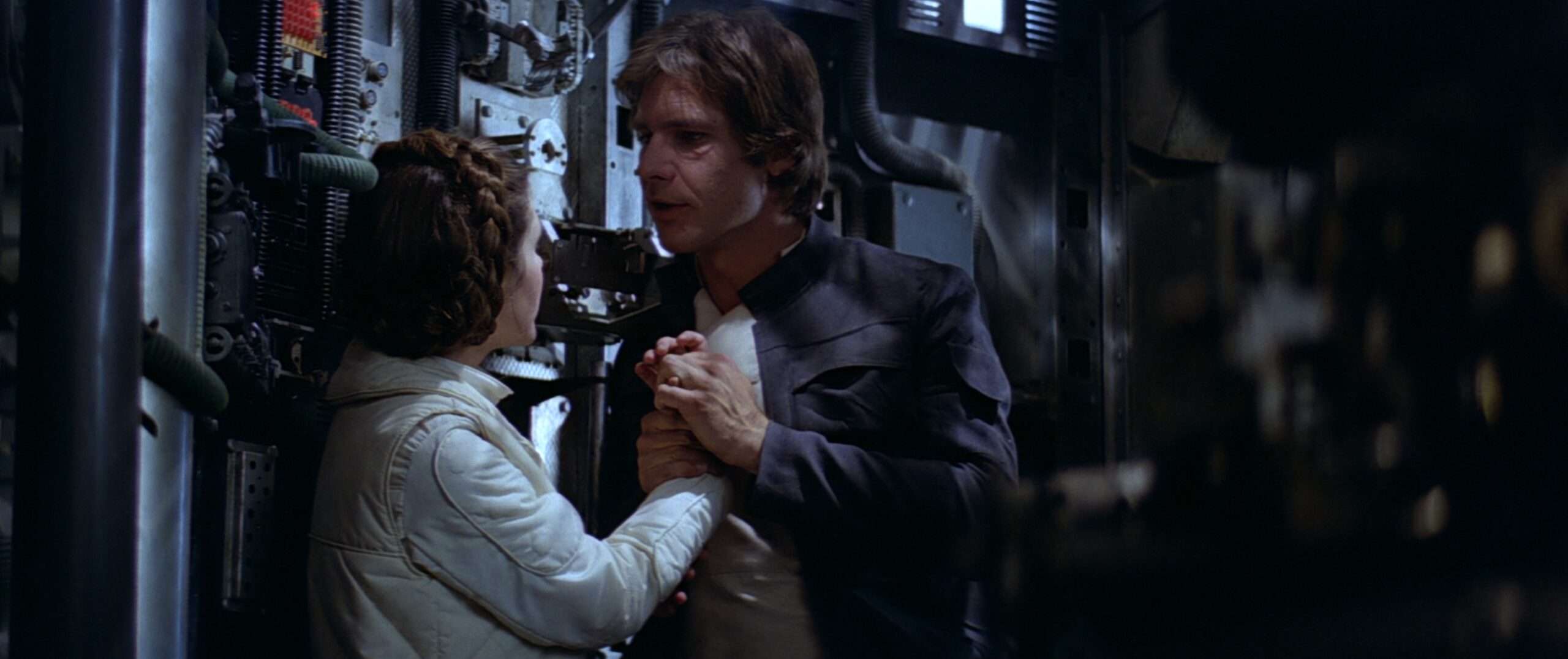 My wife has a major crush on the 1980 version of Harrison Ford.  The scene with him and Leia and the first kiss was one my wife commented on several times, much to the chagrin of our 14 year old daughter, who doesn't get it.  :)   I get why it's a big deal, although in all the three movies Carrie Fisher was in, she looked the least great in this one.  I'll have something (a bunch) to say about Carrie Fisher in ROTJ in the next review.  But seriously, it was a good level of emotion for a Star Wars movie.  Enough to get the point across, made you feel the characters were making a connection. That's likely down to Harrison Ford & Carrie Fisher.  Something that was NOT duplicated with Hayden Christensen & Natalie Portman at all.
This film carries on the tradition in Star Wars of characters getting their hands or arms cut off by a light saber.  Luke's of course is huge here, to set up the moment that comes right after it.  However, when Luke's arm and light saber go flying, I wonder how it is retrieved to be in a box in the basement of Maz Kanata's place where initially Rey and then Finn take it.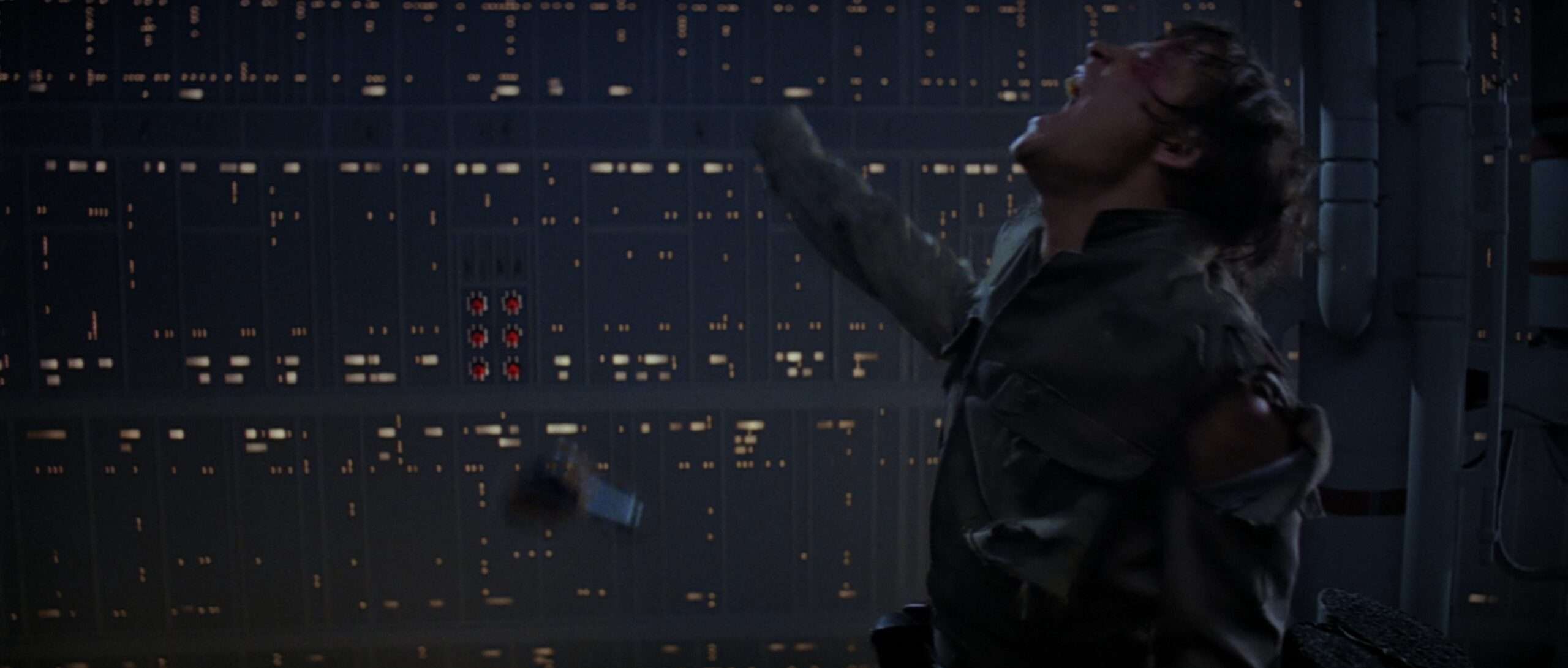 All of these things I mention above all flow together very well, weaved into an amazing puzzle by the music of John Williams. Mentioned him once before, but without his music, this movie (or any of them actually) wouldn't be nearly as good as they were, so major kudos to Mr. Wiliams for his work here.  Really adds to the scenes, more-so then most music scores.
One goofy little extra.  John Ratzenberger, who is most known for being Cliff Clavin from Cheers, and is in every Pixar film in some capacity was in this movie, too. Unclear what his character's name was, but he's the one that told Princess Leia to close the bay doors when Luke and Han were trapped outside in the snow overnight.  He can be seen here (he's all the way to the right) – just an odd little credit.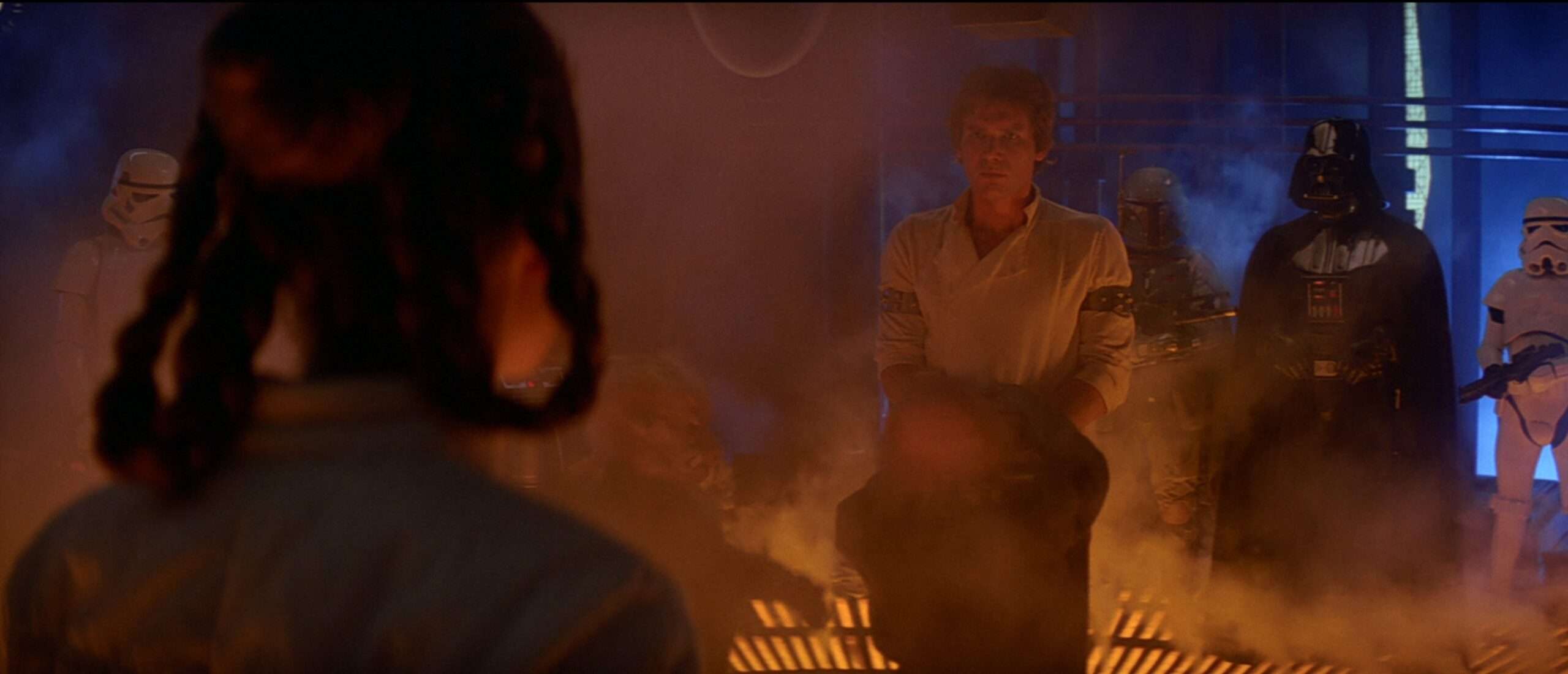 My Summary
Biggest Problem: None.  The first film in my series where I can say I don't have any problems.
Biggest Strength: Hard to tell.  There's so much good in here.
Overall Rating: A+.  The best Star Wars film deserves the best grade.
It's hard to summarize this one.  It's IMO by far and away the best Star Wars movie.  There's so little to say that's not good, it simply becomes a matter of "Oh, go watch it, you'll get it".  It's amazing.
I am really glad they're bringing Lando back for Episode IX before it all wraps up.  He's needed to come back for awhile now, glad they're doing that.
One final note before I sign off…  You never want to become an Admiral in the Empire.  You're just one error away from a force strangulation death.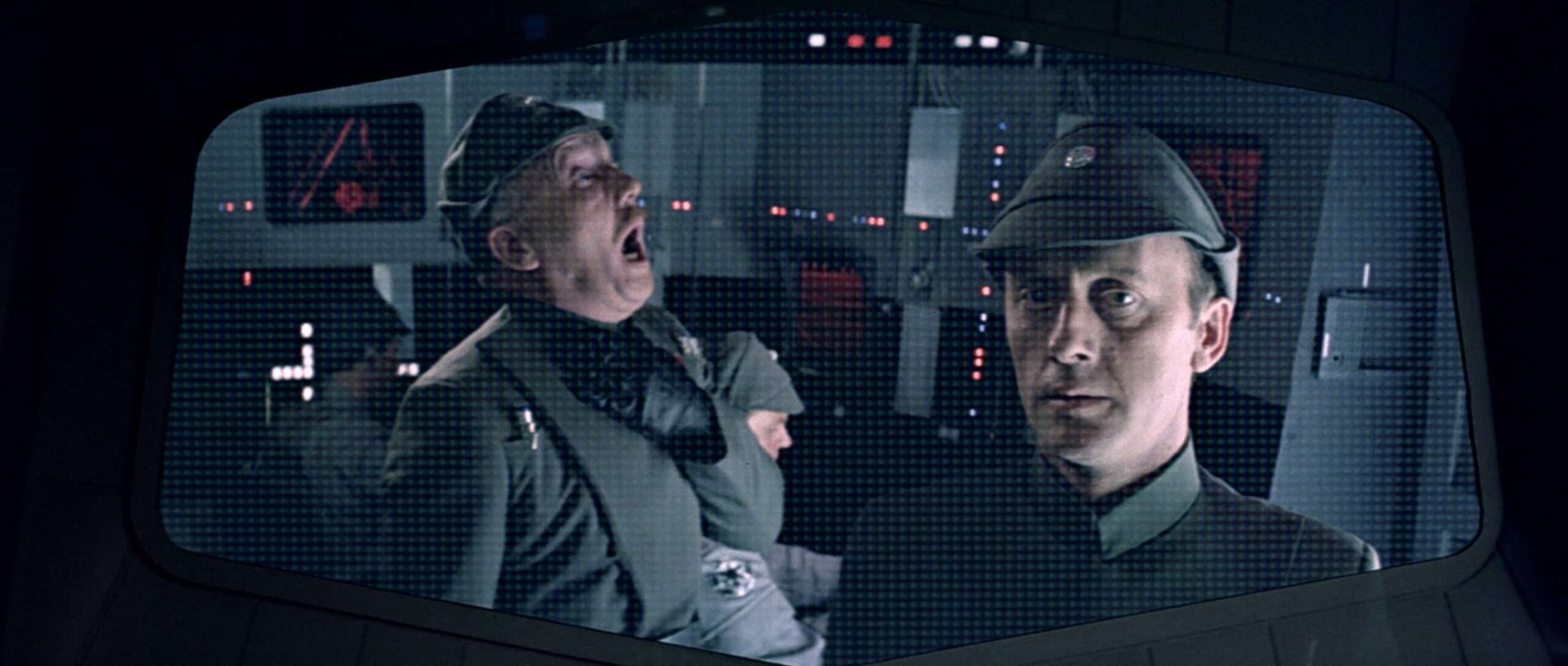 Original Trailer