So, my wife and I decided to add another film to our "Educational List" of movies.  By that it's a list of films that we think she should see and not just know current movies.  My wife felt like watching Die Hard, so I went with it.  Actually had been awhile since I had seen Die Hard, so I was due for a refresher.
It's the first in my movie review series that wasn't a Star Wars film, so here goes…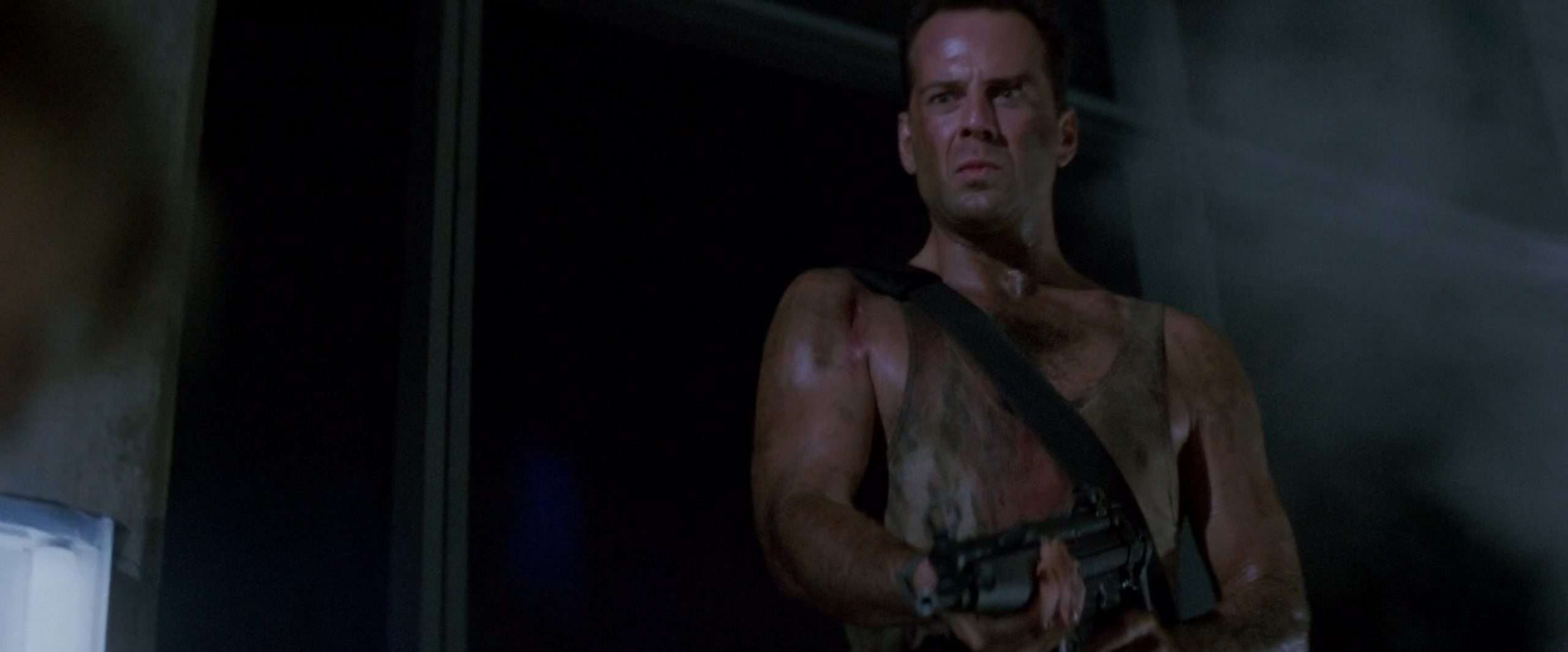 First off, I wanted to address something that seems to divide a lot of people.  "Is Die Hard a Christmas Movie".  Oddly enough this is a weirdly passionate talking point for people.  One of my favorite quotes I've seen from people is "It's not Christmas until we see Hans Gruber fall off Nakatomi Plaza".  As amusing as that line is, I have to stand firmly in the camp of this is NOT a Christmas movie.  My main logic is this – just because a movie takes place AT Christmas, doesn't make it a Christmas movie.  This is an all kinds of fun action movie, lots of things blowing up, but it isn't a Christmas movie, as it has jack to do with the Christmas spirit, which is what properly defines a Christmas movie.  I mean there's also Lethal Weapon – which actually has more of a Christmas feel than Die Hard does, and we never hear of that being called a Christmas movie.
So anyway, to this movie.  It starts off pretty innocently enough with Bruce Willis' character John McClain arriving in Los Angeles from New York.  He's a cop, and was headed to the Natakomi Plaza to see his estranged wife Holly, who works there.  While they talk, a group of criminals arrives at the building and starts taking control of the building, with the purpose of gaining access to a prize behind the company's safe.  After disposing of the top executive, it sets off a sequence of events where they try and crack the code to get inside.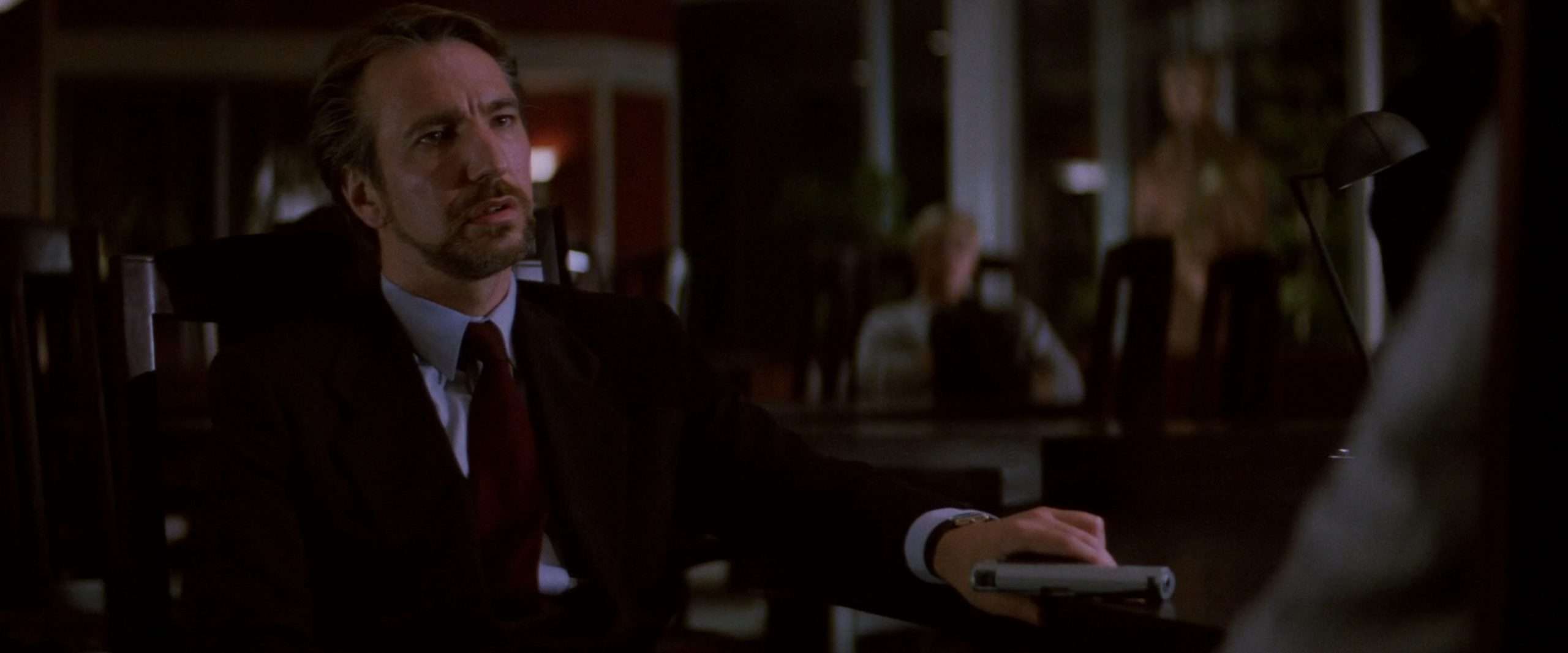 To that we come to one of my favorite actors, Alan Rickman.  Alan is amazing in this, he plays the bad guy to a T.  So suave, so subtly bad, it's really well done.  My favorite role of Rickman's is Galaxy Quest, but this is probably second.  His tone, his delivery, and the words are of not a brutish thug, but a.. well.. educated thug.  He doesn't do things because he doesn't have any other ideas, does them for a purpose.  Very much liked his character, and in a way was bummed out he died at the end, would have been a great character to come back again.  One other scene of his which was interesting was about 2/3 into the movie when Gruber goes out of his hidey hole, and runs into McClain in the building, and pretends to be a lost regular person.  His acting there was a bit odd, didn't sound anything like he normally would – which I suppose is the point.  But I liked the fact that they didn't see each other until this point.
The majority of the movie is McClain running around the building leading Gruber's men all over the place.  It's weird the command of the building the McClain has, as he is not from here, he's a visitor, But he leads them around the building like he knows every inch of it.  That doesn't detract from my enjoyment of it, but I did wonder a few times how he knew to do a few specific things, he shouldn't know the building that well.  Still, was a fun ride.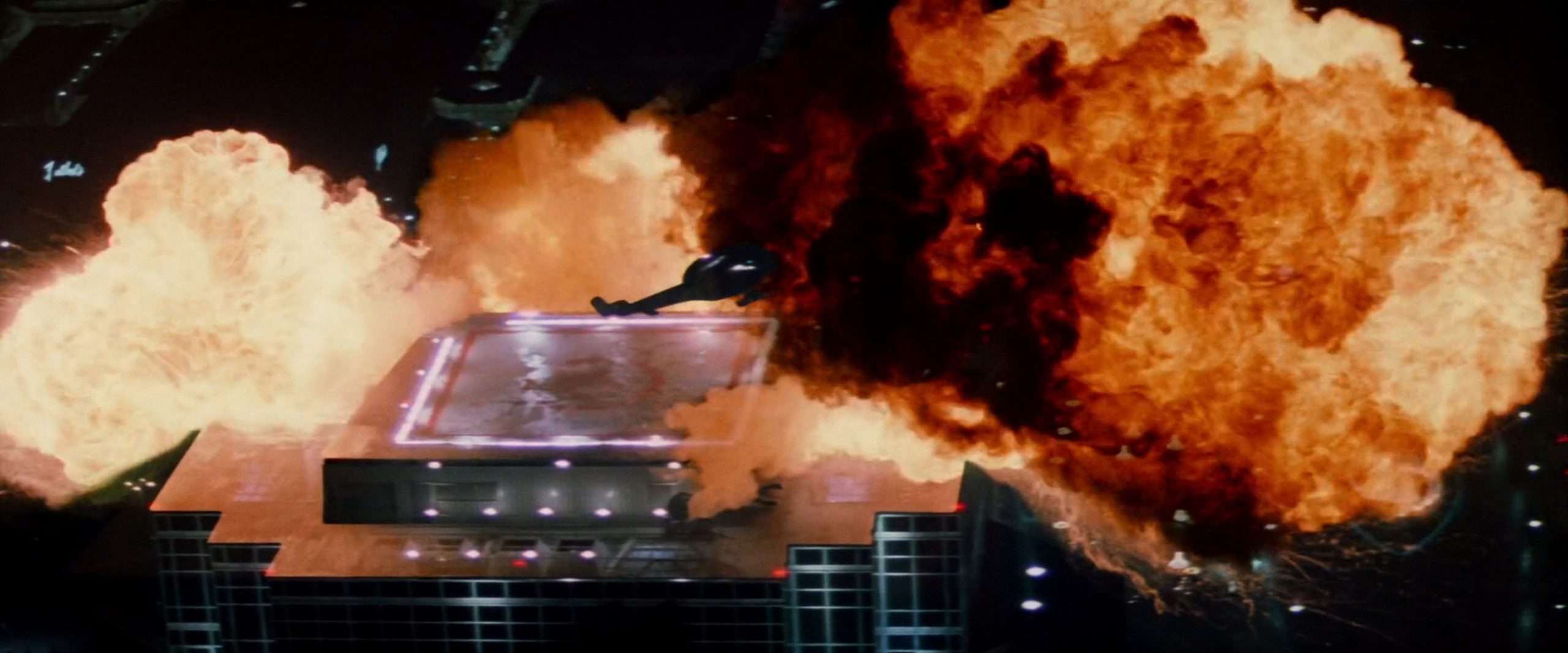 I'm not going to go into individual scenes for the most part, because well, it's an action film.  Wouldn't translate well to text, but it is filled with action scenes, both large and small.  There's only one of them that I had a bit of an "oh come on" to it.  That was when McClain was tied down in an office space and they shot the hell out of it, leaving glass everywhere.   He escaped the room, but cut the shit out of his feet.  Now I don't think he would have bled out from that, but he should have been way more injured than he was.  Was really only the next scene in the movie where he showed effects of bleeding from his feet.  A couple of minutes later, he was acting like he  was totally clear and able to function with no impairment, despite showing blood from his feet later in the movie.  Given how much he was shown to be bleeding, that shouldn't be possible.
The movie ends quite satisfyingly.  Gruber initially gets what he wants, was shown to be leaving, but stopped at the last second by McClain, then gets shot, and tossed out the top of Nakatomi Plaza.  But the best part of the ending was Holly clocks the reporter who caused trouble by tracking down McClain's family and talking to them about the situation.  Enjoyed that more than the disposing of Gruber, actually.  ha.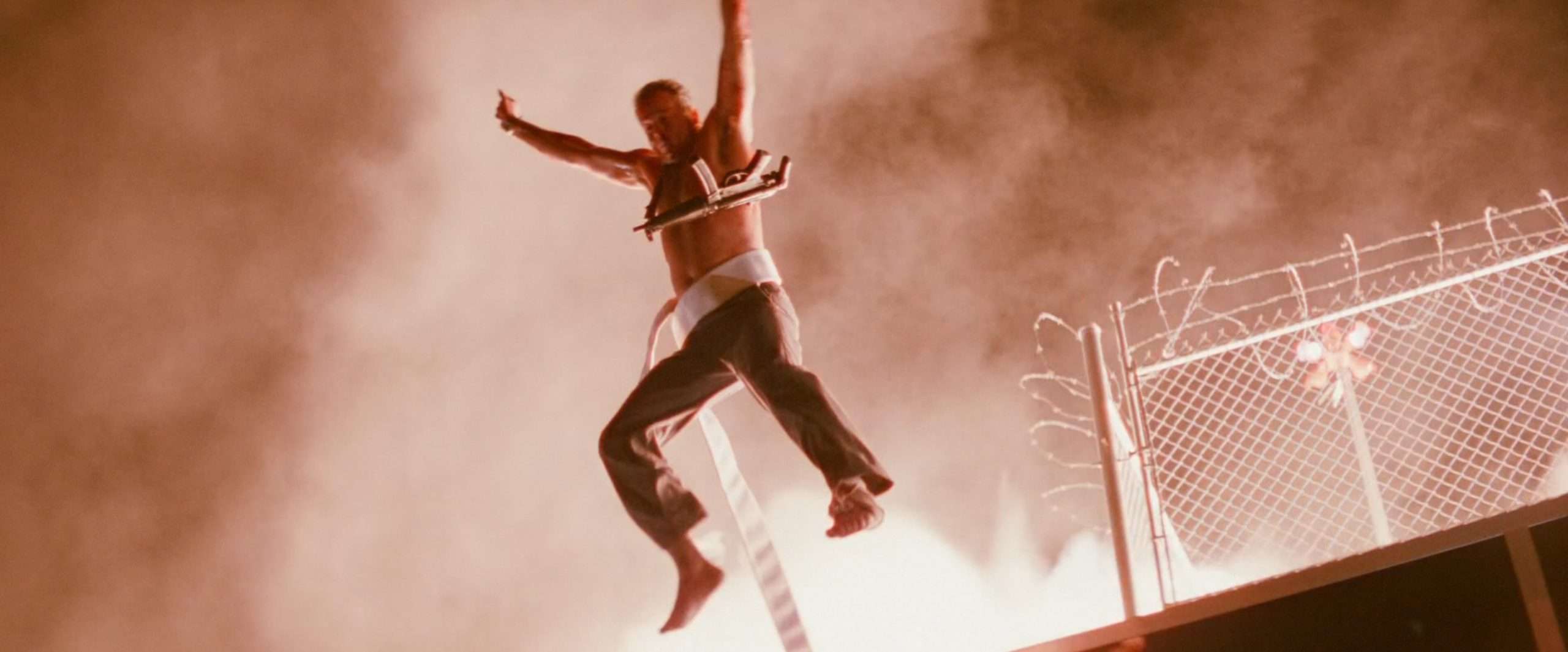 Brooklyn Nine-Nine
One other thing I should mention is Brooklyn Nine-Nine.  This is a sitcom that is currently on NBC, and as I write this about to start it's seventh overall season.  It stars Andy Samberg as Jake Peralta, a cop who is obsessed with Die Hard.  It's his favorite movie of all time, and the series is littered with Die Hard references – a LOT.  I won't get into it too much, except to say there were two that stuck out.  They got the actor Reginald VelJohnson, who played police Sgt Al Powell.  Jake ended up pissing him off, and he ended the episode saying "You made an enemy for life, and I'm going to tell Bruce Willis you suck".  The other one was when Jake and his new bride Amy (who also is a cop) were on their honeymoon.  She dressed up as Bonnie Bedelia, who played McClain's wife Holly for "sexy time".  It was  a hilarious scene.   Finally, there was one where they actually went to Nakatomi Plaza (really the Fox Plaza building in Los Angeles) – there's a clip below.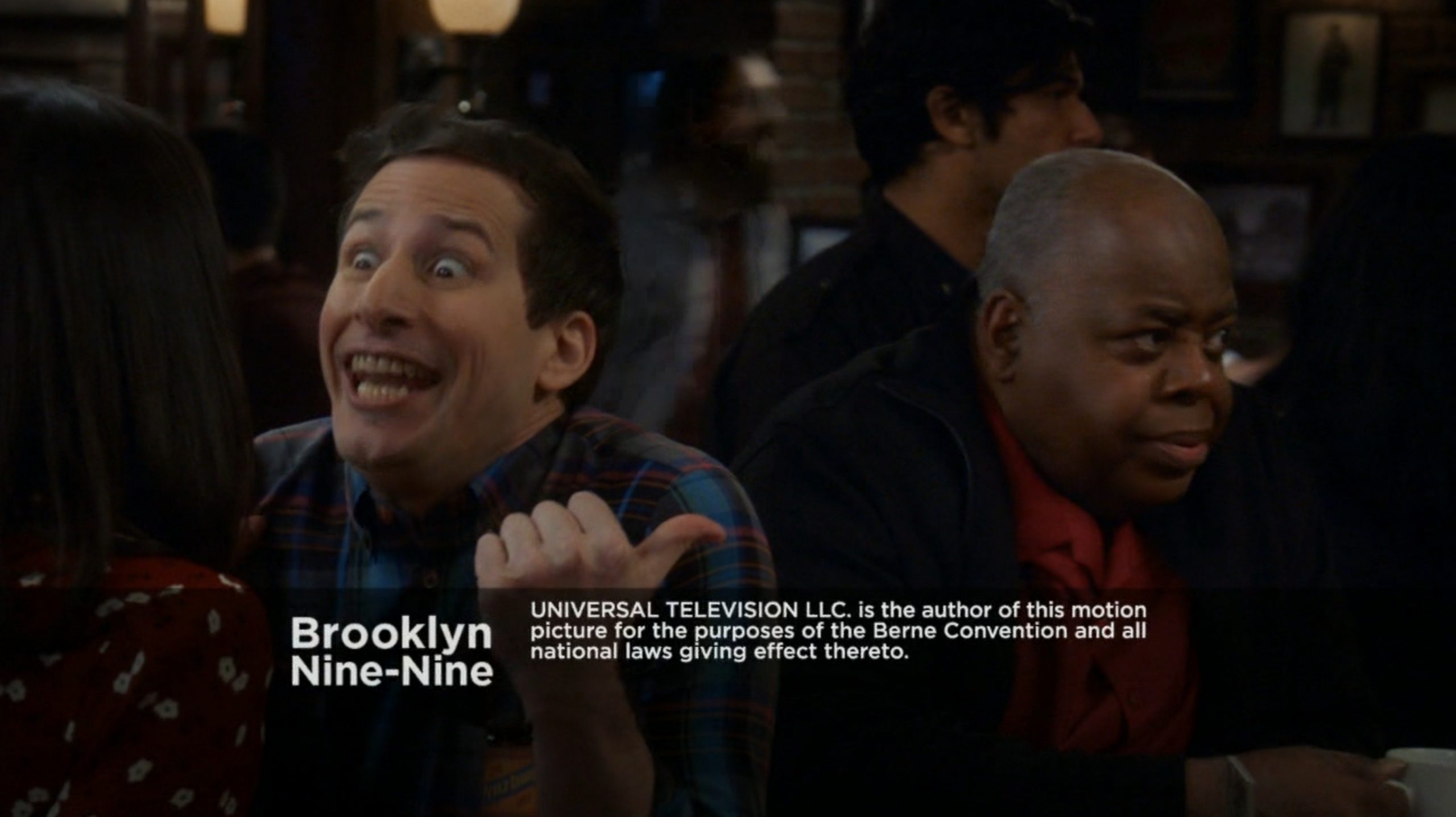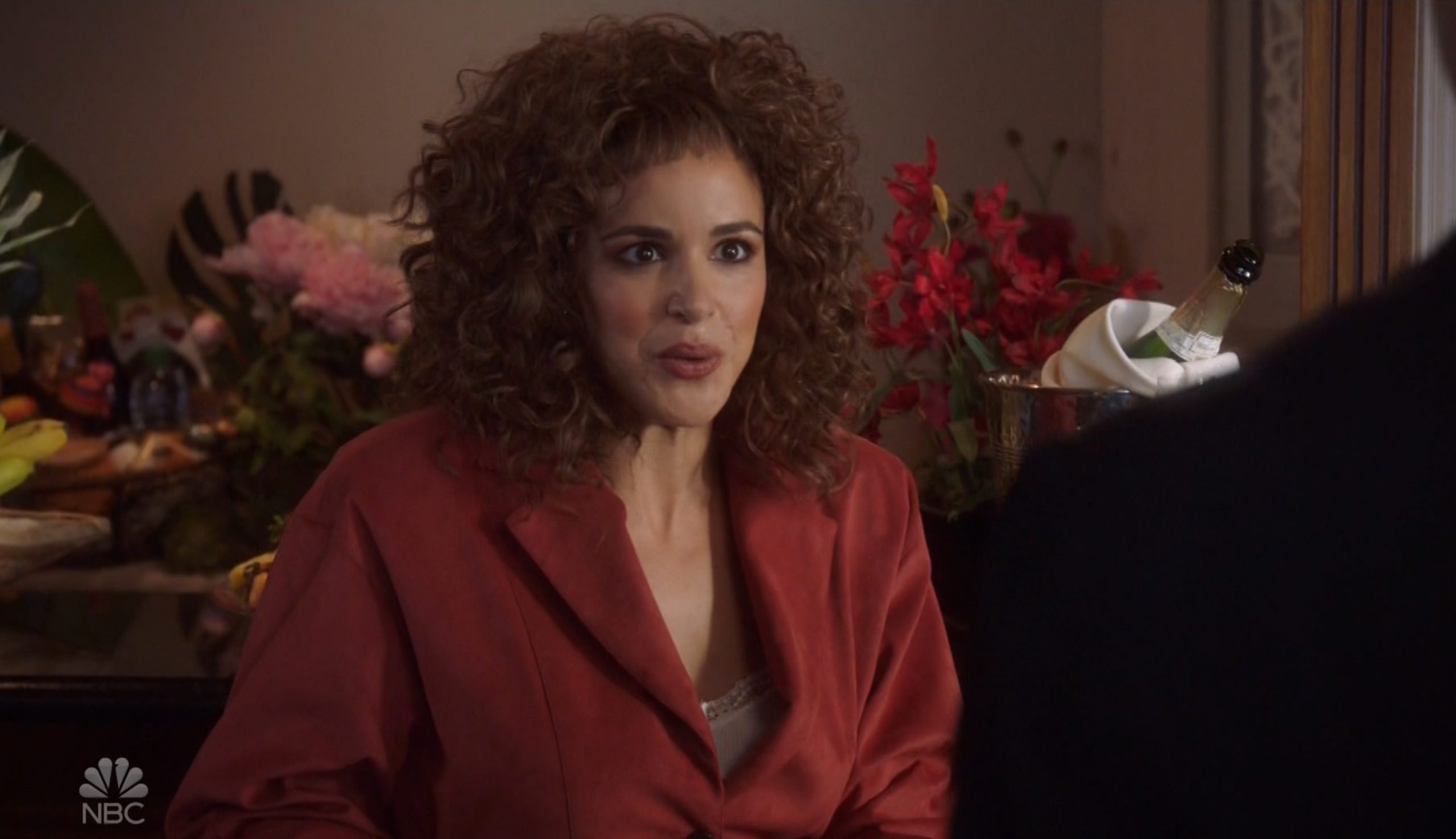 My Summary
Biggest Problem: There isn't much, what I don't like is mostly nitpicky stuff
Biggest Strength: Bruce Willis & Alan Rickman
Overall Rating: A
One of the best action films of all time with two very strong leads.   There's a few secondary characters I don't care for, and the goons are mostly faceless, but that's a quibble.   There's a lot to like, and it's a fun action film.   Not 100% perfect, which is why it got an A vs an A+, but as I said, mostly quibbles.
Everyone should see this at least once.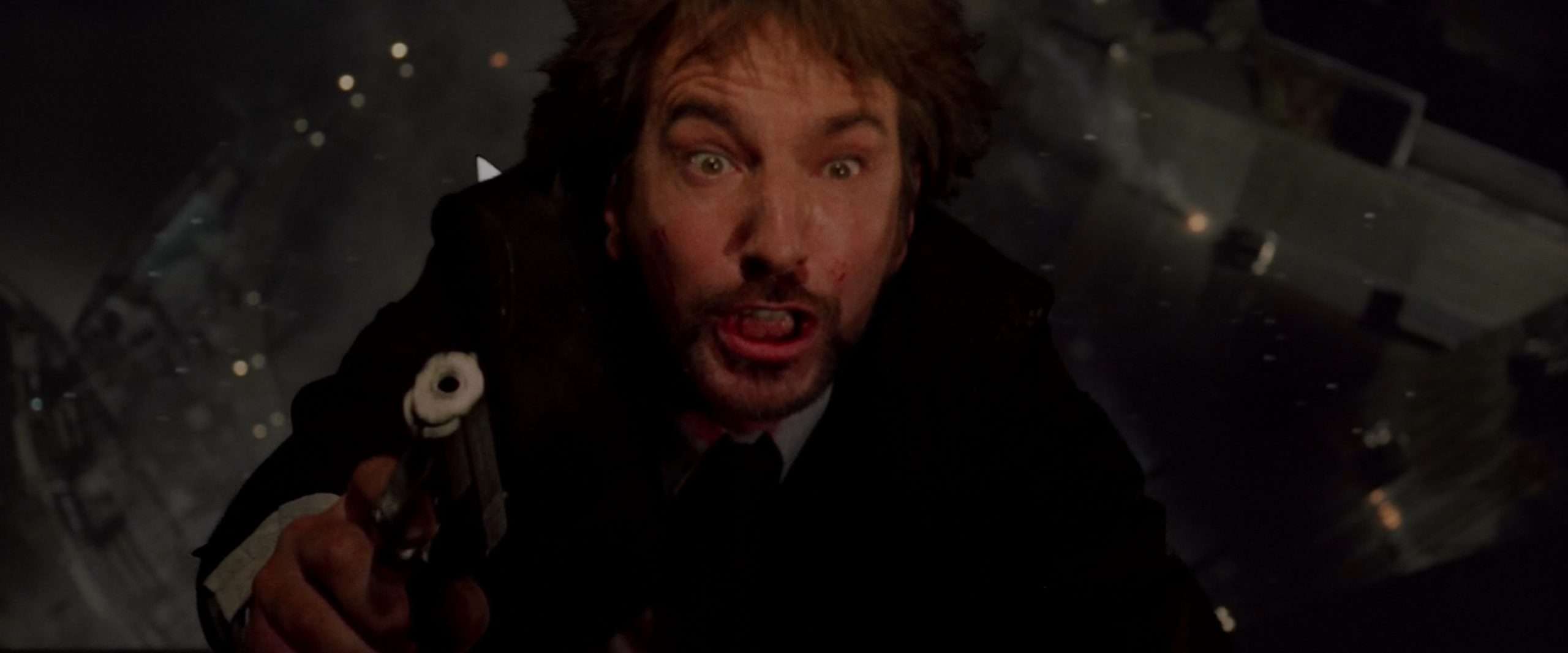 Original Trailer
Educational Movie List
Earlier I mentioned an educational movie list.  Thought I'd mention what's on that list.  A * means it hasn't been shown yet.
Back to the Future 1 / 2 / 3
Die Hard
Ferris Bueller's Day Off *
Galaxy Quest
Jaws
Jurassic Park
The Matrix
Raiders of the Lost Ark (and Last Crusade)
Rear Window
Rocky *
The Shawshank Redemption *
Smokey & The Bandit
Star Trek II: The Wrath of Khan *
Terminator 2: Judgement Day
Trading Places
The Wizard of Oz *