Those of you who have followed my stories about my days at Apogee/3DR will know one of my friends then was the late William Scarboro.  He died of an asthma attack at age 31.  That was really sad, and whenever I turn my thoughts to the past, I'm sad about that. I wish my old friend was with us now, could use one of William's patented belly laughs.  But that's not why I'm writing today, I wanted to write a note about his mother, Pearle.
A few years back when Rise of the Triad had its 20th birthday, I wrote a large segment about meeting Pearle some years after William had died.  I'm going to include it here, because it sets up perfectly why I'm writing today.  I only mention this because if you know my ROTT 20th article, this part will be familiar to you.   Here goes…
My Meeting with Pearle
When the ROTT team moved on to Prey before that original incarnation fell apart, William was the original engine guy and our lead programmer (as Mark Dochtermann had gone).  William spent a lot of time in the earliest days of Prey, and it is for that reason, and for my old friend that some years later after Prey game out in 2006 that I had a thought.  I wanted to meet William's mother.  I lucked out and wrote back the guy who emailed me four years previous, and he was still there.  He arranged a meeting with William's mother, Pearle.  What I wanted to do was present her with two gifts.  One was a photo album I threw together of pictures of her son from his time at our company.  The other was a copy of Prey.  Now I know William's work didn't survive into the final version of the game, but the legacy of the product has his name on it, and Prey was dedicated to his memory, much in the same way that Interceptor did with ROTT in 2013.  Anyway, because of all that, I wanted her to have a copy of the game that her son worked on in a big way in its formulative days.  Told her that I know she wouldn't ever play it, but that wasn't the point.  It was a powerful meeting, she told me stories about William I had never heard before, and I found out a few things that made his death a bit sadder in some ways.  Given the deeply personal nature of that meeting, I won't spill the beans on everything, but a few of the things his mother told me were:
The asthma problem that took his life was something he'd been dealing with since he was a kid, and they knew from a VERY early age he likely wasn't going to live much past age 30.  Turned out that was the case sadly, but William KNEW that as a kid.  That had to be one hell of a thing to live with.  Don't know if I could have pulled that off.
William was her only child, and her only family left in the world.  When William died, she was alone with no family.   That really stabbed me in the heart.
One cool thing she told me is that after William died, she got his car, and was still driving it – in fact she drove it to the meeting we had.
That meeting with her was both super sad, and super joyful at the same time.  I felt COMPELLED to contact his mother and give her these things, show her that we hadn't forgotten her son, that someone still cared.  Writing this part of the article brought up a lot of memories for me, and I don't think I ever really put out there how I felt about William, or as we called him "Da Hur" (inside joke).   I miss my friend.   Miss ya William.
Back to Today
I look back on that meeting with joy now.  I am so glad I made the effort to meet William's mother, and she stayed with us on the planet until 2015, when she died.   I felt so sad when she told me she had no family left in the world.   There's nothing I could have done about that – family is family.
But I didn't write this to dwell in sadness.  The primary reason I'm writing is I found something that Pearle had sent to me about three months after our meeting.  It was a thank you note.  But sitting here in 2020, I had 100% forgotten she sent me this.  Totally have no memory of it, so it was a nice little thing from the past that I got to enjoy again.   The note really struck me, and I wanted to share the note with everyone else, given I had already shared the story above.
This entire article is somewhat self serving – I'm not doing it to get compliments for having done it.  I wanted to put it down here, because the note touched me so much in 2020, a little over 13 years after it was sent, and both of the principals in the story being long gone.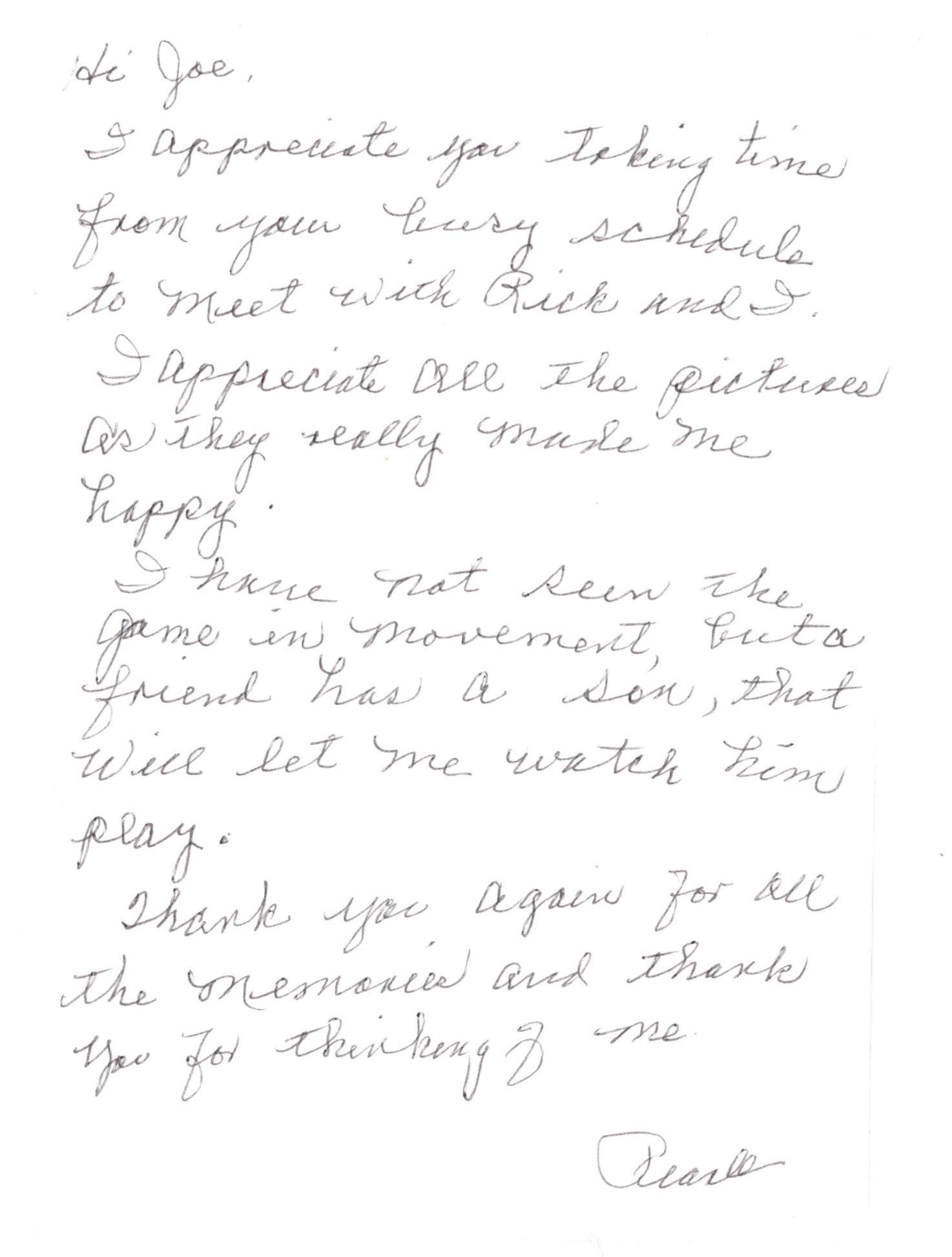 So to my old friend William, and his mother Pearle who I had the pleasure of meeting that one time in 2006…  I'm glad that I got the chance to meet both of you, laughed with William, had a great conversation with his mother.  William was a huge part of my game industry past, someone I'll never forget.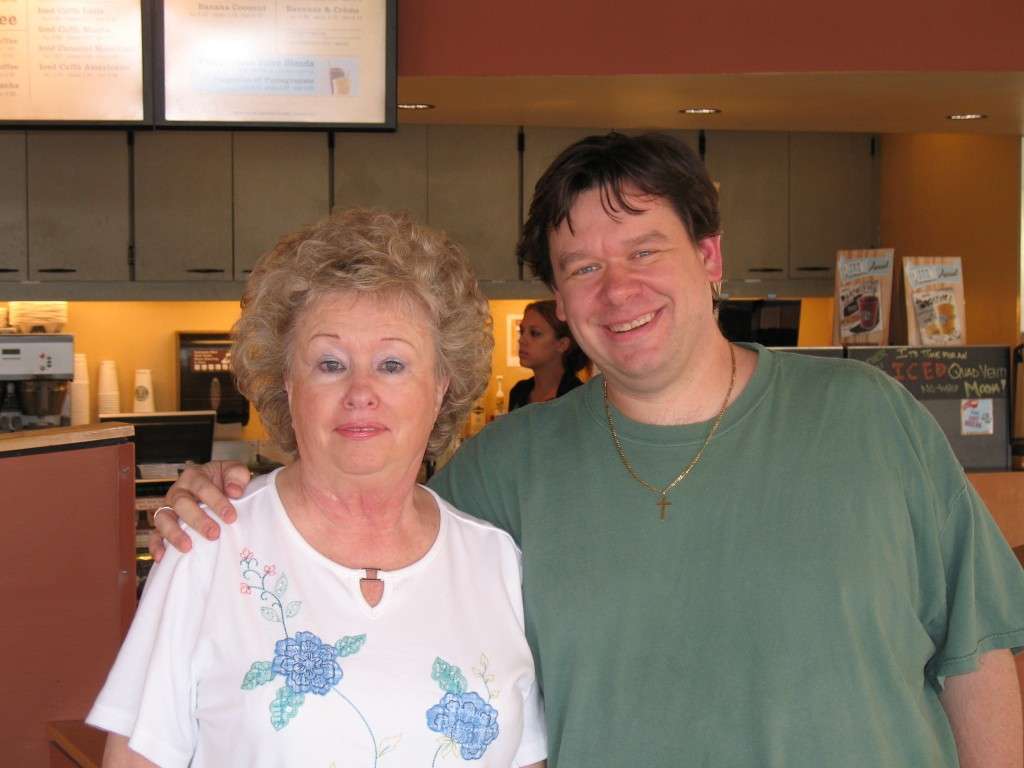 Postscript
In early March of 2020, my friend Steve Quarrella visited the gravesites of both William and his mother Pearle who are buried next to each other in a Dallas cemetery.  He sent me the following pictures that I shared on the 3D Realms social media last month.  You can see them in the embedded tweet below.  A big thanks to Steve for sending me those photos.
Happy birthday to the late William Scarboro, creator of the famed "EKG Mode". If he was still with us, he would have been 49 today (2 Mar 1971). Still miss ya buddy.

ROTT Low Guard actor Steve Quarrella recently visited William's gravesite. Thanks to Steve for sending some pics. pic.twitter.com/7PdXXFqxhQ

— 3D Realms (@3DRealms) March 2, 2020