I've known about George Takei for probably my entire life, as I was watching Star Trek as far back as the 60's (in a playpen, but still)…  As the years went by I learned he was way more than just an actor, he was an activist for any number of things, including gay rights, but probably most important to him are educating people about the Japanese American Internment camps.  It's an ugly piece in American history, but it happened.
George, who was I believe 5 years old at the time, had his family taken (at gunpoint) and put into one of these camps.  It's a story he's told many times over the years, but most recently on the David Tennant podcast where George guested.  I suggest you go check it out, it's a fun episode, and George talks in detail about his experience, including a few facts I'd never heard before, including George's own struggle of being an activist yet still being closeted on being gay himself.  It's available on Apple's podcast "store" here, and is a great listen.
Anyway, here's a story about myself and meeting George a few years back at a convention here in Dallas.  I signed up for one of those photo ops with the stars (which aren't cheap, but never mind).  Takei was here, and all this stuff about the camps weighed on my mind for a reason which will be explained shortly.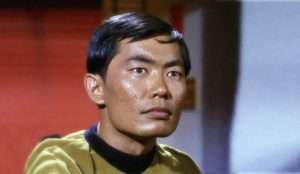 I wanted to talk to him at this thing, the picture was inconsequential.  I've been to many of these events.  They're basically a cattle herd, you get at most 20-30 seconds with the person.  The way it normally goes is "Hi, nice meeting you.  I've enjoyed your work.  Handshake, smile, CLICK – NEXT!"  I get that. I didn't hold any illusions I'd be able to talk to Takei for 10 minutes or something but I wanted to talk to him about the camps.  He must have felt engaged, as I got way more time than I normally would have in this scenario.  The people working this could harass me, but not Takei if he waved them off or something.
When I got to him, after "hello", I told him that I had seen him at a convention in the 80's somewhere in Philly, and he was talking about what I referred to as "The Japanese Internment camps".  He immediately corrected me and said "Japanese American Internment Camps".  I apologized, and took that onboard, and kept going.
Anyway, I swung back to the 80's convention in Philly.  I told George  "You had started talking about the camps and honestly, I wanted to hear about Star Trek and not that, so I walked out of the session."  As the years went by, that action bothered me, especially once I learned about what happened, I really regretted my actions in the 80's, I should have sat there and listened to George, but I didn't.
So I also said to him, "Look I know you won't remember me from 30 years ago out of the thousands and thousands of faces you see at these things, but that action bothers me to this day, so I wanted to say I was sorry to your face".
Takei asked me "Well, why did you do that?".   I responded with "Well, I was young and stupid".
It make Takei laugh, and he said "You're all good, thank you for saying that, but you don't need to worry about it".   Had a hug (surprised by that), and then took the pic, and I was led out by some glaring convention people for taking more time of his than I was supposed to get. :)
I felt good at having said that to his face.  It legit did bother me over the years that I walked out him when he was talking about something important like that, but as I said above..  Young and stupid.
Don't forget to check out the David Tennant podcast episode with George.  It's a great listen.