This past week a fun video about Rise of the Triad was released. Given my connections to that game, I watch all ROTT videos, and like all of them, I enjoyed this one from Ruby Ranger.
Also like most Rise of the Triad videos, they spend time talking about the game's soundtrack, which after all the time it's been out is still top notch stuff – Ask Civvie11!  Anyway, my friend Lee Jackson did a bang up job on that.  Lee's also known for being the author of "Grabbag" – the title theme for Duke Nukem 3D.  Lee has continued to do music work over the years after he and Apogee parted ways.  His most recent album is called "Lady Tygress' Suite and Other Commissions" released in 2022 – go check that out.
But anyway, back to Rise of the Triad…
I wanted to speak to one of the Rise of the Triad songs in particular – "Goin' Down the Fast Way". Most people call it simply "Fastway", and that's how I'll refer to it here, but I am aware of the proper name of the song. Just trying to save a few keystrokes. :)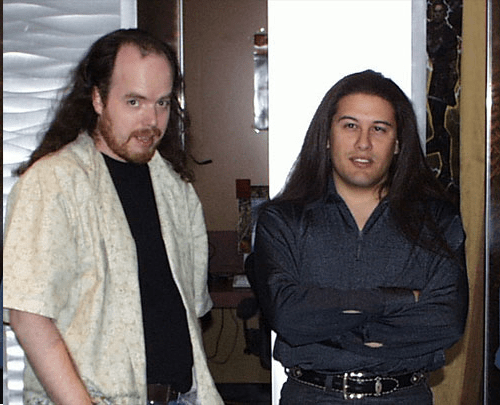 Anyway, if you go way back when id Software was making Wolfenstein 3D, much goofiness happened during the development. One of the things that happened was Tom Hall & John Romero recording a sequence of exceedingly silly "answering machine messages". These things were a source of amusement for us at Apogee once Tom Hall left id and came over to Apogee for a few years. So much so that Lee Jackson took inspiration from one of them for the aforementioned "Goin' Down The Fast Way".
There was a sequence of these messages from Hall & Romero where Tom played a reporter and John Romero played "A large red hairy beast" that Tom had to "interview" for the answering machine message. Romero's devil character throws Tom down the stairs calming "you're going down the fast way". So a song title was born – Rise of the Triad's "Fastway".
If you'd like, you can listen to that entire thing here:
It's a short little thing I know, but it's funny as hell to me 30+ years later. Thanks to Tom & John for letting me use the recording of the thing in my blog post.  The passage of time boggles me – I've known Romero & Tom Hall for that long.  It just seems weird.
If for some reason you need a refresher, check out this video of Lee's original version of the song done on a Roland SC-88 Pro:
Also, Rise of the Triad was remade in 2013, and my old friend Andrew Hulshult redid the soundtrack with a more hard rock style.  You can hear Andrew's version of the tune here.
As a postscript, I wanted to add this answering machine message.  It has nothing to do with Fastway, but is my personal favorite of all the ones they made, and given I was talking about one, I thought I'd throw this one out there, too.  Profanity warning depending on where you're listening.. ;)