Shada
This Story: Season 17, Story 6. Production Code 5M
Overall: Story 109, Episodes 526-531
Airdates: 19 Jul 2018 (USA Only, see note below)
Written by Douglas Adams
Directed by Pennant Roberts (Original)
Notes
Overall Series Episode Count: Shada production was halted due to a strike at the time. It was never completed in its original form. In 2018 it was finally broadcast on BBC America in a hybrid live action/animation format for the first time.  The originally intended 6 episode original version was never aired anywhere, but was released on Blu-Ray for the first time in 2022.  I will use that version for my viewing.  After much internal debate, and some discussion with other fans on Twitter who have done this "watch everything" project, I am counting the six Shada episodes in my overall count – even if it ends up making my count not match the official count.  As of Dec 2022, there are 871 official Doctor Who episodes.  By my counting Shada, it will make my count 877, which will be off six.  That's OK, I can live with that. I tried finding an official BBC count of episodes, and I couldn't.  The closest I came was in the 2017 episode "Twice Upon a Time" where they started off with a "Previously on Doctor Who" using a screen capture of "The Tenth Planet Episode 1" with William Hartnell.  On that was the text "709 episodes ago"….  When I counted back 709 episodes, it didn't line up to the Tenth Planet – their count was off by ten episodes (even without Shada's 6), so I'm not sure what the heck was happening there.  My wife thought I was nuts when I said I had been thinking about this for a week or so in the leadup to Shada.
Then there's the story count.  Shada started production, and stuff WAS filmed, so the story count I struggled with too.  On Wikipedia, it's not counted (presumably) because the story wasn't finished – they list it as "Story 108.5" (with 108 being Nimon).  However, the official BBC DVD's give story counts, and the DVD for Shada refers to it as "Story 109", so I'm using that as justification for calling this "Story 109" and not "The Leisure Hive" (the first story of next season).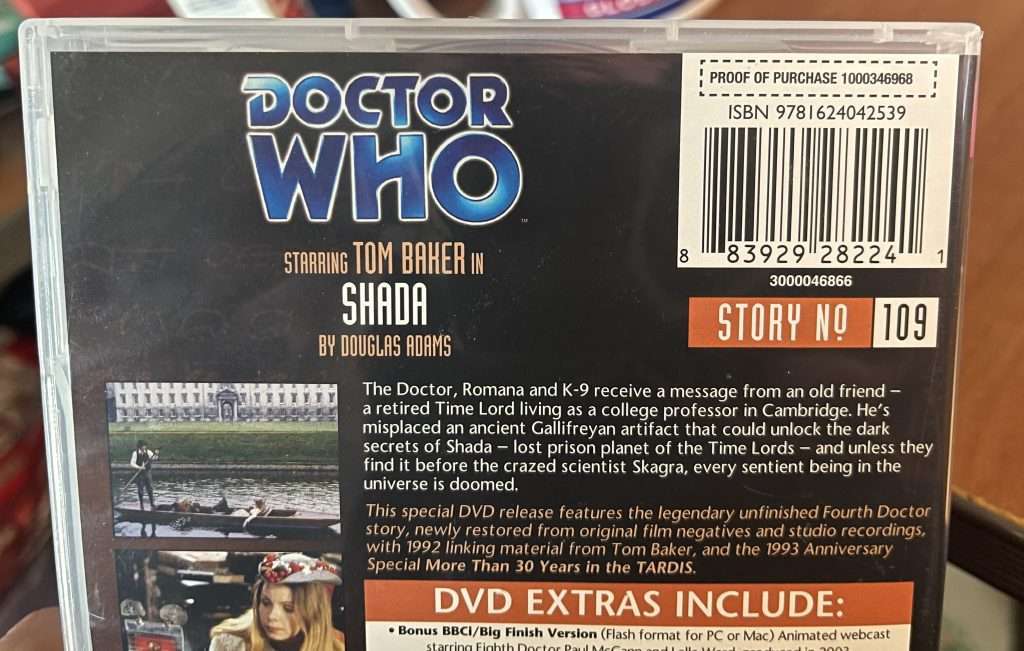 I first saw Shada at a convention in the late 80's when then producer John Nathan Turner brought a VERY VERY raw and incomplete version with him to show.  I detailed the story of viewing that on my website. If you are reading THIS page, then the story of viewing Shada nearly 40 years ago is worth a read.
Links
[
Wikipedia
 |
Tardis Data Core
|
SPS Historium
| 
Amazon US DVD
 | 
Amazon UK Blu-Ray
| 
Amazon UK DVD
 ]