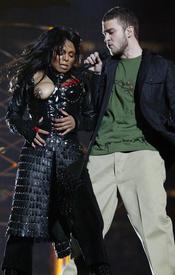 Everyone else is talking about this, I might as well weigh in on the subject, too.
OK, as I'm sure everyone noticed on Sunday evening, Janet Jackson had her right breast exposed on national television. It was quite frankly, the only thing worthwhile about the entire halftime show. Halftime shows are generally crap, although the one a couple of years ago with U2 was quite good. This one had only one issue worth talking about – Janet Jackson's boob. The way it goes from what I've read is that at the end of the song, Justin Timberlake was supposed to rip off her breast cover like he did, but it was supposed to leave a covering – it did not, it exposed the entire breast. Now speaking as a red blooded male, that was a great moment to watch, and I'm sure everyone with a TiVo like I have replayed that a few hundred times.
What's funny is the furor that's come since then. OK, I can understand CBS saying "Look, we're sorry". I don't have a problem with that. What I do have a problem with is the FCC garbage that's come since. The "swift & decisive action" against a breast on TV. I mean, it's such bullshit. Again, I understand them apologizing – most families weren't expecting that. OK, no problem with that, or even Timberlake saying I'm sorry, but a friggin FCC investigation? Please – our soceity is so messed up that we still allow kids to buy/play games like Grand Theft Auto, yet show us about 2 seconds of a woman's tit, and we freak the hell out.
Jay Leno summed it up pretty good in Monday night's monologue, where he had these four things to say about Nipplegate….
* CBS issued a statement right after this happened saying that "The halftime event did not conform to CBS Broadcast Standards". Standards? They had a commercial with a horse farting in a woman's face – what standards are they talking about? Apologize? They should apologize for showing Richard Hatch's fat ass on TV – that's what they should be apologizing for.
* The Super Bowl halftime had something never experienced before – a Jackson BEING molested!
* During the SUper Bowl, we had all these Cialis, Viagra, etc ads for erectile disfunction. They go and show something that might give one a REAL erection – OH NO – we can't have that!
* It'll take over a year to find out why we went to Iraq to go to war, but show some breast on TV? We'll find that why that happened in 48 hours!
Sometimes I think my country needs to get it's own head out of it's ass.
UPDATE:

It turns out that Janet Jackson's "exposure" was the singular most replayed event in the entire history of TiVo. Nothing's been replayed more than Janet's mad nipple action. ;) Here's a news story..
LOS ANGELES (Hollywood Reporter) – When Justin Timberlake (news) tore at Janet Jackson (news)'s leather outfit during Sunday's Super Bowl half-time show, TiVo (news – web sites) users took notice.
Then they took notice again and again, using the digital video recorder to replay the event and to pause at the crucial moment in order to discern just what it was that Jackson had revealed to millions of Americans.
TiVo said that particular halftime stunt was the most replayed moment not only of the Super Bowl but of all TV moments that the young company has ever measured.
TiVo said it used its technology to measure audience behavior among 20,000 users during the Super Bowl. The exercise revealed a 180% spike in viewership at the time of the — as Timberlake refers to it — "wardrobe malfunction."
One notable TiVo user apparently unimpressed with the performance of Timberlake and Jackson was FCC (news – web sites) chairman Michael Powell (news), who launched an investigation into the bare-breasted matter. Powell is so taken with TiVo that he once referred to it as "God's machine."
This marks the third year that TiVo has released details of its second-by-second review of how Super Bowl viewers used their TiVo units. Not only did users pause and replay the infamous portion of the halftime show more than any moment during the game, but they also did the same for some commercials.
TiVo's top two commercials, based on user behavior, are both from Bud Light: a romantic sleigh ride interrupted by a flatulent horse and a sharp-toothed dog demonstrating his unusual way of scoring a beer for his master.