After quite a delay, I'm getting back to a Star Trek movie review.  This time it's the fourth, "Star Trek IV: The Voyage Home", or as a lot of people know it..  "The one with the whales".   This is easily the most accessible of the Star Trek films, and definitely the most fun.  It's not the best, however, but in no way should that be taken that it's bad.  Far from it, but Star Trek hardcores tend to go 2 (sometimes 6) for the best with 4 slotting in just below that.  The movie has a nice, light, airy upbeat feel to it, despite the threat posed by the plot.  This even extended to the opening titles music (done by Leonard Rosenman).  It has a more upbeat feel than a lot of Star Trek movies.  This is of course intentional, as the entire movie was intended to be lighter in tone after the mostly dark themes of the prior two movies.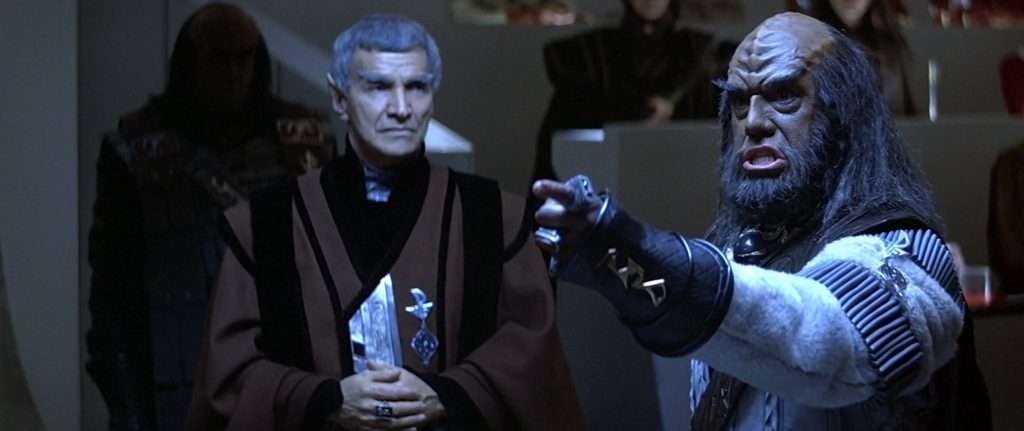 The movie starts with the Enterprise crew still on the planet Vulcan, where we left them at the end of the last film, and there's a trial of sorts underway on Earth where the Klingon Ambassador Kamarag (played wonderfully by John Shuck, shown above) was attempting to get Kirk extradited.  I loved that he showed up again in the sixth movie when Kirk was actually put on trial by the Klingons, but that's another post.  I thought Shuck's character fit an ongoing Klingon role that was originally supposed to be played by William Campbell in the original series.  I would have liked to have seen more of Shuck – possibly in Trek V as well.  Oh well.  Fun threat he was.
Also early on was the "space probe".  This was one of the more interesting dynamics of the movie.  You never found out what the thing wanted – in the entire movie.  That is beyond talking to the whales.  But WHY?  Where did it come from?  What it was saying?  No idea.  That's left to the viewer.  This early sequence showed the probe wiping out a few Starfleet ships in the process. One interesting part of this sequence was that one of the ships we run into was the first time the captain was a woman.  In 2021, that's no big deal, but in 1986 – it was the first woman ever shown to be in command of a starship.  She was played by actress Madge Sinclair (Coming to America, The Lion King) – in command of the USS Saratoga.  While the captain was never named on screen, she was definitely the first female captain in Star Trek, something that tends to be forgotten.  The actress re-appeared in Star Trek some years later playing Geordi LaForge's mother in Next Generation.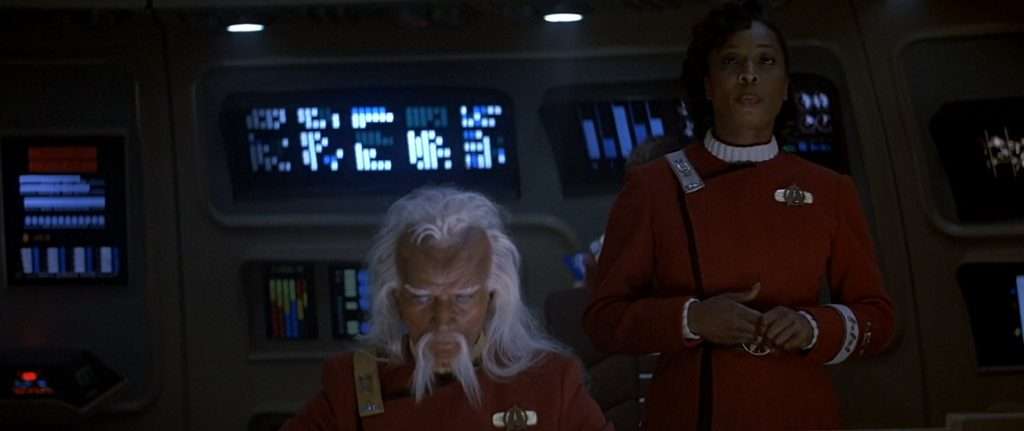 One postscript to the probe. There was a novel a few years after this movie called "Star Trek: Probe" by Margaret Wander Bonanno that attempted to explain what the deal with the probe was. I did read it back in the day, but even that is 30 years old now, and I don't recall what the novel said.  :)
Before the Enterprise crew left Vulcan, there was some nice scenes with Spock being re-educated.  It was nice to show this, as it implies Spock didn't just "snap back" after being brought back from the dead at the end of the last movie.   That's actually not the first time a lead Trek character had to go through that (Uhura did in the TOS episode "The Changeling").  Anyway, I loved the scene where Spock was stumped by a question "How Do You Feel"?  This brought up one of my favorite cameos in the whole movie, that being Spock's mother Amanda, played by Jane Wyatt, who originated the character back in 1967 episode "Journey to Babel".  According to IMDB, this was her last credited theatrical movie appearance as well (she later died in 2006).  The character was later played by Winona Ryder in Star Trek 2009 and Mia Kirshner in Star Trek Discovery, but Wyatt rocks this character, I was super jazzed they included her.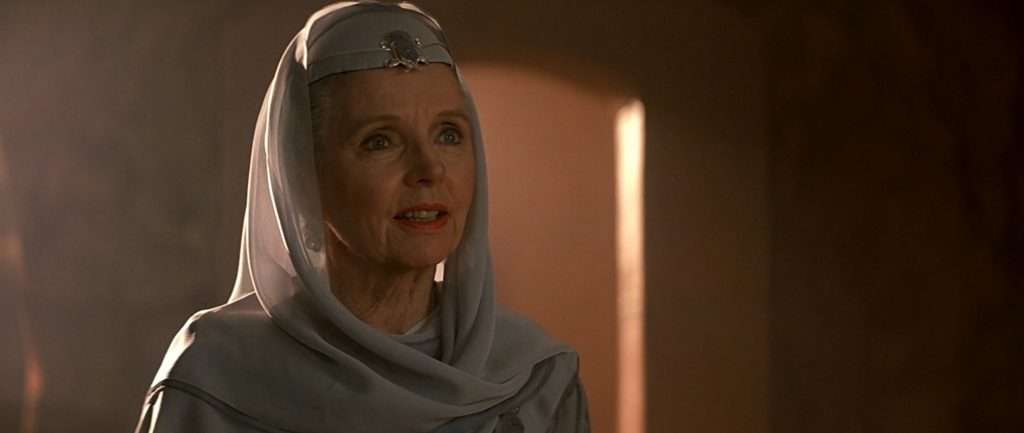 Speaking of cameos, there are a ton of them in this movie.  It has more cameos from various other things than most.  Here's some of my favorites..
Mark Lenard as Spock's father Sarek, who can be seen above in the first picture.  He played the role in the original series, as well as several of the classic series movies, and a couple of episodes of Star Trek: The Next Generation.
Brock Peters, here playing Admiral Cartwright, but also had a recurring role on Deep Space Nine as Capt Sisko's dad Joseph Sisko. [ Photo ]
Tennis pro Vijay Amritraj, here playing Capt Randolph, another one whose ship was wrecked by the probe. Just a couple of years before this, he was in the 007 film Octopussy as James Bond's assistant "Vijay". [ Photo ]
Robin Curtis as Savvik.  This appearance was a very brief cameo, for her to say goodbye to Spock, and ending the character.  She was supposed to show up in Star Trek VI in the role that Kim Katrall got, but scheduling prevented that. [ Photo ]
Majel Barrett as Nurse Chapel, who is shown directing efforts in the wake of the probe's attack on Earth in a very brief cameo. [ Photo ]
Grace Lee Whitney as Commander Rand, in another very brief cameo similar to Barrett's.  Shown communicating relief efforts in one scene. [ Photo ]
Jane Wieldin – guitarist from the band "The Go-Gos" had an extremely brief cameo – she appeared on screen as a character named "Trillya".  It was the same sequence with Barrett & Whitney.  She was only on screen talking in the background with a lot of other noise going on, so it's hard to hear what she's saying. But she's there! [ Photo ]
The Next Gen Engineering desk – OK, this one is a bit of a goof, but there's a table that the President of Earth and other dignitaries are around on Earth while the probe is attacking.  That table was used for nearly the exact same reason in Main engineering in Star Trek: The Next Generation.  I always loved bits of trivia like that. [ Photo ]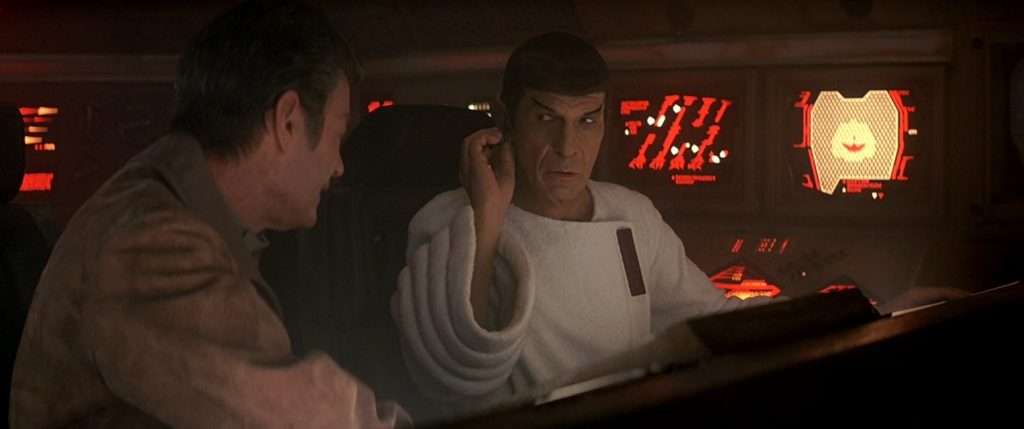 After Spock manages to figure out what the probe is doing (despite NOBODY on Earth figuring that out), they decide the only way they can fix this is to time travel to current day (well, then current day in 1986) Earth to get some humpback whales.  They bring back something else from the original series – slingshot around the sun to achieve speeds necessary to travel in time.  I remember thinking at the time, if it's that easy to time travel – don't need any special gear, just go around the sun – why everyone didn't do that.  Anyway, that sequence brought up one of the goofier bits in the movie, one I've never to this day been able to figure out what it meant.   After they achieve "time warp" (their term), we're treated to this semi-lucid scene which showed busts of the various cast members heads appearing out of nowhere.  Does anyone reading this have any concrete idea what this was about?  It confused me then, and it confuses me now.
They get to Earth, and that's where the comedy starts.  The entire thing is played not fully comedy – as there's drama all around for sure, but there's so many parts of this that are memorably funny.  Kirk's "Well, Double dumb ass on you" and "he did a little too much LDS", Spock's "Perhaps it is time for a colorful metaphor", to Chekov's "Nuclear Wessels in Alameda", and of course, Scotty's "HELLO COMPUTER!".   It's not just the crew either, as the first thing that happens when they land the cloaked Klingon ship on Earth is that it crushes a trashcan underneath it, and that flattened trash can is seen in several scenes throughout the movie.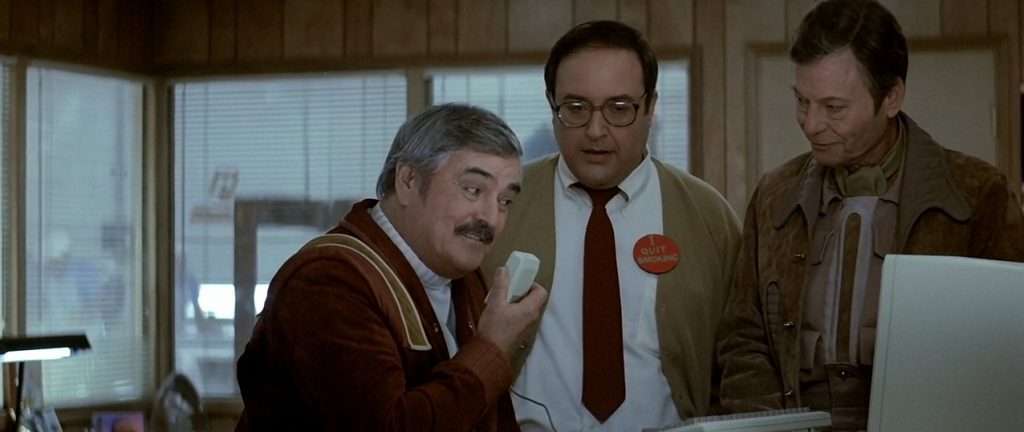 One thing about the "Hello Computer!" scene..  Towards the end of it, there's a woman who interrupts the meeting when Scotty was giving the plant manager the formula for transparent aluminum.  She walks in the door, is shown on screen, and then he goes "NOT NOW Madeline!", and she backs out.  No other mention, no other nothing.  I never understood that one.  Whether she was a personal friend of someone who was just given a no speaking on screen cameo or what.  Interrupting them didn't really advance the plot as such, so I always wondered why that happened.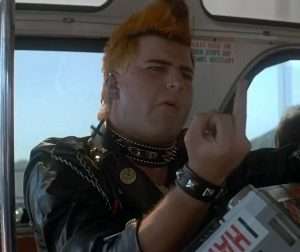 For me, the most memorable of the comedy bits was the punk on the bus that Kirk & Spock interacted with.  It's an awesome scene for sure.  The punk was played by Kirk Thatcher, whose name I thought was hilarious in and of itself.  Anyway, the guy worked on the movie.  He had worked on other movies too (Return of the Jedi, E.T.: The Extra-Terrestrial, and Gremlins), so he was a pro.  But for this movie, he also did some alien work in the movie, wrote lines of Vulcan language, and in the early scene when Spock was being re-educated, he was the voice of the computer.  He and his side band also wrote the song the punk was playing on the boombox (titled "I Hate You").  There's a great article on Wired talking to Thatcher about his work on the movie (including "I Hate You").  It's well worth your time.
One other "first" here.  While modern Trek makes more liberal use of profanity, I believe the middle finger here might be the first proper obscenity in Star Trek.  It wasn't verbalized of course, but there's nobody watching this that doesn't know what the middle finger means.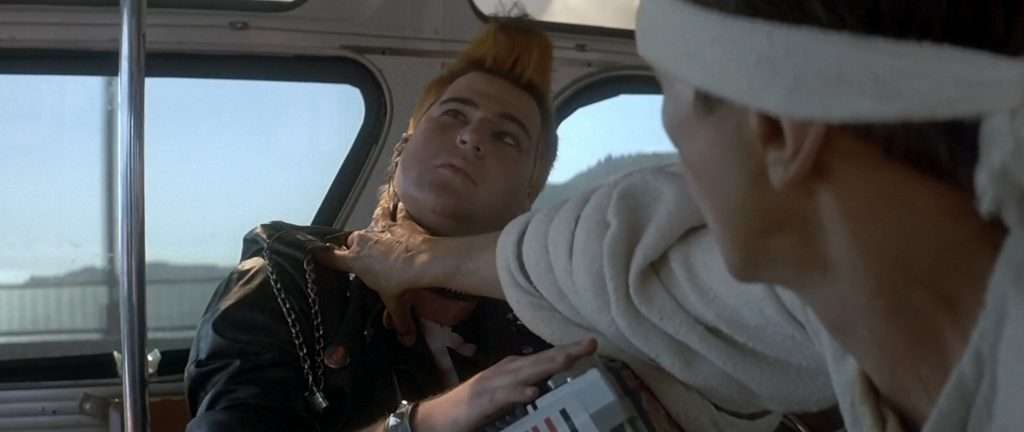 They locate some whales at an Institute (which is where they were going when they rank into "bus punk"), and we're finally introduced to Katherine Hicks' character (Dr Gillian Taylor).  She's the primary guest star, and we don't see her until 45 minutes into the movie.  According to what I've read over the years, that role was originally created for Eddie Murphy, which would have REALLY lightened the tone of the movie.  Given it's been 35 years, and I'm pretty locked into Hicks' performance, so who knows?  But another little factoid.
Early on in her screen time, we're shown some video at the institute of whaling, and what actually happens to the whales when they're caught – there's pretty focused on video of one of the whales being sliced in half.  It's an interesting choice there, because the bulk of the film is so light & funny – that scene really sticks out.  So much so that it seems like it was intentionally placed to draw attention to the matter even more than the basic plot line of the movie was already doing.  Was a quite effective use of that type of scene.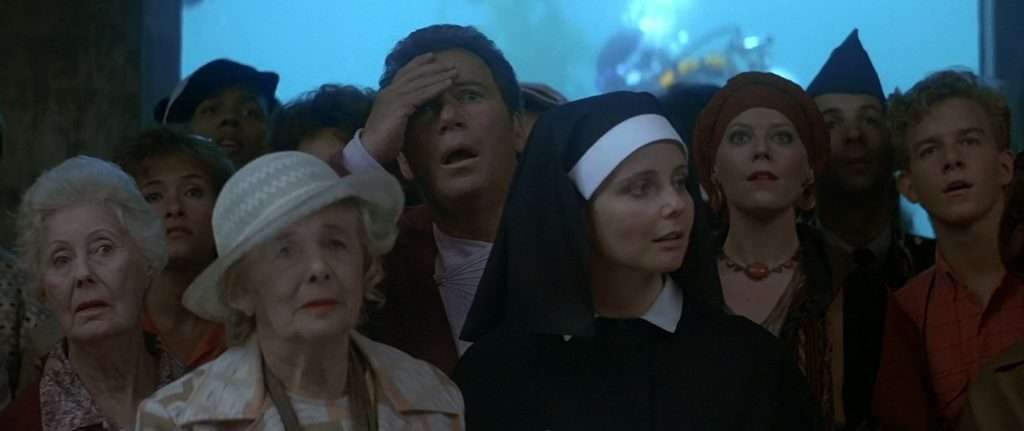 While they're on a tour of the place, Spock jumps into the water and does a Vulcan mind meld with one of the whales (Gracie), finding out that she's pregnant.  Dr Taylor gets rightfully pissed off at this action, and demands to know what they're doing.  This is also interspersed with some comedy (Spock attempting to swear), and Kirk's reaction to Spock in the tank. The result of this exchange was Kirk & Taylor agreeing to a dinner where they can discuss the whales and what Kirk and Spock were doing. "I'm from Iowa, I only work in outer space" is from this scene.  After dinner (which of course doesn't go properly), Kirk goes back to the ship, and we cut to a shot the next morning of Dr Taylor at the institute finding out that the whales were moved out overnight.  This leads to her going to Kirk's ship (quite to her surprise), although not with the trash can.
From this point on, it's mostly a race towards getting the Klingon ship in shape to transport the whales back to Kirk's time, putting him in panic mode as the whales were already released into the ocean.  I remember watching this at the time thinking "Well, they're not the only two whales on the planet, why can't we just take our time and go after two others?", but that doesn't make for good movie drama.  Anyway the hurry was because Chekov has become trapped at a hospital.  When he and Uhura were doing their part for the mission, Chekov got arrested and captured by the crew of the actual USS Enterprise (at least in story, in reality the ship was the USS Ranger).  When he tried to escape, he fell and injured himself, and was said to be dying.  Uhura found this by monitoring communications, and a rescue party of McCoy, Kirk, & Dr Taylor set off for Pavel. They go to a hospital, and trick their way into the operating room where Chekov is.  McCoy has a medical argument with the Doctor on call there (which is amusing), but the best part of this hospital scene by far as this old woman McCoy runs into in a hallway.  She says she's there for kidney dialysis, which disgusts McCoy.  He gives her a pill at the start of the scene, and at the end of the scene, she's all rejoicing saying "Doctor gave me a pill and I grew a kidney!" to everyone in the hallway.  It was a hilarious scene, and a great capper to this sequence, which I really loved.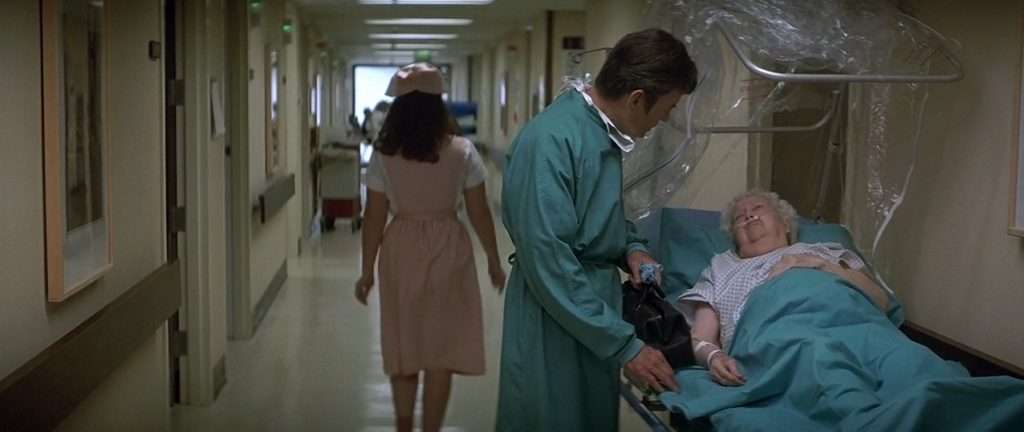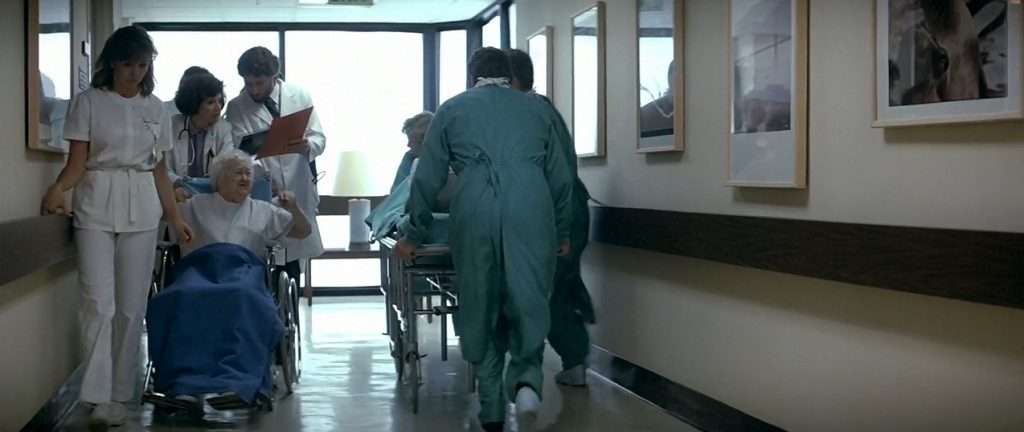 McCoy's techniques of course cure Chekov immediately, and he's able to return to duty.  At this point with everyone reunited, Kirk tries to part company with Dr Taylor, but she tricks him and jumps into his transporter beam.  Since day one that act has bugged me, because it's been established in series continuity that would kill both of them, but never mind.  The ship takes off (with Taylor in tow), and they zero in on the whales who are now in the open sea.  We are shown a whaling ship also closing on the whales which sets up a tension filled scene, but sets up one of the better visuals in the entire movie.  The now decloaked Klingon ship hovering over the whaling ship in the ocean who is now trying to turn around and run away.
The final bit of comedy for the entire movie happens here, although it's borderline emotional vs actual comedy.  But it always made me laugh.  It was Scotty's reaction to beaming up the whales and the ocean water.   His shouting "Admiral – THERE BE WHALES HERE!"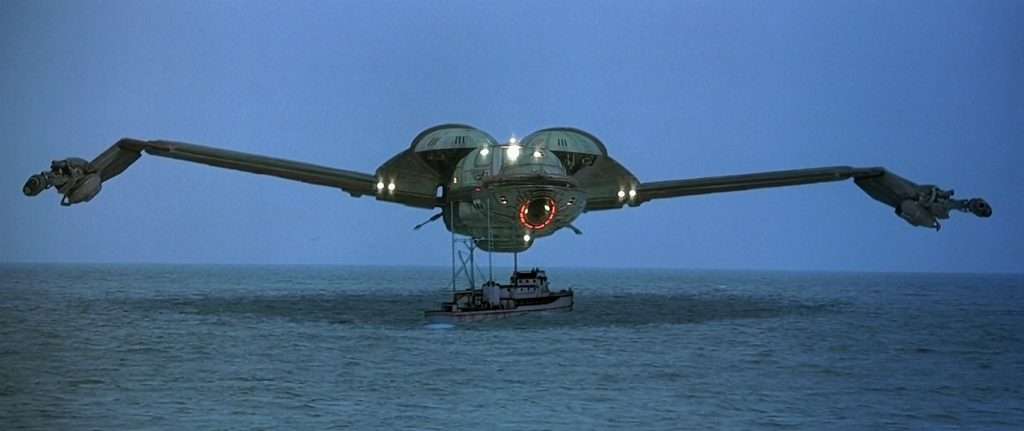 After a second round of floating heads when they time travel back to current time, the ship is immediately affected by the probe, which is still at Earth doing it's destructive thing trying to talk to the whales.  It's never actually stated why the probe is attacking Earth as such.  That's one of the things that's left to your imagination.  Anyway, since the Klingon ship is now without power, it crash lands into the ocean (just missing the Golden Gate Bridge, hence it's appearance in the movie poster).  We have a scene where Kirk gets to play "hero" as with no power, the whales are stuck underwater, and they will drown (as they do need air).  Kirk swims under water, lets them go, and after a sequence where the whales talk to the probe (again, with no translation or explanation), the probe is apparently satisfied.  It takes off, power to everything is restored (rather quickly in my opinion), and in a matter of seconds, everything is all bright and sunny out where it wasn't just seconds ago.  It led to a very fun scene where Kirk and crew celebrate by jumping in the water outside the Klingon ship.  It's my favorite screen capture I took for all the ones I captured for this review.  Check it out: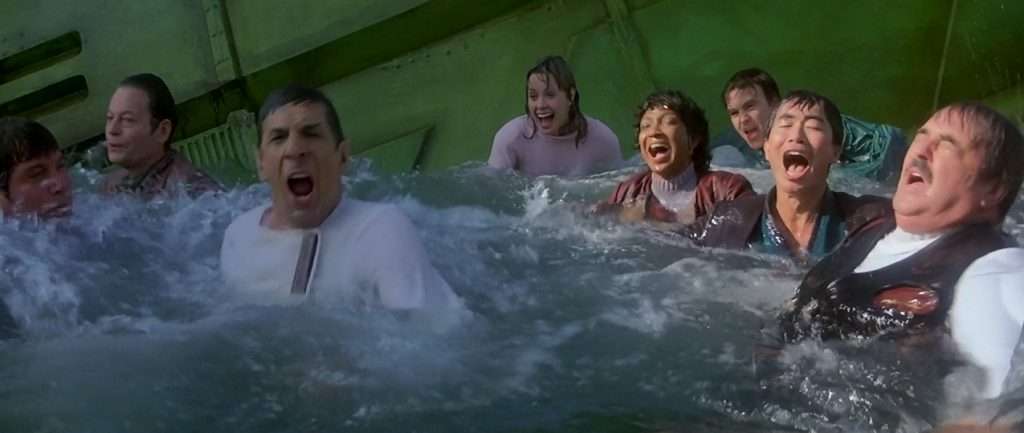 So after this, we get all the way back to the trial scene from the beginning of the movie, and the Enterprise crew are lined up.  In a bit of a deus ex machina, the events of the movie absolved them of all the charges brought against them.  Even the lone remaining punishment just demoted Kirk from Admiral to Captain, so there were no penalties from the things that got them charged.  It wasn't a huge shock, and I don't really have a problem with it, but it's interesting just the same.  This does set up something never followed up on which is "There will be no peace while Kirk lives" from the Klingon ambassador earlier.  In the next movie, Klingons attack Kirk, but that's seemingly a rogue captain, and the movie after that, we get the start of the Klingon/Earth peace treaty.  I always wish the "No peace while Kirk lives" had been followed up on.  Ahwell.  Anyway, what comes right after this scene however is far more interesting.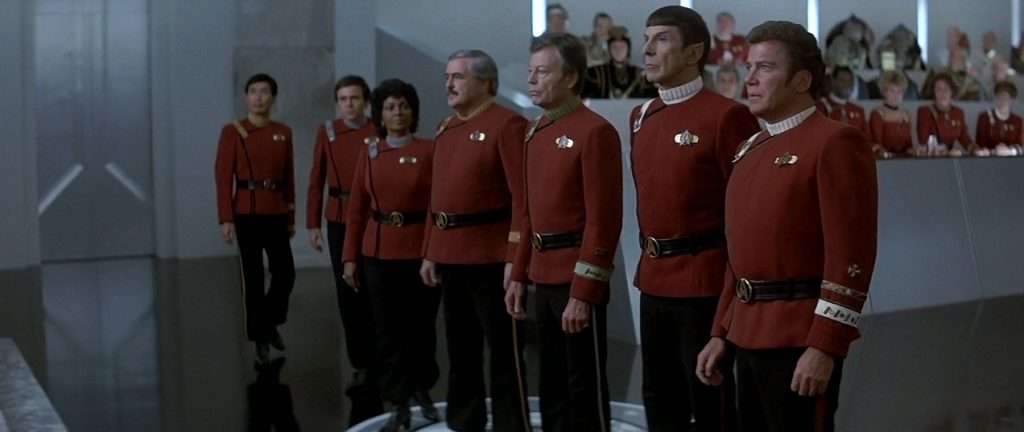 The first is a scene with Kirk and Taylor.  Kirk tries a bit of his "let's get the girl" stuff (albeit tame for him), but she basically says no, because she was assigned to a science vessel.  She gives him a peck on the cheek as they part, but Kirk's left just looking stunned at this development.  He doesn't get the girl.  Unusual for sure for Jim Kirk.  We of course never see her again, but then you almost never see these kinds of characters, so no major surprise there.
The second part is a far more intersting one for me.  Sarek (Spock's father) had come here to speak on behalf of Kirk and crew in the trial.  Before he goes back home, Sarek and Spock share a moment at the end of the scene, and they talk.  What I love most about this is that when the Spock/Sarek relationship was set up back in the 1967 episode "Journey to Babel", we were told that they didn't talk as father and son for decades due to Sarek disagreeing with Spock's choice to join Starfleet.  The scene here when Sarek says to Spock that his decision was in error, and that his friends are ones of good character was awesome.  They had resolved their conflict set up 20 years ago in the show, and for decades in the story.  I loved that scene. For Vulcans, it was positively top of the emotional scale despite a very "calm" discussion between them.  Sadly, both actors are gone now, and this was their final scene they ever played together.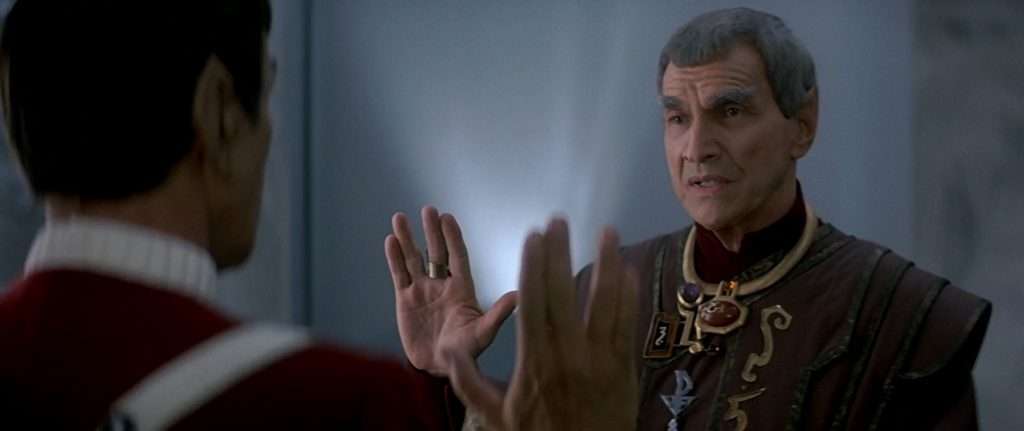 That is still not the end.  The crew is being shuttled to their new ship which we were told in the trial resolution they'd be getting.  While there was a brief visual hint that they might be getting the Excelsior (the ship Scotty sabotaged in the last film), it is shown to be a new USS Enterprise, NCC-1701A.  On screen the ship was just there, and no mention of where it came from.  I have a vague memory of reading in some ancillary material (novel, something else?) that in canon it was another Constitution class refit ship just rebranded to be Enterprise.  But my memory blurs as to where I read that all these years later.  The crew set off on a shakedown cruise at the end of the movie – and that's where it ended.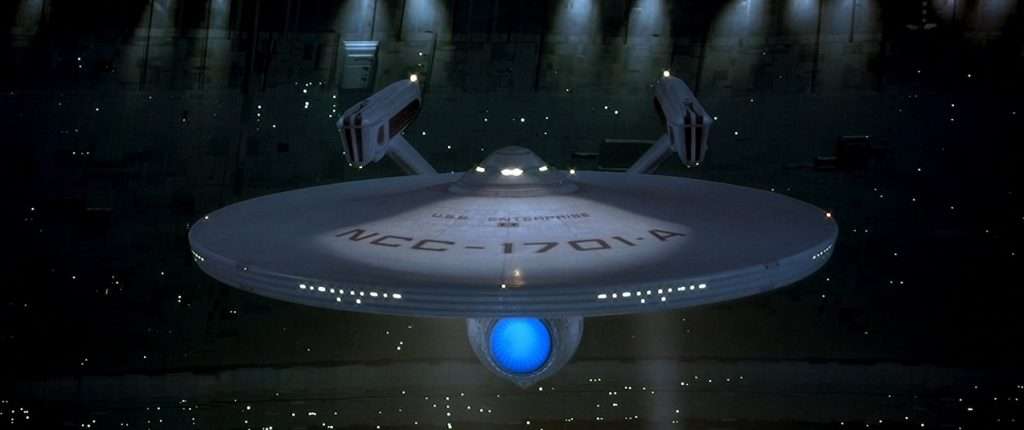 One minor thing that has no real place above.  When we were on planet Vulcan at the start of the movie (and the end of the last one), there's a wide shot of some scenery.  This was adapted later on when Paramount redid all the special effects of the original series in HD.  It was seen in the remastered version of the "Amok Time" episode – not a direct lift, but an inspiration I thought.  I always thought that was a nice touch, unifying the looks of the respective eras of the same show (TOS and its movies).  That same remastered shot also includes scenery lifted from an episode of the original Animated series of Vulcan landscape, too.
My Summary
Biggest Problem: Some parts have a bit of "why is this happening?" feel to them
Biggest Strength: The light fun, aspect of the movie in general
Overall Rating: B+
As I said before, this is a light, fun movie, intended to be that way after the death and destruction of the last two movies.  There's nothing wrong with that in any way.  I enjoy the movie.  It's the movie you show to people who are non Trek fans I think to get them involved in original Star Trek.  By far the most accessible of any of the films – even Wrath of Khan, which IMO is a superior "film".
While I've said a few times in this review it's not my favorite Star Trek film, that doesn't mean in any way I don't like it.  It's a FUN movie.  Every character has something to do at one point, and the comedy level is cranked up a bit.  Every time I watch it, I thoroughly enjoy it.
If you're looking to show someone a fun time and still enjoying Star Trek, reach for "the one with the whales".  It's a great time.
P.S. – One thing I wanted to stick in here.  In the scene where Chekov is captured and being interrogated one of the people doing the interrogation refers to Chekov as "a retard".  That always bothered me – even in 1986, and especially in 2021 having a child with autism – that's an ugly word to me, and I really wish they would have chosen another.  It doesn't affect my enjoyment of the movie, but I would remiss by not mentioning it, as I cringe at it every time I see the movie.
To end this on a fun remark, I'll add this.  My wife reminded me of this fact after I finished the article.  She told me that when we first met in 1987 originally, this was the first movie we ever watched together.  :)
Original Trailer
35th Anniversary Trailer
One postscript…  As I write this, it's Aug 17, 2021.  Later this week (Aug 19 & 22), Star Trek IV will be in movie theatres again for the 35th anniversary.  I intend on attending one of these screenings.  They put together a special trailer just for that 35th anniversary edition.