Now that the new HD re-release of 1995 Rise of the Triad is about to come out next month, I've started playing the game for the sake of playing the game for the first time in forever again.  Extreme ROTT has always had a reputation of being radically harder than the base game.  I mean heck – it' right there in the name.  The use of "Extreme" there isn't just dumb marketing bullshit.  They're way harder.
Anyway, over the years I've watched some fan videos about ROTT / EROTT, and I've enjoyed them a lot (including one where they thought it was so hard they bailed in the second level and another where it was a torrential flood of swearing at the game).  However, one thing popped up in a couple of them.  It's an issue that's been widely reported in many ROTT videos and posts about the level "Getting the Drop".  Specifically the issue at hand is "You can't complete the level unless you're Thi Barrett".  The idea on this level is that you need to push a bunch of pillars to specific spots, and then run over them to get to where you need to go to progress past that point in the level.
We've been called out on many videos and many posts about it (Civvie11 & Psychedelic Eyeball come to mind here – Yes we did test them Eyeball).  The one by Psychedelic Eyeball was the most amusing to me because he got legit mad in there calling it "Beyond embarrassing".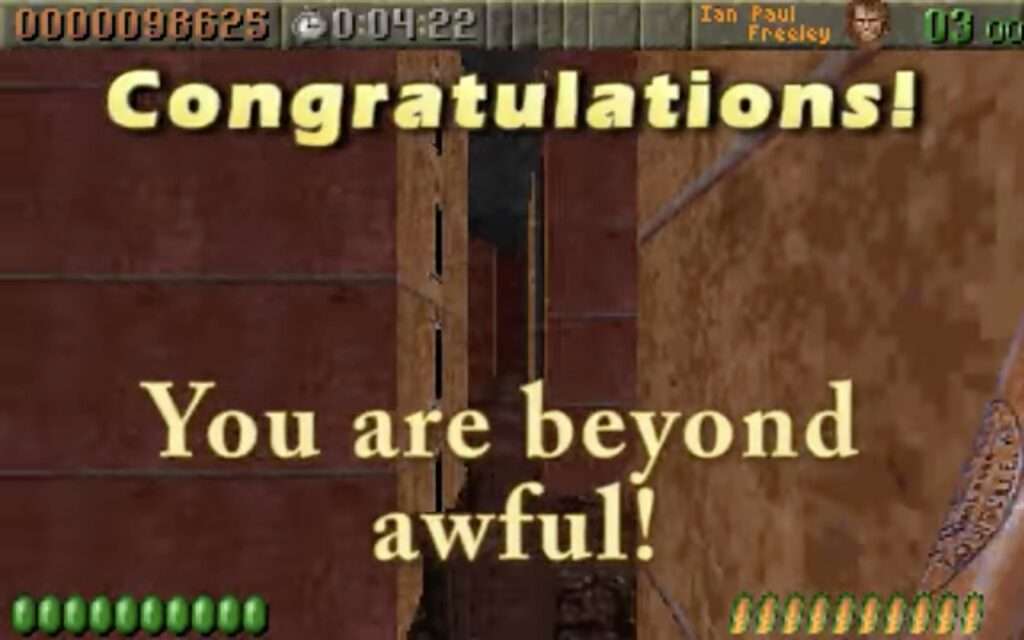 The stated thing here is that if you're any of the the characters besides Thi Barrett, you can't do the level properly.  Given that the Ludicrous Edition of ROTT is about to be released, I thought I should look into that.  I wanted to see if this was a legit map problem or just something that people aren't getting after all this time, or what the heck was going on.
So I chatted up Lexi Mayfield, the Lead Developer at Nightdive Studios on the new LE of Rise of the Triad.  I basically put all this in front of her and said "is this real?  Is this a real problem, and if so, can we/has it been accounted for in the new update?"  I was basically looking to see if there was something we could do on the programming side to account for this under the assumption that it was a real map bug as such.
This is what Lexi said when I asked if we fixed that…
We did, and it turned out to not even be a mapping issue, but a bug in the physics code. Or rather, a shortcoming. Essentially, there is "Step Up" code that activates if your height is below certain objects so you can "Step Up" on them from below. And as it turns out, movable columns did not trigger this "Step Up" code at all, unlike stationary columns and GAD's. The only characters fast enough to not need the step up were the faster characters. But now I can exit the level even with Doug Wendt.
She then sent me a pair of videos.  The first shows the game before the code fix was done, which does show that some pillars can be run over with Doug Wendt, but not all of them.  The second shows that the level can now be completed with Doug Wendt with the fix in.  See following video.
So that takes care of that.  Hopefully Extreme Rise of the Triad is no longer beyond embarrassing Psychadelic Eyeball.  And for no good reason, here's one of my fav EROTT images ever. Eat Eat Eat Eat Eat Lead! Here Here Catch!