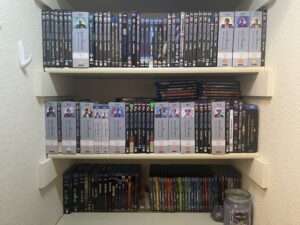 I've been a Doctor Who fan since 1983.  I've seen every episode at least once in all that time, but the one thing – the holy grail – the biggest geek level once can achieve as a Whovian is the "Full Marathon" (my term).  I've seen some fans refer to it as the "pilgrimage". It's when you watch every episode in a row.
That's what I've done.  On the 21 Aug 2021, I started with Episode 1 – "An Unearthly Child", and kept going.  One episode per day, I made it through everything the show has done, going all the way up to current.  It was a lot of episodes for sure, but it was a lot of fun.  Rediscovering ones I'd forgotten about, things I've changed my opinion on, it was a great project.
Originally, the end date was supposed to be first week of Feb 2024, but when I was in the middle of Tom Baker's run, I doubled up a bunch to bring the end of the project to 23 Nov 2023 – the actual 60th anniversary of the programme.   This page is an index of all that work – you can look up any story below, and click on it.  It will show basic facts about the story, my embedded tweets for each episode I watched, and some extra pictures I happened to like from it.

When I started this project I posted in some detail as to what I hoped to accomplish.  Now that I have accomplished it, it was a lot of fun, and I was super glad to go through it.  Although as I write this index text the day after I finished, it feels weird not to have a Doctor Who episode to watch for the first time in two and a half years.
Regarding future episodes, I will cover them, too as they happen – but in the interest of social media spoilers, I'll probably do the bulk of the writing on my blog here, and reference them from social media.
Admin note: This is every story in the history of Doctor Who listed in order from 1963 to current with no separation for Doctor, or season/series. The more easily readable version (and the default) is available here.
"Doctor Who Marathon" Collated Posts:

Full List: