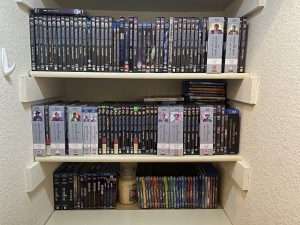 I've been a Doctor Who fan since 1983.  I've seen every episode at least once in all that time, but the one thing – the holy grail – the biggest geek level once can achieve as a Whovian is the "Full Marathon" (my term).
It's when you watch every episode in a row.  That's what I'm doing.  Watching a single episode a day.  Started with the first episode from 23 Nov 1963 – and doing one episode per day going forward.  I posted in some more detail about my doing all of this in a post elsewhere on my blog, and some of the "why".  However, I wanted to put an intro here for the index below.
I am going to be tweeting about each episode as I watch it daily.  I will be updating this index page with links to pages created for each story. Each of those pages will collate the respective tweets for that story, so you can see all my comments about a story on one page.  If you want to follow me live with these as I do them, I'll be posting from my @joesiegler twitter account using the hashtag #DoctorWhoMarathon.
That's what this page is. It will be a list to all the posts for my Doctor Who Marathon.  I started this on 21 Aug 2021.  If I keep going, and God willing I'm still around, the target date for completion is 6 Jan 2024.  That's based on the 868 total episodes currently available (as of Dec 2021).  There will, however be more by Dec 2023.  I just don't know how many, so the exact end date is unknown at this point.  Even then, I'll probably carry on with the newer episodes from that point too. :)
"Doctor Who Marathon" Collated Posts:

Full List: